THE POSIES may well be the most glamorous rock band that you never heard of. Their lives are riddled with the kind of star-studded events more often associated with bands like the Rolling Stones. Because they are Chelsea Clinton's favorite rock band, for example, two years ago, the Posies were invited to play at the White House. Of course, they couldn't resist bringing along their pals the Presidents of the United States of America as support.
Then, last year, the band's leaders, Ken Stringfellow and Jon Auer, were invited to play along with Alex Chilton in a reunited form of their favorite band, Big Star. More recently, Stringfellow--misidentified as "Kevin"--played the guitarist in Mare Winningham's backup band in the film Georgia, as well as writing music for and performing in the film The Year of My Japanese Cousin. And, last week, he got to sing the national anthem at a Seattle Mariners ball game.
"Yup, we do a lot of weird stuff," comments Stringfellow. "Like, last night was awesome. We were playing in Nashville, and Tom Peterson from Cheap Trick lives there, and so he and Rick Nielsen got up and played 'Surrender' with us."
As that kind of impromptu incident implies, the Posies are well respected by their peers, if not by the general public--yet. With their gorgeous melodies, masses of high harmonies and fast, poppy beat, they play music that's reminiscent of bands like Redd Kross, and even Abba, and by so doing have gathered a small but rabid cult following.
And with the Britpop movement finally repopularizing the Beatles sound, 1996 may well be the Posies' year to go mainstream. The Posies were signed to Geffen in 1990, just before the grunge invasion, and managed to stick out that era despite sounding so unlike their hometown pals' bands. But now that grunge is nearly dead and generic, cookie-cutter bands abound, the Posies are emerging as one of the more talented, tasteful and even original bands of the decade.
IN ROCK CIRCLES, the Posies have long been tagged "the band from Seattle that doesn't sound grunge," but there are other ways one can tell they hail from the Pacific Rim. For one thing, they are, like so many Seattle- and Silicon Valley-ites, fully wired, keeping up with their fans and friends through a private Posies discussion group/email list.
"It's just a spontaneous thing that started in Seattle a couple years ago by different Posies fans," explains Stringfellow. "There's a couple hundred people posting to each other--sometimes stuff about us, sometimes about other things--and I'll post journals and things we do on it. Sometimes they email me directly with a question, and then I answer them directly."
The result--one that Internet providers probably didn't foresee when they invented the system, but which is a definite plus--is that Posies fans can get a little more involved with their favorite band than rock fans in previous eras have ever been allowed to get.
"That's the total advantage of the Internet," explains Stringfellow. "It's not as invasive as a phone call. Even though I screen all my calls and never answer my calls directly, the minute I did, if it was some freak, that'd be a disaster. Whereas with an email, I can either respond to it or not respond to it. It's totally more optional."
In fact, Stringfellow and I originally tried to do this interview by email, but gave up due to the vagaries of his touring schedule. (Too many hotels don't have the right phone jacks.) He wound up calling the old-fashioned way, from Memphis, Tenn., where the band is currently on tour in support of the Posies' fourth album, Amazing Disgrace, just out on Geffen.
The record took almost a year to make, thanks to several glitches in the recording process. "It was frustrating," says Stringfellow, "but I'm used to that. I know it's going to take longer then I think, every time. That's just the way it is, and for me to get attached to a date, more than a final product, is kind of meaningless."
But, he adds, "the good thing is, we've got to make the records that we want in the end, for better or worse. We've got to go in any direction we want to go."
The Posies formed eight years ago, in Bellingham, Wash., a gorgeous small town two hours north of Seattle, close to the Canadian border. There, Stringfellow and bandmate Auer invented for themselves a sound riddled with chiming pop melodies that was completely outside the hip-punk scene in Seattle. Their first album, the self-released cassette Failure, was an instant classic--revered by independent collectors for its Beatles-like melodiousness.
Three records on Geffen have followed, each more prettily crafted than the last. Interestingly, despite its trendiness and popularity right now, Stringfellow considers "punk" something of a four-letter word, at least when applied to his music.
Another thing that sets the Posies apart from hordes of grim grungies is their genuine love of '60s back-catalog and shiny pop heroes: the Hollies, Kiss, Cheap Trick, the Left Banke and so on. For Auer and Stringfellow, living in the sticks, records were clearly a mainline into big-city culture, and this sense of being outsiders--of living through music--still permeates their highly crafted, tuneful work.
The song "Grant Hart" on Disgrace captures this spirit exactly in the lines: "Got to turn up 'Keep Hanging On' as if I had a choice. ... Minnesota, new day rising, first day in the store/take the couch at someone's house and wait around to score."
"I try to work in song titles every place," explains Stringfellow. "And 'Grant Hart' is just about me loving Hüsker Dü, and Grant Hart [the band's drummer] so much. I was desperate to get those things when I got 'em; I really did buy those records the day they came out, I wasn't lying about the 'first day in the store.' "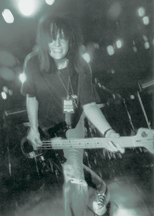 Giving Hüsker Its Dü: Kim Warnick of the Fastbacks
Nor was he lying about "taking the couch." "That's about the time Hüsker Dü just showed up at the Fastbacks' house and said, 'Okay, someone said we could stay here,' " explains Stringfellow, who is married to Fastback bassist Kim Warnick. "They were gonna stay for a day, and then all their shows got canceled. And one of them, maybe even Grant Hart himself, was sleeping in Kim's bed when she showed up, and she goes, 'Hey, this is my room, get out of my bed,' and he goes, 'Nope!' and rolls over."
AS THAT story indicates, for the Posies, fandom is still a time-honored tradition and nothing to be ashamed of. Stringfellow and Auer are proud to play with their childhood heroes, whether Alex Chilton or Cheap Trick. "Hate Song," on Disgrace, even features backing vocals by the Trick's Robin Zander and Rick Nielsen.
"The whole thing about that was, they just came over for fun, to drink beer and hang out," says Stringfellow. "It wasn't like I mailed them sheet music and went, 'practice this part.' Both their parts are just totally off-the-cuff things--playing around--but that's why they're so cool."
Playing live with Cheap Trick turned out to be even cooler, says Stringfellow. "It really freaked me out for the first time, like 'Man, these guys--I bought their record when I was 12, how did I end up knowing them?"
Stringfellow adds, "I consider myself really lucky. If I got to pick the songs I wanted to sing in karaoke bar, these would be the ones I'd pick; but instead I get to sing along with a really good-sounding thing which is actually that band itself!"
---
The Posies, with Velocity Girl and Fuzzy, Monday (June 10) at 9pm at the Edge, 260 California Ave., Palo Alto. Tickets are $7 adv. (415/324-EDGE). Join their Internet mailing list by sending an email message and writing "SUBSCRIBE dear23" and your full name in the body of the message.

---
[ Metro | Metroactive Central | Archives ]