Our music editor is no girlie man. He is, as Trey Parker would say, a 'manny-manny-man.' So what's he doing running around the day spas of Silicon Valley? Only delivering you the most-kick-ass-ever guide to this area's weirdest and coolest spa treatments.
By Todd Inoue
I'M A GUY; I like ribs, the Raiders and gangsta rap. But if there's one extravagance I allow myself, it's spa treatments. I ain't on some metrosexual kick, I just like releasing tension, and paying some Coke machine of a man or woman to pound my kinks out works for me.
I can remember most of my massages. The best wasn't in overhyped Napa Valley, where my therapist ducked out of the room twice to take water breaks, nor at the chi-chi Claremont Resort in Berkeley, where the aesthetician was late, and I squirted my face with eye-burning menthol, which I mistook for water. The best massage was in Reno during the Final Four by a talkative, mulleted Nordic guy. He took my ass to the shed, plunging his thumbs into crevices, releasing toxins and talking mountain bikes and philosophy until I nearly collapsed. I was physically and mentally drained. He rocked my world. For this story, I wanted to give spa neophytes an inside peek. But for the converts, I wanted to experience something different. I wanted to go beyond the same lavender aromas, terry-cloth robes and Swedish long stroke (Esalen) massages. I called five random places and asked, "What is your most unique treatment?" and booked appointments. Yeah, my job sucks. Here's what happened.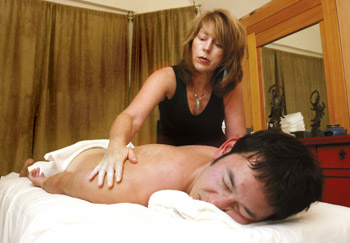 Rock the Body: Todd gets 'the most intricate pampering my body has ever undertaken' at Watercourse Way. Did we mention he's the manliest man in Mantown?
Watercourse Way
165 Channing Ave., Palo Alto. 650.462.2000. www.watercourseway.com
TREATMENT: Red Flower Sento Ritual (90 minutes. $130)
BROCHURE: "A vitalizing bathing ritual using flower oils and fruit essences. Purifying yuzu mimosa sea algae, exfoliating with ohana ginger-grass and special ground bamboo, body polish with rose-camellia-plum infused cherry blossom rice, finishing with kinmoxei wild lime silk oil massage."
EXPERIENCE: I was put in Room No. 9, which is marked with small tiles, a dome that twinkles with star lights, a tall aquarium wall piece—pure class. Treatment begins with a Jacuzzi soak, which is a great way to unwind before a massage. Next to the Jacuzzi are a cold-water immersion and a full shower and resting area. Fifteen minutes here and I was led to the treatment room.
The Red Flower Sento Ritual is based on a line of products (called Red Flower) that incorporates elements of renewal culled from Tassajara and Japanese renewal rituals. The ginger-grass and bamboo scrub is slightly coarse but miles away from loofah. There's a tinge of fine grit that's rinsed off and then followed by a shower. The aesthetician hands me a body wash that includes yuzu, mimosa flowers, pink grapefruit, sea algae and moss oil. I return to the table and am slapped around with a buff bag stuffed with cherry blossoms, rice bran, wild cherry bark and silk extract. The rose camellia plum mist cools the skin and the massage seals the multiple elements together into a harmonious package. To date, it was the most intricate pampering my body has ever undertaken and it felt great.
RESULT: The number of contrasts and textures rubbed the sleep sand from my third eye. During the foot massage, I could feel the energy shooting up through my neck. I exited smelling like cherry blossoms and feeling so Zen that I met Steve Jobs, Larry Ellison and Bill Gates at Homma's Brown Rice sushi to talk about ending world hunger. It was that kind of day.
WOULD I COME BACK? Hell, yeah. And I'd bring my girl, too.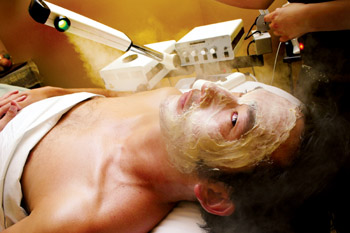 Stone Cold: Todd in the throes of the Elemental Nature Men's Facial at Atelier Aveda. See that mantastic look in his eye? He might have to break you, if he wasn't so relaxed.
Atelier Aveda Lifestyle Salon Spa
378 Santana Row, Suite 1120, San Jose. 408.244.4222. www.atelieraveda.com
TREATMENT: Elemental Nature Men's Facial (60 minutes, $85)
BROCHURE: "Soothe your skin with a facial specially designed to address the needs of skin that undergoes daily shaving. Relax and restore your skin with cleansing, exfoliation, extractions, treatment masques and moisturizing protection. Experience a therapeutic sports neck, shoulder, arm and hand massage to finish the service."
EXPERIENCE: Atelier Aveda is Santana Row's salon du jour. This spot had been on my radar since Prince came by here during his Musicology stop to refill on Aveda products. Their Elemental Nature Men's Facial was my first facial. It was much more of an upper body experience than outer body. I had a high pro glow from the steaming, massaging, hot towels and exfoliations. I wasn't used to the extraction techniques but my facializer, Claudia, swept me clean with minimal fuss. The massage was the cherry on top.
RESULT: I felt like Derek Zoolander—slightly ridiculous and checking my look every five seconds. I sense facials are for guys who get paid to look good—models, CEOs, TV weathermen, car salesmen. Music writers are slovenly at best; hence facials aren't something I'd list as an annual deduction. Besides, my skin is too damn schizophrenic to deal with. However, I did enjoy the pampering and conversation; the salon is so jovial. I can see how women enjoy this.
WOULD I COME BACK? To pick up Aveda products or if someone gave me a gift certificate. It's not reflective of the service at all; it's all about my own facial hang-ups.
The Spa at Dolce Hayes Mansion
200 Edenvale Ave., San Jose. 408.362.2397. www.hayesmansion.dolce.com
TREATMENT: Massage "a la chocolat" (60 minutes, $115)
BROCHURE: "This massage is slightly 'decadent' but very relaxing. A Dolce 'Signature' Massage or Couple Massage performed with the use of 'chocolate massage oil.' If you're feeling tired, yet adventurous, this is the 'Swedish style' massage for you. Light to firm pressure is used, at your preference."
EXPERIENCE: The chocolate massage was just chocolate-raspberry-scented oil with a standard massage. We switched to eucalyptus oil midway to deal with tightness in my lower back. The aesthetician's fingers could crush manhole covers and wiped out months of bad posture. I enjoyed the environment—very clean, sparkling and peaceful, especially the chill-out room.
RESULT: Hayes Mansion is located in a suburb and bodies up next to a mobile home park but doubles as a convention center and wellness oasis in south San Jose. The spa hasn't quite caught on and was empty the day I went. My therapist said some days are good with bridal parties and ladies-luncheon types of events and other days they'll get two people. But the Spa at Dolce Hayes Mansion does exist—it's well laid out, the rooms are spacious, the après-treatment room is nicely decorated and everything is less than a year old. If a tornado airlifted the Hayes Mansion and dropped it in Saratoga or Los Gatos, it'd be the hottest thing. Instead, it's south San Jose's prime relaxation spot for those in the know.
WOULD I COME BACK? When getting away from it all requires a five-minute drive.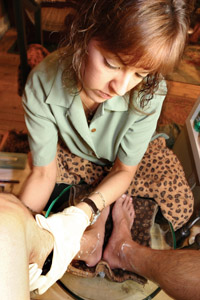 Step Off: Todd's man-feet are usually smashing stuff like wood, imitation wood paneling and ninjas. But at Island Pedicure, they got a lovely hot stone Pohaku massage.
The Island Pedicure
140 W. Main St., Los Gatos. 408.395.3722. www.islandpedicure.com
TREATMENT: The Hale'akala pedicure (50 minutes, $85)
BROCHURE: "Allow us to melt away tension while you're pampered with the four elements of the Island. Sea and Air meet with our nourishing seaweed and Alaea red sea salt foot soak followed by our Kiwi Breeze Body Broom ™ to sweep away dead skin. After general grooming, fire and earth are united with a hot stone Pohaku foot massage focusing on key pressure points of the foot. The feet are then painted with a rich volcanic ash straight from the Big Island of Hawaii. A leg and foot massage with our Kahlua Kocoa Kreme ™ and precision polish application are the final steps in this unforgettable pedicure."
EXPERIENCE: Here's a sentence I'd never thought would escape my lips: "I'm here for my 11am pedicure." This is the current hot spot for manis and pedis. Island Pedicure is a fun, upbeat, beautifully decorated salon that uses natural ingredients: there isn't that acrid smell of acid lurking in the air. My feet endured pampering never seen—massage, luscious lubricants, cuticles pushed down, even lava rocks stuck between the toes.
RESULT: The Hale'akala was filled with delicious scents and textures but the whole hubbub seemed much ado about toe jam. I'm convinced most men look at their feet differently from women. A woman sees calluses and cracked heels as a detriment. Men hold them as badges of honor. They represent paths taken, directions switched, concrete parking lots crossed. Getting those miles of soccer training and hiking paths scraped away was an emotional experience. But in a way, the removal of the calluses and cuticles wiped my slate clean and now I'm ready for the next 40 years.
WOULD I COME BACK? Probably not, but only because of my bipedal inferiority complex. If I were a woman, I'd book all kinds of girlie-type things here.

Six Faces of Todd: Our hero in various stages of treatment at the spas he toured for this article.
Lawrence Health Center
3545 El Camino Real, Santa Clara. 408.243.1177 (no website)
TREATMENT: Body Scrub (30 minutes, $30) and Shiatsu (60 minutes, $40 and $60)
BROCHURE: Body Scrub: "An invigorating scrub that rids the body of dead skin and leaves it feeling fresh, smooth and soft." Shiatsu: "This centuries old oriental art of vigorously massaging pressure points to relieve tension and relax tight muscles is administered by expert licensed professionals."
EXPERIENCE: Located in a strip mall near Lawrence and El Camino, the Lawrence Health Center is a traditional Korean bathhouse with communal hot tubs, body scrubbers and massage therapists. It's super clean, pristine and legit—no funny business here. Men and women's sides are separated and everyone is butt ass naked—so if you're even the slightest bit shy, or offended by naked Korean and Japanese men, LHC is probably not for you. You pay at the counter, get a key and stow away your clothes and inhibitions in the locker room. Take a shower at either the Western standing stalls or squat at the Asian-style ones. Three separate pools and two saunas unwind the knots and prep the body for the banging it will take. My body scrub attendant was a kind Korean gentlemen who worked in the nude (it's wet and I guess he didn't want to mess his clothes up?). I lay naked, face up on a massage table as he tossed a few pans of warm water on top of me and then proceeded to scrub every inch of my body with an exfoliating buff pad—banging it a few times to knock out the dead skin. It felt like a huge cat tongue or light grain sandpaper licking up and down my face, neck, shoulders, arms, legs and inner thighs. Yes, he even went down there—whipping my legs into a butterfly position, lifting my nutsack and scrubbing the Gooch. A few douses of warm water and it was time to flip over, repeating the treatment for my backside. A full cleansing commenced with coconut body wash and shampoo and concluded with a brief, separate, rather aggressive upper body massage. I felt good, and yet I still had a Shiatsu coming.
It was hard to relax during the Shiatsu massage. Shiatsu is a dry massage, aided by the smoothing effects of a bed sheet. I'm going out on a limb here, but maybe the best way to soothe aching muscles is NOT to jam fingers and elbows in them. The room also had a pole hanging from the ceiling for the practitioner to use to walk on the back, which (grunt) she (ouch) did. It was a rough 40 minutes and the experience was marred somewhat by the aggressive tip collection efforts by my therapist. She must have mistaken me for some other well-funded Korean spa newbie.
RESULT: Despite the temporary shock of a naked practitioner and the unexpected cleansing of the area between my balls and cornhole, the body scrub felt great and my skin was silky for days afterward. I'd pass on the Shiatsu, as I've been spoiled by oil and long flowing strokes.
WOULD I COME BACK? I'd definitely do the scrub again, maybe in the winter when it's cold outside. I'd also like to spend some time in the après-treatment lounge where men kick back on the recliners—napping, reading newspapers or watching Korean soap operas on the plasma.

Todd's Top 5 Spa Tips
DON'T SAY 'MASSEUR' OR 'MASSEUSE.' Those are outdated terms. The correct term is "massage therapist," "technician" or "aesthetician." A masseuse is someone who specializes in happy endings. See the back of Metro for prime examples.
GO THE FULL 90. Thirty minutes is too short. 60 minutes, you're just getting into it. 80–90 minutes, you can forget about time and concentrate on relaxing.

EXPENSIVE DOESN'T EQUAL BETTER. I've had $10 and $120 hour-long massages and liked the $10 one better. The $10 one—from a finishing student at a massage therapy college—was so good, I went back twice in a week. The $120 massage—at a Maui resort—lacked in atmosphere and aesthetics and was jacked up because of location. If you really want a deal, inquire at local community colleges that offer aesthetician programs like De Anza, where massages and facials can go for $10 and $15, respectively.
GET BOOTY ASS NAKED. Aestheticians see tons of flab and hairy bodies daily so nakedness is nothing. Unless it affects the ability to relax completely, screw wearing tighty whities. And don't worry about getting ticklish, focus on your tension drifting away or think about baseball.
TREAT YOURSELF. Take advantage of massage treatments that pop up in odd places—the mall, street festivals, the airport. During a recent bachelor's party in Reno, a short-skirted lady gave 10-minute neck and shoulder massages for $15. She knew her way around pressure points and muscle lines, giving guys full-on O-face. Turned out she was a CMT—a certified massage therapist—and working the strip club was her side hustle. "I make way more money here than at a resort."

A Guide to Area Day Spas
AESTHETECHS MEDICAL DAY SPA 393 Blossom Hill Road, Suite 101, San Jose; 408.578.3223
ANGEL FACE DAY SPA 831 S. Wichester Blvd., San Jose; 408.247.3223
ATELIER AVEDA LIFESTYLE SALON SPA 378 Santana Row, Suite 1120, San Jose; 408.244.4222
AYOMA LIFESPA Hotel Valencia Santana Row 355 Santana Row, San Jose; 408.423.5424
BEAUTY CLINICA DAY SPA 200 S. California Ave., Suite 190, Palo Alto; 650.326.3442
BELLEZA SALON & SPA 4878 San Felipe Road, Suite 120, San Jose; 408.528.6648
BODY KNEADS SPA AND SALON 810 San Antonio Road, Palo Alto; 650.852.0546
BURKE WILLIAMS SPA 355 Santana Row, Suite 2010, San Jose; 408.241.0071
DECATHLON CLUB 3250 Central Expressway, Santa Clara; 408.738.2582
DELPHI SALON & DAY SPA 540 N. Santa Cruz Ave., Suite D, Los Gatos; 408.395.7260
DESTINO SPA 4335 El Camino Real, Palo Alto; 650.947.0203
DOLCE VITA DAY SPA 630 N. First St., San Jose; 408.287.0200
EL PASEO DAY SPA 812 S. Winchester Blvd., Suite 140, San Jose; 408.725.8000.
AN ESSENTIAL DAY SPA 433 S. Murphy Ave., Sunnyvale; 408.720.8297
FANTASY BEAUTY SPA OAKRIDGE 925 Blossom Hill Road (Office), San Jose; 408.972.8882
HARMONIE EUROPEAN DAY SPA 14501 Big Basin Way Saratoga; 408.741.4997
HEAVEN ELEVEN DAY SPA 2119 Lincoln Ave., San Jose; 408.267.6711
IMAGE & DESIGN SALON & DAY SPA 7897 Eigleberry, Gilroy; 408.842.6969
THE ISLAND PEDICURE 140 W. Main St., Los Gatos; 408.395.3722
JUUT SALONSPA 240 University Ave., Palo Alto; 650.328.4067
LA BELLE DAY SPA 36 Stanford Shopping Center, Palo Alto; 650.326.8522
LA CHOZA DAY SPA 1451 Foxworthy Ave., San Jose; 408.448.0573
LA CONCHA SPA SALON 1042 Lincoln Ave., San Jose; 408.286.8612
LAWRENCE HEALTH CENTER 3545 El Camino Real, Santa Clara; 408.243.1177
MOI DAY SPA 1375 Blossom Hill Road, Suite 43, San Jose; 408.269.4664
NEW IMAGE SKIN CARE & DAY SPA 14432 Union Ave., San Jose; 408.371.5974
PLUMSPA 74 S. First St., San Jose; 408.971.9713
PRESTON WYNNE SPA 210 E. Main St., Los Gatos; 408.335.1777
SACHS DAY SPA 1375 Lincoln Ave., San Jose; 408.298.1375
SANCTUARY DAY SPA 16A Seascape Village, Aptos; 831.688.SPAS
SERENITY DAY SPA 1125 Luchessi Drive, San Jose; 408.448.7546
THE SPA AT DOLCE HAYES MANSION 200 Edenvale Ave., San Jose; 408.362.2397
SPA LOS GATOS 100 S. Santa Cruz Ave., Los Gatos; 408.354.5901
STELIANA'S DAY SPA 5317 Prospect Road, San Jose; 408.996.3600
TOVA YARON DAY SPA 1600 Saratoga Ave., San Jose; 408.866.8682
WATERCOURSE WAY 165 Channing Ave., Palo Alto; 650.462.2000
YELKA DAY SPA 2049 Grant Road, Los Altos; 650.969.1117
---
Send a letter to the editor about this story to letters@metronews.com.
---
[ Silicon Valley | Metroactive Home | Archives ]