[ Archives | Metroactive Central ]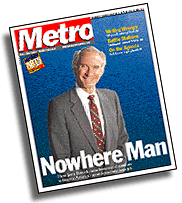 November 30-December 6, 1995
Cover
Jerry Mannered: What started out as a small, unassuming special election for Rep. Norm Mineta's seat has escalated into a nasty and expensive showdown, with former San Jose city councilman Jerry Estruth caught in the spin cycle of the Democratic machine in his bid to beat state Sen. Tom Campbell. Jennifer Davies searches for Estruth in the advertising.

Arts &amp Entertainment

Music
Rock Schlock: Beset by boring bands and manipulative PR-happy magazines, today's rock critics have been defanged.
Last Calls: New Agenda club set to open on San Jose's South First Street; JJ's Blues Downtown closes.
Beat Street: Chris Esparza, ex-impressario of the Ajax Lounge, speaks.
Gospel Gale: Daryl Coley opts for a sacred sound.
Picture Imperfect: The music outstrips the slide show at the SJ symphony.

Movies
Casino: Scorsese gambles on Vegas--and like the town, itself, overdoes it.

Also Reviewed:


The Crossing Guard: Jack Nicholson in a forceful drama that jay-walks around the usual Hollywood contrivances.
Stalingrad: German-made film glosses over Nazi crimes.

Books
Father of the Bribe: Greed swamps a simple, moral Moroccan man in Tahar Ben Jelloun's Corruption.

Performance
Fiesta Navidad: Mexican Heritage Corporation brings traditions of Christmas in Mexico to life in musical production this Sunday, Dec. 3.

Dining
Vegging Out: The hunt for a good veggie burger.
---
This page was designed and created by the Boulevards team.
Copyright &copy 1995 Metro Publishing and Virtual Valley, Inc.