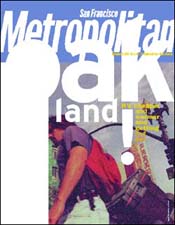 November 8, 1999
Cover: Oakland, Oakland and more Oakland
It's cheap, warm and wild, but will San Franciscans relocate?
Knowin' the 'hoods: We're movin' on up . . . to the East Bay?
Residential Rebirth: Creating a livable downtown Oakland.
East Bay Follies: If your last Tiazzi from Starbucks ended up on the Metreon floor, head to Oakland for some truly original distractions.
Drinking, Driving and Dining: A Guide to East Bay Night Life.
A Man, a Plan, a City on the Verge: Will free cappuccinos woo the dotcom crowd?



Cherry Blossoms: Mark Ewert goes native at the Virgin Queen Contest.
Job Interview: Wennye´ Edwards steers clients through their astrological ups and downs in her Upper Castro metaphysical center, The Wounded Healer.
Tara's Advice: Snoozing through life.
Global Fashion: The fashion craze takes on new meaning with ORFI's fall line.
Media Mavens: 'Inspirational Moments with Winifred' celebrates two years of its three-ring circus.
Turn Styles: A long night's journey into day.
Millennial Libations: An American Psycho hits the bars.



Beauty Rolls: The Novella salon and spa offers the benefits of becoming human sushi.
Concrete Runway: Johnny Goody at Van Ness & Geary.
Denim Deluxe: Levi's flagship store abounds with art both good and just plain ugly.



Outside 'Insider': The TV-news drama in 'The Insider' is too pat to catch fire.
Film Picks: Reviews of 'Black Tar Heroin: The Dark End of the Street,' N.I.C.E. (New Italian Cinema Events) and 'Princess Mononoke.'



Heartbeeps: Casiotone for the Painfully Alone reaches out to the emotionally isolated.
Raising the Roots: Not only can Shobhan recount San Francisco's musical history--she's been integral to its formation.
Music Picks: Reviews of the latest CDs by Felons and Revolutionaries, Mike Viola and the Candy Butchers and the artists from Woodstock 1999.
Club Guide: Disco divas, hip-hop connoisseurs and salsa suaves to flannel-clad pinball players, jazz luminaries and more.



Cattle Call: Michael Stabile holds the A1 while visiting the city's steakhouses..



Name Dropping: Dominick Dunne waxes eloquent and rambles on in 'The Way We Lived Then.'
Book Picks: Reviews of 'Slapboxing With Jesus' and 'Your Action World.'



Please don't forget to write! The Metropolitan welcomes letters. Like any great work of art, they should be originals--not copies of letters sent elsewhere. Include address and daytime phone (for verification purposes only). Letters may be edited for length and clarity or to correct factual inaccuracies known to us. Postal: Metropolitan Letters, 1717 17th St., San Francisco, CA 94103. Fax: 415/487-9094. Email: [email protected]. Emailers, please include name, city of residence and phone number. Letters printed will list email address unless otherwise specified. Letters to the editor are not currently published in the online version of this paper.