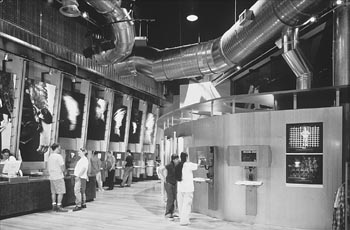 Denim Deluxe
Levi's flagship store abounds with art both good and just plain ugly
By Tracie Broom
Well, I never! Who would have thought that Levi's would go papal and start supporting the arts? That they would take the clone look out of the retail equation with on-site customization? Well, they're hot on it--just in case you've had your little ostrich bean stuck in a sandy hotel ashtray for the last couple of years--and we think it's a fine idea. Sort of. The extremely huge, surprisingly cool opening party (read: free heavy intoxication, loud music, beautiful people) thrown this summer certainly helped us develop a good impression of the new digs. The new Levi's flagship store at Post and Stockton in downtown San Francisco serves up a brave new world of retail experiences for the consumer, all packaged in a deep-house, super-industrial yet touchy-feely aesthetic.
In addition to the myriad custom tailoring options available throughout the multilevel complex, there are umpteen tiny video screens stationed about the facility running a constant loop of the latest in digital shorts. Offering digital artists the chance to show their clips in one of the most highly trafficked retail zones in the country is admirable--despite the fact that increased profit is always going to be the bottom line with a retail giant like Levi Strauss.
The garish display of painted-jean-jacket art is another matter. Only on QVC could one witness such tacky craft, an ocean of horrors in paint, glue, doll heads and papier-mâché. Kids, don't ever paint an Impressionist version of Frankenstein's visage on your $70 Levi's jean jacket. It just looks bad.
However, for those individuals looking to customize deezigny apparel, Levi's has some interesting options. One can have patterns burned into denim with a special laser embroidery tool, or go for the straight-up traditional embroidery. The hip staff of fashion school grads-cum-sweatshop workers will sew gorgeous silks onto the hem of your pants, or they'll take two pairs of jeans and turn them into a skirt for you. The sky's the limit. Hope the same is true for your credit card bill.
With MTV-level gimmicks like the shrink-to-fit hot tub area and the instant electronic photobooth, Levi's looks to corner the market among up-and-coming youthful hipsters and tourists alike. For savvy SF shoppers, however, there's a true treat: you can step into a special laser fitting room, where a beam will read your dimensions precisely. Then you choose a style of jeans, and the order is sent straight off to the factory, where the custom-sized jeans will be made just for you. At $50 a pop, you can't beat it.
One can only hope that most of the "art" is gone by the time you get there.
[ San Francisco | MetroActive Central | Archives ]