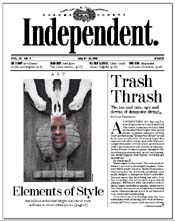 For the Week of
July 10-16
Cover: Talking Trash
Need a handgun, computer, angora sweater, or a simple al fresco dinner? Hold your nose and look out back. Intrepid reporter David Templeton goes dumpster diving for fun and profit.
News:
Diamond in the Rough
Juilliard Park, the faded jewel of Santa Rosa, may get a facelift.
The Scoop: Watching Mikey smack and snack.



Stick Figures: Artist Kurt Steger's elements of style.
Head Trip: Timothy Leary turned on, tuned out, and dropped dead. Now he's back, and he's an even bigger media force than before, and just in time for the 30th anniversary of the Summer of Love.
Stretching the Tube: In the wake of Steve Park's 'Manifesto,' Asian American actors talk about TV's constricted ethnic vision.



Talking Pictures: Author and Hong Kong expert Mike Wilkins explores the high-kicking Face/Off on the day Hong Kong says good bye to the Western world.
The Stars Never Die: The passing of Jimmy Stewart and Robert Mitchum only reinforces the persistence of movies like Vertigo and Night of the Hunter.
'Gold' Country: Film star Peter Fonda turns apiarist in Ulee's Gold.



Dish 'n' Dat: Dishwalla dish up raw energy.
Caution--Men at Quirk: Primus shuns the mainstream on their Brown Album and the H.O.R.D.E. festival.



Comfort Food: Pearson & Co. makes it easy to eat at home.



Please don't forget to write! The Sonoma County Independent welcomes letters commenting on our coverage or other topics of local interest. Please keep all letters at 300 words or less (we reserve the right to edit them for length and style) and sign them (unsigned letters will not be published. A local phone number must be included for verification. Postal: Sonoma County Independent Letters, 540 Mendocino Ave., Santa Rosa, CA 95401. Fax: 707/527-1288. Email: [email protected]. Emailers, please include name, city of residence and phone number. Letters printed will list email address unless otherwise specified. Letters to the editor are not currently published in the online version of this paper.