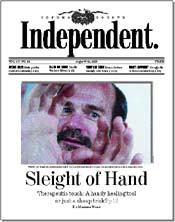 For the Week of
August 6-12, 1998
Features: Soulless Asylum
How California's mentally ill population has ended up in a prison system ill-equipped to deal with them. Saratoga resident Andrew Barnett decided he'd rather be dead.
Sex in the Shire: A wistful look at the Ren Faire's bawdy good ol' days.
Hosiery Job: Pantyhose 'tattoos' for the puncture-conscious and uncommitted.
News: The Scoop
Saving Private Ryan--For what?
Climbing Up on Capitol Hill: Check up on the your Congressional Representatives and U.S. Senators--where they stand, how they voted.



Suddenly Summer: Our guide to all of the season's hottest events.



Scheming Toys: Author Hoah Hawley takes apart Small Soldiers.
City of Love: New Age writer Shakti Gawain shares her thoughts on Philadelphia.
Fool Walks In: Film puts poetry into ordinary hands.



Spins: New CDs from Brian Setzer, Brian Jonestown Massacre and more.
Rancid's Worth the Wait: Life Won't Wait, Rancid's latest, confirms band's commitment to truth in music.



In a Jam: A moral tale about going too far back to basics.
Heard It Through the Grapevine: Get to the root of all things wine.



Panic in Needle Park: Heroin chic comes clean in author Ellen Miller's Like Being Killed.



Please don't forget to write! The Sonoma County Independent welcomes letters commenting on our coverage or other topics of local interest. Please keep all letters at 300 words or less (we reserve the right to edit them for length and style) and sign them (unsigned letters will not be published). A local phone number must be included for verification. Postal: Sonoma County Independent Letters, 540 Mendocino Ave., Santa Rosa, CA 95401. Fax: 707/527-1288. Email: [email protected]. Emailers, please include name, city of residence and phone number. Letters printed will list email address unless otherwise specified. Letters to the editor are not currently published in the online version of this paper.