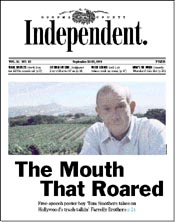 For the Week of
September 23-29, 1999
Cover: Tom Tom Club
Tom Smothers tackles those trash-talkin' Farrelly Brothers.
News: The Right Stuff
The Christian Right steps into the workplace.



Nolan Bushnell: After losing it all, the Atari founder is back in the garage.



Let Them Eat Cake: Hanging with the Harvest Fair judges.
Heard It Through the Grapevine: Get to the root of all things wine.



Weird Science: Re-release of vintage Bell Lab videos is high camp.
Mum's the Word: 'Mumford' has plenty of local color but few laughs.
War Zone: New documentary 'Return with Honor' honors Vietnam POWs.
Stigmatized: Futurist Bart Kosko pits Stigmata against The Exorcist, wonders why exposed nipples are so controversial, and imagines a fuzzy future where death--and lousy films--won't exist.



Gothic Novelty: Jill Tracy's eerie but mellifluous torch songs have finally come of age.
Stereolab Experiment: Stereolab blends heated rhetoric with chill-out sounds on new 'Cobra' album.
Audiofile: Reviews of new CDs by Stunt Monkey and The Road Kings.
Spins: New CDs reveal hits and misses among genre-benders.
SF Club Guide: Disco divas, hip-hop connoisseurs and salsa suaves to flannel-clad pinball players, jazz luminaries and more from the City by the Bay.



Bloody Business: All's fair in love and war in Actors' Theatre's updated 'Macbeth.'



Please don't forget to write! The Sonoma County Independent welcomes letters commenting on our coverage or other topics of local interest. Please keep all letters at 300 words or less (we reserve the right to edit them for length and style) and sign them (unsigned letters will not be published). A local phone number must be included for verification. Postal: Sonoma County Independent Letters, 540 Mendocino Ave., Santa Rosa, CA 95401. Fax: 707/527-1288. Email: [email protected]. Emailers, please include name, city of residence and phone number. Letters printed will list email address unless otherwise specified. Letters to the editor are not currently published in the online version of this paper.