Ground Zero
This is where it's at for just about anything and everything, from party frocks to useless schlock. We're not sure if the best part is actually scoring a major deal at one of these places or bragging about it to your friends.
A&A Auctions 925 41st Ave., SC, 476-1713. Every Thursday around 2pm, the curious begin circling around this week's haul, trying to decide what they'll bid for when the show starts at 6:30pm. Owner Ann Sydes sells everything from full estates, furniture and jewelry to cars and fishing boats. Just like in the movies, an old-time auctioneer will rattle off items with that rollicking, rolling cadence. Sydes has seen autos impounded by the Capitola P.D. sell for $200 and new sofas walked out the door for five bucks.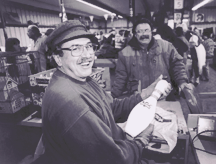 Photo by Robert Scheer
Spare Change: John Catter displays one of the items to be had for a few loose coins at the Bargain Barn.
Bargain Barn 290 Pioneer St., SC, 423-8611. My sister-in-law came over the other morning sporting that deer-caught-in-the-headlights look in her eyes. "I'm in culture shock," she said, recounting her maiden voyage to this infamous offshoot of the Goodwill donation center. "I saw a little old lady get knocked down and everyone just trampled over her to get the deals." Hey, Metro Santa Cruz says, if you can't keep up with the big dogs, stay on the porch. Any fool knows the Bargain Barn is not for the weak, the infirm or the timid. With clothes at a buck a pound, unbelievable prices on electronics and dining-room sets for a song, watch meek Santa Cruz peaceniks morph into American Gladiators when it comes to grabbing the goodies. Part shopping experience, part performance art. Shoe-up Mon.-Sat., 9am-1pm, or Sun., 11am-4pm.
Skyview Flea Market 2260 Soquel Dr., SC, 462-4442. If you don't know about the Flea for bargains, you either just moved here or you got way more discretionary bucks than the rest of us. I once put together a complete summer wardrobe in one fell swoop for about $7. Let's not even talk about the primo leather jacket I scored for $15 or the world's most comfortable cowboy boots for two bucks. Besides clothes, you can get house decorations, furniture, kitchen appliances, plants--well, everything. You stick with Mass--the fleas are my religious experience on Sunday mornings.
Yard Sales Cruising garage sales is for some art, for others science. A few hot tips: Know your neighborhoods. Pleasure Point is great for reggae castoffs and tie-dyed sweatshirts, but Carbonera estates rules for big people things. Avoid mobile home parks unless you can't live without that crocheted Kleenex box cover. If you see a sale where parents foolishly let their kids help out, by all means stop. As soon as Mom goes inside, don't be afraid to use your towering height to intimidate the little rascals into practically giving you whatever you want. Don't waste your time after 8am, because all the good stuff's gone. Conversely, it never hurts to hit a sale about 3pm, when they can choose between your ridiculously low offer or hauling the crap to the dump.
For the Pad
Whether it's decorations for your front room, must-haves for the home office or pots and pans for the kitchen, check out these deals around town.
Cheap Posies
Dynasty Gardens 3621-A N. Main St., Soquel, 475-5296. Spring's almost here, and we bet you haven't even thought about your groundcovers. This is the cheapest place in town for everything from grasses to ferns, with irises in between. Every one-gallon container costs $2.50, no matter what's in it. Flats will run you $8.50. Perennials? They got 'em.
Farmers' Market Cabrillo College parking lot on Saturday mornings; Lincoln and Cedar streets in Santa Cruz on Wednesday. afternoons. One day a friend came home and her husband had scattered cut roses all over her bed. Who cares that he only paid a few bucks a dozen for them at the farmers' market? The effect was just the same as if he had paid $30 at your typical florist. Don't pass up the veggies, of course, which sometimes are a decent bargain.
Cheap Posie Vases
Giant Pottery Seconds Sale Squid Row, between Goodwill and India Joze, SC, 427-0650. Thrifty crafts lovers wait for these events every May and October, brought to you by the nice folks at Clayworks. Featuring professional craftspeople who need to move slow stock and seconds, this is the place to get hand-thrown mugs for $3 or unique jewelry for a fraction of its original price.
Cheap Wonk Stuff
Computer Jones Warehouse 3022 Winkle Ave., SC, 462-6779. The main squeeze for new and used software and hardware for Macs and PCs. Doug says it's a cheap place to custom build or rebuild any system--from 386 to Pentium. Pick up Word for Windows(v2) for $250 and tons of games for $5-$10.
User Group Store 2840 Research Park Dr. #100, Soquel, 477-4277. Here's the catch--you have to join an Apple-authorized user group in order to partake of the way cool Macintosh bargains at this newly opened store in Soquel. Pick up a refurbished very-late-model Performa with CD for $850 or a new Powerbook for under a grand. It's a Mac-o-phile's dream.
Santa Cruz Adult Education 350 Taylor St., SC, 429-3966. So here's your choice--a weekend class on Mac basics from Capitola Recreation Center for $103 or a six-week class from Santa Cruz Adult Ed for $50. Or, a two-day class in Adobe Photoshop over in Sunnyvale for $495 versus a 10-week course in Adobe Photoshop from Adult Ed for $80. Gee, tough decision. Most city and county residents receive a schedule by mail four times a year. Registration is first come, first served. Warning: These classes fill up fast.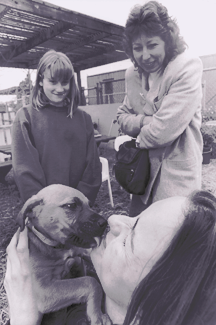 Photo by Robert Scheer
Lickety Do-Dah: S.P.C.A.'s Keri Hack gets in the face of a four-legged friend adopted by Danielle Gallet, 11, and her mother, Renee Gallet.
Cheap Unconditional Love
SPCA 2200 Seventh Ave., SC, 475-6454. They never tell you you're putting on weight or drinking too much or that you oughta get a job. Also, they don't sleep with your best friend. Usually. This is the place to find man's--and woman's--best friend, be it a dog, cat, pot-bellied pig or iguana. And, as director of community relations Merilee Geyer points out, "When you adopt an SPCA animal, you're saving a life." Also, she adds, "One of the myths about our dogs is they're all mixed breeds or they have behavior or health problems--30 percent are purebred." If your heart is set on a purebred, though, ask the SPCA for its list of breed rescue services run by local volunteers who focus on finding suitable homes for one particular breed.
General Feed and Seed 1900-B Commercial Way, SC, 476-5344. Once you've adopted your little bundle of joy, whether it's a sheep or a greyhound, it's your job now to take care of that life. Get a colorful Beastie Bands pet collar made by Aptos-based Derbographix for only $7.95. Dog and cat immunizations cost only $4.95. In addition to these bargains, fertilizer, seeds and farm animals like chicks are always on sale.
For the Body
Eat like a king or queen or some such monarch. Luxuriate in body care. Start your New Year's physical fitness regimen(again)--all for mere pennies. Well, dollars, maybe.
Cheap Kneads
Twin Lakes College of the Healing Arts 1210 Brommer St., SC, 476-2152. Four times a year, graduating students of the massage class offer a "Massagathon" to the public, where $20 will buy you an hour's worth of rubs. Mark your calendars: March 15-16 is the next one.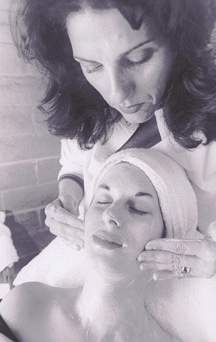 Photo by Robert Scheer
Facial Attraction: Marlene Monty practices her facial techniques on fellow student Medea Bevier at Wayne's College of Beauty in Santa Cruz--a great place for a cheap do, too.
Cheap Frou-Frou
Wayne's College of Beauty 189 Walnut Ave., SC, 423-5806. Of course, you have your own hair stylist, whom you would rather sacrifice your mother than lose. But it's hard to screw up a manicure, so let these students pretty up your nails for $4, or apply a soothing, deep-cleansing facial for $12.50. And, guess what? It's almost time for that bikini wax--only $10 at Wayne's. Yeah, right. For an equally satisfying experience, consider having your eyes poked out with red-hot irons.
Cheap Pearlies
Cabrillo College Dental Hygiene 6500 Soquel Dr., Aptos, 479-6431. Nothing like a sparkling smile to win friends and influence people. And, with insurance benefits steadily shrinking, one must get creative to find a way to fund the care and upkeep of our choppers. Cabrillo dental students will clean them for $25 and X-ray a full series for $30. And pick up a fluoride treatment for only $5. Unfortunately, services are only available during the school year, so schedule now.
Cheap Healthies
Stapleton's 3555 Clares St., Capitola, 479-0888; 415 River St., SC, 425-5888. It's hard to believe, but this natural foods market actually delivers the low prices it advertises. The trick? Bulk, bulk, bulk. A daunting array of legumes, rice, pasta, granola, spices and dried fruits threaten to overwhelm the most organized shopper--but with what results! Stapleton's also boasts an impressive produce aisle offering organic and conventionally grown fruits and veggies at a reasonable cost.
Cheap Eats
Aldo's Restaurant S.C. Yacht Harbor, SC, 426-3736. Let the hoity-toity toast the Pacific sunset with their $50 merlots from the deck of that other famous restaurant across the lagoon. The rest of us can enjoy the same view downing a paper dish piled with heavenly deep-fried oysters and fries for a mere $7. Don't pass up Mr. Aldo's pesto sauce--it'll bring tears of joy to your eyes.
Entenmann Oroweat 2470 Soquel Ave., SC, 476-5027. A good place to get cheap bread, cookies, cakes and donuts. No Gayle's or Kelly's here--look for your basic Oroweat, Lender's bagels and Thomas' English muffins. Special bargain days are Wed. and Sun.: half off retail price on almost everything.
New Leaf 2351 Mission St., SC, 426-1299; 6240 Hwy. 9, Felton, 335-7322; 1210 41st Ave., Capitola, 479-7113. Packed away in plastic cartons, look for baked polenta, fak'n bacon sandwiches and vegetarian lasagna, all for less than $5. Cheap and healthy--catchwords for Santa Cruzans.
Noah's New York Bagels 1411 Pacific Ave., SC, 454-9555; 1855 41st Ave., Capitola, 464-7667. A relative newcomer to town, Noah's has brought with him the Bialy, an enormous doughy wonder sprinkled with a little bit of everything--all for 75 cents. A dollop of butter, and you've got a full meal for under a buck.
Rosa's Rosticeria 493 Lake Ave., SC, 479-3536. Another great view of the Yacht Harbor, accompanied by great burritos and ferocious spit-fired chickens for a pittance. One hint: Don't look down--watching the fisher folks unload our unlucky finned friends can take the edge off an appetite.
Staff of Life 1305 Water St., SC, 423-8632. Most health-food buffs know about the vast selection of deli items at this natural foods landmark, tasty vegetarian items that the chefs have been working 20 years to perfect. Grab a potato knish and walk down to Castle Beach, about a brisk 10-minute hike.
Emily's Good Things to Eat 1129 Mission St., SC, 429-9866. Every day around 1:30pm, those angels at Emily's put up their heavenly creations--the ones that didn't sell that morning--on a dollar rack. All the buttery coffee cakes, flaky pastries and hearty loaves of fresh bread you can eat rub shoulders with bags of muffins and cookies--all for just a buck. Bargain hunting never tasted so good.
Trader Joe's 3555 Clares St., Capitola, 464-0115. This Southern California import has become a favorite for shoppers looking to score cheap coffee beans or inexpensive wines and beers. Few, though, consider this Capitola store for healthy lunches to go--Chinese chicken salad for $2.99 or chicken enchilada for $2.69. Also, Jason says they're now carrying fresh produce, so grab an apple to go with that sandwich.
Pleasure Point Pizza 4000 Portola Dr., SC, 475-4999. Actually, every day is bargain day at this pizza joint, which daily serves up a hefty slice of cheese pizza and a small drink for just $1.99. But Tuesdays ... now there's something worth working up an appetite over: a dollar a slice, plus 25 cents per topping. The slices are big, the crust is thick and the toppings are fresh. No wonder this place is a neighborhood favorite.
Cheap Exercise
MontBell Company Store 940 41st Ave., Capitola, 479-5424. This high-end sportswear and mountain-gear catalog company is based here, so guess who gets the outlet items? Mountaineering clothing, skiing clothing, backpacks and sleeping bags are being liquidated at up to 70 percent off. This week's example: a Storm Cruiser three-layer Gore-Tex jacket, normally $219, on sale for $59.
Play It Again Sports 4770 Soquel Dr., Soquel, 475-1988 and Santa Cruz Sports Exchange 2855 Soquel Ave., SC, 476-1123. It's too cold, too hard, too expensive to start a new exercise regimen. Well, these secondhand consignment shops just knocked one excuse out of the box. Soccer, in-line skating, weightlifting, surfing--chances are they've got the paraphernalia.
Riptide Surf & Skim 2-1245 East Cliff Dr., SC, 475-3541. This place has soul. Not only is it homegrown and staffed by nice, real people, but it's cheap, too. You can pop in on your way to the beach and rent a wetsuit for $6 a day--the best deal on wetsuits we've run across short of inheriting your big brother's when he moved to Oahu. Should you feel inclined, you can also rent a bodyboard for the same low price. Oh, yeah, and wax costs just 75 cents.
To clothe that spruced-up bod, why not check out some of these Santa Cruz consignment clothing stores? They have good stuff for work and play, and even kids!
For the Soul
Who needs bucks to enjoy this mad, drunken beast called life? For cryin' out loud, it's not like we live in Podunk--the ocean and mountains that sandwich our little burg are free for the taking. But, finding creative ways to enjoy them is an art.
Cheap Talk
Capitola Book Cafe 1475 41st Ave., Capitola, 462-4415. Well, Mr. Pathetic, you can rent the Sports Illustrated swimsuit video again tonight or you can try an "author event" and a chance to meet females that promise more than bodies by Nautilus, brains by Mattel. The Book Cafe has blazed the trail with some great writers who read from their latest works, including fangmeistress Anne Rice, computer-culture deconstructionist Clifford Stoll, native hero Russell Means, and brave and beautiful Greg Louganis.
Gateways Books & Gifts 1018 Pacific Ave., SC, 429-9600. This is the spot for crystal huggers and angel lovers. Check out free lectures on a wide range of metaphysical subjects and enjoy a free cup of tea with your purchase.
Cheap Lines
U.S. Postal Service Communication may be a lost art, but at 32 cents a shot, we can't afford not to resuscitate it. A mere pittance will ensure the delivery of one standard envelope containing up to four pages of power whining, frantic apologies, newsy chitchat or amorous confessional. Or exclude a couple of pages of your lucid prose and send a mugshot. There's no excuse for letting a good friendship die. Besides, the possibilities are endless!
Cheap Strip Tease
The Hook Parking Lot, East Cliff Drive and 41st Avenue, SC. It's simple, see. Pretend you're just out for a morning constitutional as you cruise this parking lot full of nubile young surfers stripping down to put on their wetsuits. The more modest ones use towels, but don't let that deter you--enjoy the suspense as you wait for them to drop it. A hot tip--the view, umm, "shrinks" on colder mornings, so plan accordingly.
Cheap Suds 'n' Duds
Fairway Laundromat Behind the Live Oak Supermarket at 17th and Capitola sits a modest, inexpensive and unimpeachably clean place to do your laundry. There's no espresso, no TV, not even any magazines--but there are also few people, lint or smells. The machines work well and the dryers--the litmus test of any laundromat--are good and hot. It costs less to do your laundry here and your clothes get even cleaner.
Cheap on the Wing
Natural Bridges State Beach 2531 West Cliff Dr., SC, 423-4609. Watch clouds of migrating Monarch butterflies explode from the trees as temperatures warm enough for them to leave their semi-dormant state. Viewing the butterflies is free, but parking in the state park will run you $6.
Schwan Lagoon Twin Lakes State Beach, East Cliff Drive near Seventh Avenue, SC. Grebes, black-necked stilts and long-billed curlews honk and tweet with the marbled godwits in this little pond by the bay. Bring some bread crumbs for the geese--Darwinesque offspring of the gaggle that has learned to avoid nearby East Cliff Drive.
Cheap TV Stardom
Community Television of Santa Cruz County 816 Pacific Ave. SC, 425-8848. Got an ax to grind? At Community TV, they'll love you for it. Anyone can send in a tape and have it aired at least once (and probably more). Or, for a $10 membership fee to TCI (good for a year), you can use CTV's cameras and editing equipment. That's a small price for your 15 minutes (or two hours--there are no restrictions on length) of fame on our own Channels 71 and 72. Production seminars available, orientation recommended. Contact Laura Greenfield during office hours (1-5pm Mon., Tue., Thu.).
Cheap Cul-chah
Art Museum of Santa Cruz County/History Museum of Santa Cruz County 705 Front St., SC, 429-1964 (Art), 425-7278 (History). Already a great bargain at $3, both museums drop their admission fee on the first and third Thursdays to "donation only." Here's your chance to support the local arts and learn a little about your hometown.
Cheap Final Leaps
Neptune Society 798 S. Second St., San Jose, 425-551I. It's not do-it-yourself, obviously, but it is a standard, no-frills cremation. Here's the scoop on ashes: $990 buys you transportation to the society from the place of your death, the cremation itself and scattering of the ashes at sea from the organization's private boat, which sails from Jack London Square in Oakland. Family and friends (up to six of them) can accompany you on your last journey for just $395. At prices like these, you can only afford to die once--so get it right.
Santa Cruz Cremation Service 1570 Soquel Dr., SC, 475-6880. For those of you who prefer to remain (get it?) close to home, Santa Cruz boasts its very own cremation service. A cool $972 buys you a basic cremation and scattering at sea from a boat chartered out of the Yacht Harbor--and, let's face it, it's prettier here than it is up the coast. Families who wish to accompany the deceased may make their own transportation arrangements.
Cheap Rock Stardom
Music Showcase 3600 Soquel Ave., SC, 476-4882. Hey, music buffs--wanna start a band, but you're short on cash? Well, look no further--this place is the answer to your prayers. They buy, sell and trade guitars, amps, drums, keyboards and more!
Cheap at High Tide
Año Nuevo State Reserve Highway 1 at New Years Creek Road, SC, 415/879-0227. For $4 per car, you and your entire village can spend an afternoon observing colonies of northern elephant seals frolic at this reserve 19 miles north of Santa Cruz. It's open December-March and popular as all get out. Advance reservations are needed, and remember, dress warmly!
Long Marine Lab 100 Shaffer Rd., SC, 459-2883 Parents--tired of mind-numbing amusement parks that suck your wallets dry? Tours are offered Tue.-Sun., 1pm-4pm. Admission is $2 for adults, a buck for seniors and children under 16 get in free. Admission includes a tour of the marine mammal enclosure, an overlook of the bay, the public aquarium, and the blue whale skeleton.
Santa Cruz Beach Boardwalk 400 Beach St., SC, 426-7433. For a night of fun for the kiddies or cheap giggles with your date, check out "1907 Nights," which runs 5pm until closing every Monday and Tuesday, June 24 -Aug. 30. Four bits will buy you any ride on the boardwalk, as well as cotton candy, candy apples and hot dogs.
Santa Cruz Surfing Museum West Cliff Drive near Felton Avenue, SC, 429-3429. The few, the brave, the gnarly. Even surfer boys have their own museum in this town, and there's no charge to wander through this one, located at Lighthouse Point.
Sea Lion Watching Dozens of sea lions bark, sleep or frolic at the end of the Santa Cruz Municipal Wharf. Likewise, pelicans gather here and may let you include them in an amusing photo with in-laws. A few feet away, order fish and chips for under $5 at the take-out window at the Dolphin Restaurant or try the clam chowder that manager Andre Hurst says is made from scratch, not with a can opener. And if you forget any fishing supplies, ask Rick at Andy's Bait, which also is next to those barking sea dogs. It doesn't cost a cent to breathe the fresh sea air, catch spectacular views of the Monterey Bay and maybe sight schools of dolphin.
Whale Watching Some of us are beginning to believe that whale watching off the Davenport bluffs rates right up there with jokester Uncle Eddie's snipe hunts in terms of actual sightings. But the elusive promise always offers a good excuse to pack a picnic lunch and head up the coast to watch the winter sunshine dance off sparkling waters. Now is the best time to sight one of our Leviathan friends ... or so they say. And if you don't see one, just do what we do--lie and say you did.
The Beach The old favorite never left. Whether you're feeling romantic, melancholy, bored or just plain broke, the beach offers ever-changing ambiance, continuous live background music and that rarest of commodities in this crazy world--solitude. BYOB (Bring Your Own Book) and relax in the sand or just groove on the marvelous beauty of it all. Always different, always free--it's one of the best things going.
---
Traci Hukill, I.T. Ibeanza and Meg Huffman contributed to this section.

---