"Why don't we do it in the road?" asked Paul McCartney with characteristic delicacy about 25 years before sex became a four-letter word. Today it's practically a dying art, and those daring lovers who do want to consummate their lust in medias res must be more resourceful than ever in maximizing this endangered activity.
We all know that nothing arouses the libido like the prospect of being very naughty, and just possibly getting caught. Remember when you'd sneak a romp at your parents' house? And how unbearably more exciting it was because you knew that at any minute you might be discovered consummating your illicit affair?
Of course you do. And, now you can re-create that cheap thrill right here in your own hometown. All you need is grit, attitude and some of the suggestions we've culled from willing informants on the street and in the cyberveldt. Here are the most entertaining public spots in Santa Cruz County to do the deed.
Rio Theater's Side Back Rows
We're big fans of the Rio, thanks to size, comfort of rocking armchair seats and even the kinky possibilities of the Crying Room. You might prefer your own neighborhood movie house. At the Rio, the back rows on the left side toward the wall will ensure that no one will interrupt you to go to the bathroom or cause coitus interruptus due to spilling popcorn.
Time allowed: Around 125 minutes.
Cost: Matinees, at $3.75 a head, provide bargain trysting. To pop your rocks after dark, it'll run you around $7 each.
Comfort: 8 out of 10 (with 10 tops)--quite a lot, short of a full horizontal. This is a great place to study those head shots.
Risk factor: Just about nil, unless you giggle.
Noise allowed: Shhhhhh!
Precautions: Easy-access clothing is a must. Try to time arousal with on-screen car chases and/or gunplay.
---
Meadows and Fields Near UCSC off Empire Grade
Actually, the open fields and clusters of oaks that ring the UCSC campus cry out for open-air dalliances, especially for the outdoorsy types who don't mind mixing dirt with sweat. The best ocean views are available in the pastures between the arboretum and Meder Street, while prime deer-gazing as you round home plate is available in the tall grass between Porter and Kresge colleges.
Time allowed: Variable.
Cost: Free.
Comfort: 5 out of 10--more if you hike in a blanket and picnic.
Risk factor: Not much, and even this can be reduced by bringing your dog along to stand watch. Your pet isn't allowed on campus, but the educated actually seem to enjoy stumbling upon you flagrante delicto.
Noise allowed: Faux bird calls, whooping sounds and imitation cougar growls will help you blend into the scenery.
Precautions: A laid-back, caution-to-the-winds mind-set will serve you well.
---
Top Deck of the Locust Street Garage
Actually, the corner stairwells of this downtown Santa Cruz parking emporium are also prime locations, given all the foot- and hand-holds provided by railings and banisters. But the 360-degree alfresco view from the top is our favorite. Since others have discovered the nasty potential of this multi-leveled playpen, you'll need to jockey for position. On the other hand, sharing your coital space allows you to engage in a bit of spontaneous group grope if so moved.
Time allowed: Unlimited, after the last movie gets out. Only cars have to obey that silly time limit. But for God's sake, don't leave your car inside while doin' the whoop--the gates lock at 1:30am.
Cost: Free.
Comfort: 2 on a scale of 10--you might want to consider roller-blade knee and elbow pads, or stick to vertical positions.
Risk factor: Minimal by night, much more of a challenge during peak daylight shopping hours.
Noise allowed: Not for the shy--the acoustics in this cavernous cocoon of concrete are unforgiving.
Precautions: Those who like missionary methods should beware of rolling off the edge and becoming suicide-pact statistics.
---
The Hook Parking Lot
While everybody else is riveted on the thrashing surf action below, you'll be creating a few waves of your own, riding the Big One and adding a few licks nobody's ever tried before. This particular item also fills that age-old need to do it in the comfort of your own car. Back seat is optional.
Time allowed: After half an hour, expect snoopers to get suspicious. Best to stick to basics--save round-the-world for the drive-in.
Cost: Just gas money and maybe change for an après-denouement smoke.
Comfort: 9 out of 10--nothing beats well-worn upholstery for smooth moves. Just watch your heads on that steering wheel.
Risk factor: Could get up there during really rad surf conditions.
Noise allowed: With windows rolled up, let loose.
Precautions: Keep motion down--nothing gives away your hidden agenda like a rock & rolling automobile. Show off your minimalist technique.
---
Top of the Boardwalk Ferris Wheel

Yes, this is a very Hollywood location, calling into play one's sense of drama, fearlessness and speed. You may need to go 'round more than once to achieve that ultimate position, on hold at the very top of the wheel's revolution. Given the physical limitations, we advise against traditional procreative positions--manual dexterity is the rule of thumb here.
Time allowed: You can get started during the course of the ride, and then hope for consummation at the very top, so to speak. Roughly 15 minutes.
Cost: $1.50.
Comfort: 4 out of 10--firm and confined, though many find those safety bars a distinct turn-on.
Risk factor: Low, unless you've removed a lot of clothing.
Noise allowed: Positively required--the louder, the better. This is an amusement park!
Precautions: Wear easy-access clothing, zippers, snaps--skirts are good. Leave loose jewelry at home.
---
Gap Dressing Room
Boys and girls (or whatever) together--this Yupscale emporium is perfect for taking off clothes, etc. in tandem. How can you buy, unless you try?
Time allowed: As long as it takes to take off and put on six pairs of jeans, three overpriced sweaters and an extremely tight skirt.
Cost: Only if you actually purchase something.
Comfort: 3 out of 10--minimal, but the mirrors more than make up for it.
Risk factor: Plenty, especially if the staff is bored and gets suspicious. Don't make eye contact on your way to the back of the store.
Noise allowed: Not really, so try not to giggle, moan or squeal. If you do, try to convince eavesdroppers that you're excited about the retail merchandise.
Precautions: If you enter the store in a group, your absence won't be noticed as much.
---
UCSC Library Fourth-Floor Study Rooms
What is it about libraries that get those hormones raging? The quiet, polite, civilized, uptight ambiance? At any rate, there's amazingly erotic potential just waiting for daredevils who can fire their rockets without making a sound. You will need someone on the inside for this one, to provide access to one of these tiny study chambers. Grad students always need cash. Or, if you have a legit tie with the U, you can check out a key at the front circulation desk.
Time allowed: All you want--but it's going to be tough keeping quiet throughout foreplay and culmination.
Cost: A week's worth of cappuccino, or its equivalent, to gain access.
Comfort: 7 out of 10--a pillow, even a blanket, could be smuggled in a book bag. Otherwise, it's splendor on the carpet. Or on the desk.
Risk factor: Minimal, if you're discreet. High, if you're a screamer.
Noise allowed: None, and we mean none--which is why this is one of the most exciting venues for semi-public sex in Santa Cruz.
Precautions: To avoid suspicion, enter the room one at a time. Wipe the grins off your faces. Appear studious and, above all, carry books.
---
Sand Dunes at Sunset State Beach
Low visitor population, out-of-the-way location and soft rolling dunes make this south county seascape a prime spot for foolin' around. Especially at sunset.
Time allowed: Plenty.
Cost: None if you walk in, $6 if you drive.
Comfort: 9 out of 10--avoid windy weather and you'll be in heaven. The soft dunes are nature's own couches of naughtiness.
Risk factor: Pretty low, especially with all that tall eel grass to get lost in.
Noise allowed: You bet--panting in rhythm with the tides is highly arousing.
Precautions: The usual--dress warmly but keep buttons to a minimum. A blanket provides both warmth and instant privacy.
---
Dairy Barn at Wilder Ranch Park
Rendezvous with history, we say, just avoid weekend crowds. There's nothing more fun than slipping away from the pack of visitors for a tour of more private parts of this Victorian complex. The long dairy barn, filled with sheltering equipment, gets us in the mood to make like the birds and bees. And cows.
Time allowed: Depending on fellow history buffs, anywhere from five minutes to a half-hour.
Cost: Make a donation to the upkeep of the ranch. It's little to pay for this kind of top-quality furtive thrill.
Comfort: 1 out of 10--unless heavy metal, gauges and weathered hardwood fire your rockets.
Risk factor: High. Mmmmm.
Noise allowed: Unless you can mimic barnyard animals, best to keep it down to a low moan.
Precautions: Position yourselves so that you can see out of one of the windows--keep a watch for pesky tourists, and make sure the park ranger is otherwise occupied.
---
Inside the Fremont Tree at Henry Cowell Redwoods State Park
Cocooned inside an ancient living tree--doing what comes naturally in a natural setting--how sublime. Wet weather helps create that "desert island" feeling and muffles cries of satisfaction. Remember to wear hiking gear to allay park ranger suspicions.
Time allowed: On rainy days, you can really take your time.
Cost: If you park your car just off Highway 9 and hike in, it's free. Otherwise the $5 day-use fee is still a bargain.
Comfort: 6 out of 10--soft bark on the floor of this gigantic, hollowed-out space makes this a soft, carpeted experience.
Risk factor: Low most days, though the real challenge comes when tour buses are in residence, complete with nosy tourists.
Noise allowed Your call. Soft whimpers blend in best.
Precautions: Wear earth-toned clothing or, best, camouflage gear. No red, shocking pink or chartreuse. Do not disturb native plants or animals--pack out your used accessories.
---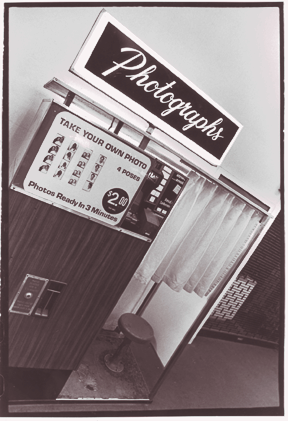 Boardwalk's Take-Your-Own-Photo Booth
This one's gotten trickier over the years, given the prominence of security guards nowadays. You might want to consider the old laptop position for this one, thereby revealing only a single pair of legs to any potential gawkers. If you're really chicken, bring a friend to station in front of the curtain--ideally someone who likes to listen.
Time allowed: As long as it takes to stage and develop two sets of pictures--we're talking 4-8 minutes, max.
Cost: $2.
Comfort: 3 out of 10--"cozy" is probably the best word for it.
Risk factor: Only the reckless will want to give it a shot.
Noise allowed: Screaming babies provide good cover. Otherwise, keep those lips occupied elsewhere.
Precautions: Best attempted during hot summer days when the teen gangs provide distraction for the security cops.
---
Rincon Walkway Above Downtown Santa Cruz
Freud was right about stairway coupling--it's very sexy. This brief zigzag of mossy stairs provides open-air possibilities, as well as some more private space shaded by overhanging trees. Street people might be lurking, so reconnoiter first.
Time allowed: After 15 minutes you're playing on borrowed time. Variable after dark.
Cost: None.
Comfort: 1 out of 10--little, unless you're an S&M devotée.
Risk factor: Dog-walkers and aerobic buffs could wander in to spoil the show.
Noise allowed: Passing cars will cover gasps of delight toward the bottom of the stairway, though residences at the top dictate discretion.
Precautions: Wear sensible shoes--the stairs are slippery when wet. Best on rainy days, when an umbrella can lend privacy.
---
Bonny Doon Beach
Practically a tradition among local exhibitionists--and voyeurs--this sheltered cove offers cliffs for weather protection and year-round access. For many public sexophiles, nothing is more romantic than feeling the earth move while listening to the ocean roar.
Time allowed: Depending on your own inhibitions, this can be an all-day or all-night affair.
Cost: Nada, nicht, rien.
Comfort: 3 out of 10--rustic, to be sure, but a blanket can help, especially to protect against falling shale.
Risk factor: You might encounter fellow hedonists. They won't mind, if you don't.
Noise allowed: You bet.
Precautions: Make sure you're safely parked way off Highway 1.
---
County Building Elevator
This is a true mega-challenge, requiring nerves of steel, mechanical aptitude, good hand-eye coordination and lack of submission to bureaucratic structure. Few thrills equal a climax in the actual midst of local government--your mission will be to finesse those buttons so that the elevator pauses, yet no emergency alarms sound.
Time allowed: After 5pm, knock yourself out. Otherwise, act fast. Since this is a high-traffic site, we suggest you watch for evening activities in the building--like supes' meetings. That's the time to stake your claim.
Cost: Only wear and tear on your nerves.
Comfort: 1 out of 10--railing too narrow to sit on, so it's either down and dirty or an acrobatic stand-up quickie.
Risk factor: Between 8am-5pm, extremely high. Not much lower after 5pm, when custodial staff prowl for people doing just what you're doing.
Noise allowed: Not even.
Precautions Take a test ride and experiment with that "Hold" button. The paranoid should position associates at each floor to manipulate external buttons.