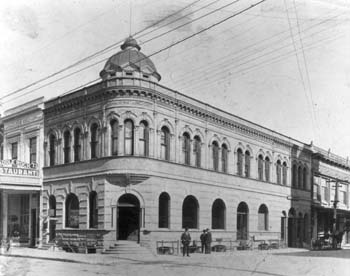 Covello & Covello Historical Photo Collection.

The Bank of Santa Cruz County: This building stood and more or less almost still stands at the corner of Pacific and Cooper streets. The photo was taken after 1894 and before 1910. Locals usually called this building (now the home of Pacific Wave) the County Bank. If you squint, you can see that there are stairs leading to the basement. There were basements in many of those buildings on both sides of Pacific, and as can be expected they filled up during every flood. Nowadays people have created stories about secret tunnels and speakeasies being there but they were just basements. The Saddle Rock Restaurant next door on the left deserves separate mention in the future.

Bruce Bratton

THE REAL BONNY DOON. If you've been reading about the battle going on in Bonny Doon over the proposed winery/entertainment center and the equestrian center you'll recognize all the same signs of our county's land use battles. What it boils down to is that the Rural Bonny Doon Association is made up of Bonny Doon residents who want to preserve the rural character of Bonny Doon. The members usually devote themselves to fire prevention, pesticide spraying and mundane items like that. It is the largest group of Bonny Doon residents and obviously does indeed represent all its voting members. What's happening now, in case it wasn't clear, is that some people like Bill Cunningham, who wants to create a entertainment center a la Montalvo or Napa Valley in Bonny Doon, can't get the approval of the Rural Bonny Doon Association. So they are attempting to stack the annual membership meeting and elect new RBDA board members who favor such development. Jim Beauregard, who has already built that red-tagged equestrian center, has withdrawn from the RBDA board member campaign. The RBDA board hasn't taken a position on the horse center yet. RBDA board president Ted Benhari said, "We're opposed to anyone constructing a sizeable commercial facility and doing a large amount of grading without first going through the county permit process, so that the county staff, the neighbors and the community have a chance to comment on it." Like I said, the March 14 meeting at the Bonny Doon School will tell the same old developer's story. Can the developers pack the meeting with friends who will join the RBDA that night, vote for their board candidate who will back the development and never attend a RBDA meeting again? It isn't fair, it isn't neighborly, and wait and see if I'm not right. For the entire story, check out the official RBDA website at www.bonnydoon.got.net.

MOVIES AND VIDEOS. The first film I saw in a theater after five-plus weeks of recuperating was The Pledge, directed by Sean Penn, over at Aptos Cinemas. With a cast of Jack Nicholson, Vanessa Redgrave, Sam Shepard and Benecio del Toro, it was a must for me. Fine performances, excellent acting and a plot that was well told. I naturally assume that you saw it and liked it. The Sentinel's Catherine Graham suggested I try out Hoot's Video and Yogurt at Branciforte and Water streets. They have about 7,000 videos and a knowledgeable staff, what more can you ask? We rented Godfather III (1990) and Coppola's daughter Sofia still damned near ruins the entire film. Speaking of Godfather, Hoot's also has dozens of videos of The Sopranos' entire first season, three episodes per tape. They also have the first season of HBO's Sex and the City on video now. Morton Marcus suggested viewing Before the Rain from Westside Video; we agreed it's an excellent film of the human side of the civil war involving Serbs, Albanians and Macedonians.

ABOUT LOCKHEED MARTIN. I've worried and written over the last several years about Lockheed Martin selling out its Bonny Doon property due to a drop in the Dow Jones and leaving the county with its contaminated property. What I've come to realize in recent weeks by reading the papers is that (1) Lockheed Martin is one of the world's largest space-age weapons manufacturers; and (2) our new Washington administration is now more serious than ever about increasing the use of space-age weapons. That would seem to mean that Lockheed's dear old Bonny Doon site with all its wide-open spaces and rocket testing and fuel testing facilities will be used much more in the near future. Ever drive up Empire Grade road late at night and see those enormous trucks with labels like Kraft's Mayonnaise and Doritos on them, and wonder how much mayonnaise and Doritos those Lockheed employees could eat in a week?

GOODBYE TO OLD FRIENDS. Three friends who gave a lot to our community died recently. M.J.Vernier, who spent much of her life involved with research and contributing to the historical side of Santa Cruz, will be missed. Don Thompson, whose Great Entertainment Series brought stars such as Michael Redgrave and Victor Borge to the Civic, also joined the heavenly choir. Local live theater wouldn't be what it is without the dedication and love that David Sheaffer Jr. brought to it, so goodbye to him too.

THE KLAN AND SANTA CRUZ. There was a mistake in Margaret Koch's book Santa Cruz County, Parade of the Past. She stated that the Knights of the Ku Klux Klan led the Miss California parade down or up Pacific in 1924. Not true! I talked to historian, author and former Cabrilho teacher Sandy Lydon, who supplied me with the June 6, 1924, article from the Sentinel. The Sentinel reported that the car of Klansmen was from San Jose, and unannounced and unplanned they joined the parade at the end of the line. They were stopped by Officer Dewery Johnson, and according to witnesses the car left the parade shortly after. The reason I wanted to correct that was that the latest edition of Karon Properties newsletter, The Westside Review, repeated this urban legend, and after talking with Susan Karon, we agreed it was worth correcting.

PHOTO NOTES. Once again, those historical photos I get from Covello & Covello on Mission Street provide good fun and some unofficial historical material. Carol Nissen Pineau, who was one of the Wrigley Hostess girls in one of those photos a few months ago (Aug. 9, 2000), emailed to tell us that the blonde girl dressed like a pack of Wrigley's Spearmint in the Oct. 25, 2000, historical photo was Diane Ebert of the Ebert's Fabric store family. Carol and Diane went to Branciforte Junior High and S.C. High at the same time.

MORE ON OUR NORTH COAST. I haven't made it to the MAH exhibit of "Coastal Voices: 100 years of North Coast History," but all reports tell it's well worth seeing. It'll be there until May 27. The next 100-year exhibit of North Coast history will have to include the ongoing battle of the cell phone towers along the coast. I've been told that one was disguised like a windmill, and another like a weird tree. Aren't all these uglinesses going to replaced soon by better technologies? Shouldn't we just say no to cell phone towers and see if they even need them in a year or two? That same exhibit in 2100 will also have to show the problem of the Santa Cruz Biotechnology Goat Ranch, also built without county permits and now shut down. The problem is that there are still miles of barbed wire fencing stringing the countryside and the goat buildings are still standing and polluting by their existence. Something should be done.

FILM FANS. Metro Santa Cruz' very own Richard von Busack plus Helen Meservey and the aforementioned Morton Marcus will be taping their 50th CinemaScene television show at 7pm tomorrow night (Thursday) at the Actors Theatre. They'll be reviewing the films they thought were great in the first two years and will then take questions from the audience. You can see CinemaScene on Channel 4, Friday night at 7 p.m. I'm guessing that Stanley Kubrick's Eyes Wide Shut will top all their lists.
---
Bruce critiques films every other Thursday on KUSP-FM (88.9) at 12:50 pm. Reach Bruce at [email protected] or call 457.5814, ext. 400.
---
[ Santa Cruz | MetroActive Central | Archives ]