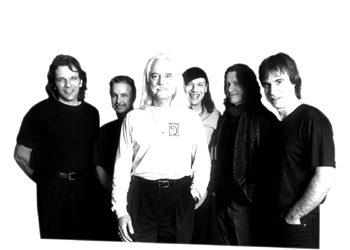 Lovin' Bloomfield

It's all about the love when brothers Robben and Patrick Ford get together with fellow blues scorcher Chris Cain to resurrect the sounds of the late Michael Bloomfield

By Mike Connor

Robben Ford may be best known as the jazz fusion guitar player who toured for a year with Miles Davis, but deep down, Ford's still a blues guy at heart. And he's going to prove it at this year's Santa Cruz Blues Festival, where he'll be performing with Chris Cain and his brother Patrick's band--The Ford Blues Band--to pay tribute to his idol of idols, the late, great Michael Bloomfield.

Born shy and white in Chicago back in 1943, Bloomfield picked up the guitar at the supposedly unlucky age of 13. He was heavily influenced by the roots-rock sounds of Elvis Presley and Scotty Moore (who played on Elvis records up until the late '60s), but later soaked up the uglier, grittier blues of legends like Muddy Waters and Howlin' Wolf. Known for boldly jumping onstage with the greats and jamming with them midset, Bloomfield made a name for himself on the South Side of Chicago along with fellow blues prodigies like Elvin Bishop, Charlie Musselwhite and Paul Butterfield.

Bloomfield's work in the Paul Butterfield Blues Band earned him a lot of unwanted fame that only worsened with the popularity of his own band, the Electric Flag, which in turn quickly disintegrated after its debut at the Monterey Pop Festival due to strong, mismatched egos and even stronger, mismatched drugs.

Stints with Bob Dylan and Stephen Stills further solidified Bloomfield's legend as a master of furiously fluid solos and psychedelic improvisations. Eventually, though, the drugs got the best of Bloomfield. He ducked out of the limelight, favoring session and soundtrack work, including some porn scores for the Mitchell Brothers. Bloomfield died of a drug overdose in 1981, at the age of 37.

More than 20 years later, the Ford brothers' tribute project is grand in scale, employing 10 musicians, with Patrick on the drums, a full horn section, two keyboard players, three guitarists (Robben Ford, Cain and Volker Strifler) and three ladies singing backup vocals.

Ray Charles: The Santa Cruz Blues Festival headliner on Saturday is Ray Charles.
Ex-Ray Specs: The Santa Cruz Blues Festival's Saturday roster.
Sunday School: The Santa Cruz Blues Festival's Sunday roster.

"Paul Butterfield and Michael Bloomfield gave us our careers," says Patrick; "we all became blues freaks after the Paul Butterfield Blues Band. Michael was the guitar player that Robben began to emulate. Two years ago, [Robben, Mark and I] collaborated on a tribute to Paul Butterfield, and this year we're doing a tribute to Bloomfield. They're like our town main guys, and since they're both dead and gone and they don't get the credit they deserve, we wanted to do these two records."
The parallels in Robben Ford's and Bloomfield's careers are striking to the point of being eerie. Both picked up guitars when they were 13; both played with Charlie Musselwhite early on in their careers. And they both experimented with psychedelic jams, but they share some of the smoothest blues chops this side of Eric Johnson.
"The thing about Robben is," explains brother Patrick, "he's an incredibly gifted guy. The blues idiom really is home base for him. He could record and tour with George Harrison or Joni Mitchell, he spent a year in Miles Davis' band and spent a year with Brownie McGhee, an old folk-blues guy. But the reason Miles brought him into his band was not because he can go way outside, which he can--it was because of Robben's blues influence, Miles loved that about Robben's playing. There's always a real strong blues root to it, but he still goes way outside. He can play it all."
---
The Ford Blues Band featuring Robben Ford and Chris Cain plays on Sunday, May 25, at the Santa Cruz Blues Festival. Tickets are $35 general admission, $20 kids 12 and under, and $60 for Gold Circle seats. For more information, call 831.479.9814 or visit www.santacruzbluesfestival.com.
---
[ Santa Cruz | Metroactive Central | Archives ]