Ex-Ray Specs

As if Ray Charles wasn't enough of an excuse to get you out to the Santa Cruz Blues Festival on May 24, here's the rest of the Saturday roster

Howard Tate

Or should we call him Lazarus? For the story of this legendary gospel/soul/blues singer follows the ancient cycle of life, death and rebirth to a tee.

Back in the late '60s, Tate scored three Top20 R&B hits ("Ain't Nobody Home," "Stop" and "Look at Granny Run") with his only moderately successful, yet highly regarded soul album, Get It While You Can, from which Janis Joplin later pilfered the title track. But the business side of things alienated Tate, who eschewed the limelight for a career as an insurance salesman. His daughter's tragic death and his subsequent divorce drove him to despair--he disappeared so completely that most of his fans assumed he was dead.

Rediscovered by a radio DJ two years ago, Tate is back in full effect, touring with an eight-piece band. With a silky voice reminiscent of Sam Cooke mixed with a deep, rambling scoop of B.B. King, Tate also uses his soaring falsetto accents to explore the sexier side of soul, stopping just short of Al Green's love-you-all-over-and-everywhere-in-between approach.

Mike Connor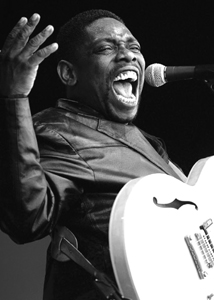 Lucky Peterson
Lucky Peterson
The auditory equivalent of hot molten lava is what you'll hear flowing from 38-year-old veteran blues scorcher Lucky Peterson. Known as a consummate showman and equally adroit on the guitar, Hammond organ, drums and vocals, Peterson brings on a whomping mix of electric blues, rock, soul, and funk. He had his first hit single at age 5 and honed his chops during his teenage years backing up blues greats Little Milton and Bobby Bland. His seriously groovin' new album Black Midnight Sun shows that these days he's taking inspiration from the likes of James Brown, Sly Stone, Muddy Waters and Mick Jagger.
Rebecca Patt

Ray Charles: The Santa Cruz Blues Festival headliner on Saturday is Ray Charles.
Lovin' Bloomfield: Chris Cain and his brother Patrick's band--The Ford Blues Band--pay tribute to the late Michael Bloomfield.
Sunday School: The Santa Cruz Blues Festival's Sunday roster.

Michael Burks
Don't nobody make the guitar-face like Michael Burks. When he was a little boy in Milwaukee, his father used to give him a dollar for every new song he learned, but apparently he never told little Michael that if he keeps on making all those guitar-faces (often interchangeable for the strained expressions of lovers and power-lifters), his face would stick like that. Maybe it's just that he has constant access to that place inside that allows blues legends like Luther Allison and B.B. King to channel the hard-driving mojo of a freight train from hell, night after sweaty night. Burks was nominated for Best New Artist of 2000, but the veteran bluesman has been ripping forth tasty blues licks from his Gibson Flying V for over 20 years. Now touring extensively around the country on the blues circuit, Burks' train ain't showing no signs of stopping ... it's got some powerful strange expressions, though.
Mblues-ike Connor
[ Santa Cruz | Metroactive Central | Archives ]