Blue Wave

The 13th annual Santa Cruz Blues Festival transforms Aptos Village Park into the Valley of the Blues

Santa Cruz Blues Festival 2005
Intro/Robert Cray
Saturday Lineup
Solomon Burke
Sunday Lineup


Aptos Village Park is an idyllic place. Usually bird calls are the loudest thing that visitors hear. But during Memorial Day weekend the avian residents of the park depart in the face of an invasion of bluesmen. Now in its 13th year, the Santa Cruz Blues Festival has become a local institution. Despite the volume of visitors, the festival is always a relaxed affair. Families come with picnics, musicians wander around the grounds and the whole thing winds down when the sun drops into the ocean. Previous festivals have featured such class acts as Buddy Guy, Ray Charles and Clarence "Gatemouth" Brown. This year the tradition of quality continues with performances by 10 talented groups.
Gates open for the festival on Saturday, May 28, at 10am, and it's a good idea to get there early to stake out a place to see the opener, Curtis Salgado, who takes the stage at 11am. Salgado is followed by Chris Cain and Popa Chubby before Susan Tedeschi takes the microphone. Headliner Robert Cray finishes off the first day's music around 7pm.
Sunday's concert kicks off at 11am with Jimmy Thackery, followed by Elvin Bishop, Indigenous and festival stalwart Coco Montoya and headliner King Solomon Burke closing.
Tickets will run you $35 per day or $60 for a two-day pass. Kids 12 and under are $20 per day, $30 for both days. Those who wish to sit in the Gold Circle can do so for $60 for one day or $110 for the entire weekend. With all these logistics now spelled out, let's get back to the music.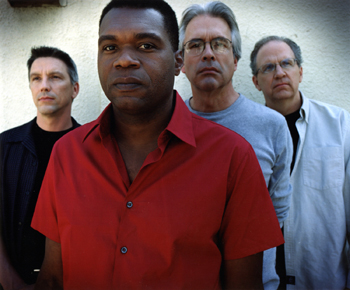 The Fallujah Blues Are Bugging the Hell out of Me
Santa Cruz Blues Festival headliner Robert Cray talks about the Dixie Chicks, Stevie Ray Vaughan--and why he doesn't give a damn about Clear Channel backlash
By Peter Koht
The blues is a genre known for its social commentary. Whether decrying the cruel fate of love gone awry, the pains of poverty or the crushing despair of a life lived on the run from the bill collector, the blues has given a voice to those people that the American Dream has left in the cold. Unfortunately, too many contemporary blues artists have given up trying to be socially critical in their tunes. More often, they're a whole lot more concerned about the tone of their guitar than the tone of their lyrics. With minds focused on fast cars, loose women and Budweiser, many on the festival circuit don't give a damn about the social issues that gave rise to the genre in the first place. The Santa Cruz Blues Festival is an anomaly in the fact that both of its headliners are extremely conscious of their roles as social commentators.
"This genre is known for writing songs about struggles," says Robert Cray, "but a lot of people aren't addressing it in their music out of fear of what happened with the Dixie Chicks. They got shot down before they got started. But I don't care about that."
While he is unconcerned about backlash, he does care about the war. His latest record, Twenty, offers up the kind of biting commentary that you might expect from a Steve Earle record. It's the product of an active mind that has been obsessed with the bad news out of the Middle East.
"It's bugging the hell out of me," Cray states emphatically. "It's there all the time and I want to remind people of it. Some days it makes the paper and some days it doesn't, but there is a war going on and it's affecting all of us."
The fear that forces many of his fellow artists into complicit silence doesn't affect Cray. He runs his own career now and is rather blasé about getting on the "do not play" list at Clear Channel's corporate headquarters.
"We aren't expecting major radio play. It's been a while since we've even had had any significant radio play. I mean occasionally we will get lucky, but we play because we want to play, not because we are concerned what gets on the radio."
With over a thousand gigs played together, the Robert Cray Band is one of the most dynamic and reliable performers on the circuit. Cray's fiery guitar playing and increasingly powerful lyrics are the product of experience and wisdom. It doesn't hurt that he had a pretty cool mentor.
Cray met Albert Collins in 1971 when the elder statesman of the blues was asked by Cray's high school classmates to come and play their graduation. Saying hi after the event, Collins asked Cray if he played guitar. Upon replying in the affirmative, Collins advised Cray that he should "stick with that."
Cray did and eventually ended up joining the master's band for several tours. In 1979, his work with Collins landed him a spot on the stage at the San Francisco Blues Festival. The next morning, Cray and another skinny young musician named Stevie Ray Vaughn came down to Santa Cruz to see some friends. "That's really when our friendship started. We went down for a barbecue. I'll never forget that when I picked up Stevie from the hotel, he answered the door in an Afro wig and a kimono."
It's been 26 years since that first visit, but in the meantime Cray has become one of the most powerful voices in the genre. Whether singing about politics, love or the lack thereof, Cray proves that the blues is still one of the best ways to get the message across.
---
The Robert Cray Band, featuring Robert Cray, plays the Santa Cruz Blues Festival on Saturday, May 28, at Aptos Village Park, 100 Aptos Creek Road. Tickets: one-day admission $35/general, $20/12-and-under, $60/Gold Circle seats; two-day admission $60/general, $30/12-and-under, $110 Gold Circle seats. Call the Blues Hotlines at 831.479.9814 for ticket information, or visit www.santacruzbluesfestival.com.
---
[ Santa Cruz | Metroactive Central | Archives ]