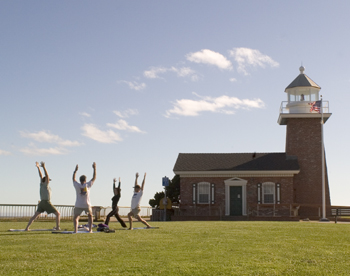 Summer Asana

Summer guide to film, theatre, events, concerts, stargazing and more

With a gallon of gas spiraling ever closer to the price of a venti latte, get-away adventures involving planes, trains and cars are probably best out of the question this summer. Luckily, there's plenty to do locally to make the next three months a bacchanalian mix of cinematic, theatrical, musical and other-worldly pleasures. Metro Santa Cruz's guide to all things summery includes the season's best bets and must-avoids at local movie theaters, highlights of the summer theater scene, plus an exhaustive month-by-month roster of concerts and events through September. And then there are our flirtations with the Santa Cruz Astronomy Club, not to mention trail-blazing on the seat of a shiny black Vespa. All of which should help you map out your best summer ever. Just don't forget the fleece for when the fog rolls in.

Metro Santa Cruz Summer 2005 Guide
Film
Stage
Concerts
Astronomy
Vespas



Escapist Thrills
Hollywood still doesn't know the meaning of 'lowest common denominator'
By Richard von Busack
Though summer is the escapism-movie season, there are some directors who inject a little relevance into their escapism. Though tempted to the Dark Side by the force of his enormous fortune, George Lucas added some actual political commentary to Star Wars: Episode III--Revenge of the Sith.
Darth Vader (Hayden Christensen) outlined the new galactic deal with almost a genuine George W. Bush quote: "Either you're for us, or you're our enemy!" To which Obi Wan responded, "Only a Sith speaks in such absolutes!" Yeah, the identification of Bush's conquistador policies with Darth Vader was the boldest aspect of that intergalactic mind-roaster. In the much-better Batman Begins, our caped hero learns the true source of Gotham's decline: "economics"--i.e., the kind of cutthroat capitalism that has hatched Gotham cities all over the globe. Just as we have the World Bank, Batman has a nongovernmental organization to deal with, The League of Shadows.
Unlike previous Gothams, Batman Begins' city has no Gothic charm. It's a mix of the worst of Philadelphia, Hong Kong and Rio de Janeiro. Favellas with wooden fire escapes ring pitiless skyscrapers. Andersonville-sized homeless encampments sprawl under the freeways. The infamous Arkham Asylum is a brick public hospital of the 1950s: Bauhaus at its most cruel.
The very serious Christian Bale retrieves our beloved schizoid champion from the clutches of that joker, Joel Schumacher, director of the last two woeful Batman movies. In the two-sided part of abrasive playboy and masked night-prowler, Bale makes the masquerade work as it never did before onscreen. Since he's a beginner, there's more suspense to Batman's early adventures. He's clumsy, slamming into the sides of buildings when he's trying to make an invisible get-away. He learns fast, though. The most rousing sequence is a raid of a loading dock. Batman swoops between the rows of cargo containers. He's only a flash of black, or the noise of an offscreen scuffle, scaring gun-men blind. Later, using radar, he can summon bats--cyclones of them, like the emptying-out of 1,000 Carlsbad Caverns.
Still, Batman Begins is especially admirable for being so clear about its terms: for outlining the unusual circumstances under which a man working outside the law can be an instrument of justice, and for stressing what such a man must not do. Will all this exposition make it boring to some people? I hope not. America is always in danger of succumbing to vigilantes, and we need this lesson about the fine line between justice and mercy.
The rest of the summer movie scene is just as drenched in spectacle, with Steven Spielberg's new version of War of the Worlds starring Tom Cruise and Dakota Fanning (June 29). In The Fantastic Four (July 8) the original story has been given a Ben Grimm-style clobbering. The film version is villained by an all-metal Victor Von Doom who doesn't have Latveria to kick around. Bad timing to have the movie come out this summer. George Lucas plagiarized Lord Vader (cloaked, masked, scarred, armored, a misuser of both magic and technology) from Dr. Doom decades ago. Sky High (late June) is Disney's parody of the X-Men, with Kurt Russell as a proud superhero sending his son to mutant school.
As usual, horror and suspense is the backbone of multiplex fare. The Island (July 22) has Michael Bay trying to visit the Twilight Zone in a story of a future utopia where Ewan McGregor looks forward to a vacation, little knowing that he'll lose more than his luggage if he goes. (It co-stars Scarlett Johansson, who could use a vacation herself.) Dark Water (July 8) is Walter (The Motorcycle Diaries) Salles' remake of a Japanese horror film by Hideo Nakata (Ringu), in which Jennifer Connelly is menaced by bad plumbing. Land of the Dead (June 24) is the third sequel to Night of the Living Dead by George Romero. Those trying to live in a gated zombie-proof community include Dennis Hopper and the very edible Asia Argento. Undead (July 1) follows up on the zombie theme, this time with a poisonous comet setting off zombieitis.
Night Watch (July 29) is a Russian hit that concerns an impending war between the forces of night and day. The Devil's Rejects (Aug. 12) is Rob Zombie's sequel to House of 1000 Corpses. Presumably those who missed the first one won't miss nuances like Zombie's habit of naming his characters after Groucho Marx's nom de guerres. For instance, vintage bald-headed weirdo Syd Haig plays "Captain Spaulding." Hurray, hurray, hurray. The Devil's Rejects goes toe to toe with Deuce Bigalow, European Gigolo; a box-office battle of the sophisticates I'm sure we'll all be watching with interest.
Wes Craven's Red Eye (Aug. 19) is Hitchcockery about a girl trapped on a plane, extorted into helping a ruthless assassin (Cillian Murphy, the harrowing Scarecrow in Batman Begins). The Cave (Aug 26) has scuba divers Cole Hauser, Morris Chestnut and Piper Perabo avoiding a carnivorous underwater monster. Cry Wolf (also Aug 26) concerns an online hoax that takes on a life of its own. Backwater (Aug 26--one of these is bound to drop out) is Kevin (Scream) Williamson's voodoo swamp movie. Early in the season, Kate Hudson is similarly unhinged by the Spanish moss in The Skeleton Key (July 8). Lastly The Woods, has art house fave Patricia Clarkson as the sinister headmistress of a remote girls' school (Sept. 2).
The summer film scene is loaded with the usual remakes and TV adaptations. Already The Honeymooners (June 10) puts Cedric the Entertainer in the Jackie Gleason role. Herbie: Fully Loaded (June 24) teams the newly skeletal Lindsay Lohan with a talking VW. The good news about The Bad News Bears (July 22): it's directed by that deft kid-wrangler Richard Linklater. Bewitched (June 24) is the most pomo of the summer's remakes. A movie of Bewitched is complicated when it turns out the actress cast to be Samantha is a true witch (it's Nicole Kidman, who can't quite execute the nose-wiggle as deftly as the lissome Elizabeth Montgomery). Will Ferrell is this year's Darren.
Charlie and the Chocolate Factory (July 15) has Tim Burton doing Roald Dahl with Johnny Depp as the eccentric psychedelic sweetsmonger. The Dukes of Hazzard (Aug. 5) togs out Jessica Simpson in the famous Daisy Duke outfit. As Marlon Brando is dead, only Burt Reynolds could (and does) assay the role of Boss Hogg. The Pink Panther, featuring Steve Martin pimping for the rosette of the Legion of Honor by taking on the part of Inspector Clouseau, has been suddenly postponed until February. C'est dommage.
Seeing a list of remakes and redos of ideas that didn't work that well the first time around, what's to be looked forward to? For one thing, Mysterious Skin, a tantalizing film about amnesia and pedophilia with a star-making turn by Joseph Gordon-Levitt as a tough but tender hustler.
Howl's Moving Castle is the new one by Studio Ghibli, the beguilers behind Princess Mononoke and Spirited Away. It's worth the admission just to bask in the jewel-like colors of Hayao Miyazaki's imaginary European city setting--a cross between Paris and Vienna on the eve of the First World War. Let's hear anyone say 2-D animation is dead after watching this, though there is a 3-D animation would-be hit this summer, the computer-animated carrier pigeon cartoon Valiant (Aug. 19).
My Summer of Love (June 24) is also highly recommended one: Pawel Pawlikowski's intimate picture about the affair of an English upper-class culture vulturette and a scratchy small town girl (the excellent Natalie Press). Girl-girl romance of an urban stripe continues in Alice Wu's appealing Saving Face (June 24). Deep Blue (July 22) promises the best in underwater photography; it's directed by Alastair Fothergill and Andy Byatt of TV's Blue Planet. Even more rapt advance word accompanies the Antarctic documentary March of the Penguins (July 8) a heart-wringing example of mother-love in an extreme climate.
Kontroll (July 1) is proof that Eastern Europe is still one of earth's funniest places, if you have the right sense of humor; in this deft subterranean comedy, a ragtag group of Budapest ticket takers try to ward off suicides, homicides and fare-dodgers. Speaking of humor, Aug 26's The Aristocrats has pretty much every comedian of consequence discussing the most appalling joke they know. It's not nice!
Broken Flowers (Aug. 12) is the new Jim Jarmusch, with Bill Murray as a crisis-stricken bachelor who decides to revisit the women in his life (Frances Conroy, Jessica Lange, Sharon Stone and Tilda Swinton). The Constant Gardener (Aug. 26) brings together a pair no one could have anticipated--writer John Le Carre and director Fernando (City of God) Meirelles, in a murder mystery set in Kenya. And Sept. 2 sees the release of John Dahl's The Great Raid, a World War II actioner about the 6th Ranger battalion's rescue of 500 GIs from the Cabanatuan prison camp.
[ Santa Cruz | Metroactive Central | Archives ]