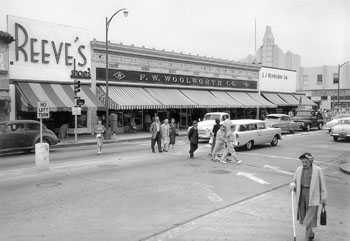 Covello & Covello Historical Photo Collection.

Intersection of Pacific and Soquel avenues and Walnut Street: This was taken Aug. 29, 1957. That tower in the background on Walnut Street belonged to the Santa Cruz movie theater. There were many theaters over the years, but this one and the Del Mar were the finest.

Bruce Bratton

THE SAN FRANCISCO SILENT FILM FESTIVAL. Now in its sixth year, the San Francisco Silent Film Festival has not only reached, but surpassed, the goals of any film festival. Screening four silent films in one day, the festival doesn't just educate and entertain, it also creates an atmosphere of informality and spontaneity--an almost familylike feeling. It's important to add that the festival now sells out each of the four film screenings in its home, the magnificent Castro Theatre. The festival opened with Peter Pan, starring Betty Bronson as Peter and Anna May Wong as Tiger Lily. This newly restored 1924 classic brings out all of the quirky nature that J.M. Barrie wrote into the role of Peter. The festival brought the 11-piece Flower City Society Orchestra here from Rochester, N.Y., to accompany the film with an original score. Oscar Michaux was the first black homesteader in South Dakota and one of the first black filmmakers to deal with racial prejudice in full-length films. The festival showed Within Our Gates, a 1919 film by Michaux that responded directly to D.W. Griffith's anti-black film, Birth of a Nation. In the four years between Birth of a Nation and Within Our Gates, there were 278 documented mob lynchings of blacks in America. By showing the film, the festival has helped bring well-deserved attention to Michaux, who made more than 40 films in his career. The directors of the Pordenone Silent Film Festival in Italy were here to present a showing of Maciste All' Inferno, an Italian fantasy epic from 1926. The Pordenone Festival is the world's oldest silent film festival (20 years). This film inspired the young Federico Fellini to become a filmmaker. It was one of 13 films with strongman Maciste as hero. The San Francisco Silent Film Festival closed with the 1927 classic silent comedy IT starring Clara Bow. Bow lights up a screen as only a few other actresses could--Gloria Swanson, Louise Brooks and Marilyn Monroe are possible contenders. There are rumors that the San Francisco Silent Film Festival may expand to two days next year, so make plans now to see the finest in presentation of these beautiful and important early contributions to cinema history.

WALTER REED DAY. Saturday (July 14) has been officially declared Walter Reed Day by both the City and County of Santa Cruz. At 12:30pm, Mayor Tim Fitzmaurice and Supervisor Mardi Wormhoudt will read proclamations, and Walter will place his hands and signature in cement in the Nickelodeon courtyard next to Rory Calhoun's historical block. After Walter signs the cement, everybody'll go into the theater, and I'll interview him so we can all hear his great stories about his Hollywood career. After that, we'll have the rare opportunity to watch the newly restored classic Western Seven Men From Now, featuring Reed and Randolph Scott. Walter's been a Santa Cruz resident for 35 years and started in films at the ripe age of 13! On Wednesday (July 11) at 8pm on Community Television (Channel 26), you can see an interview Walter and I did.

TWO NEW MOVIES. Cats & Dogs is the bottom of the same barrel that Babe remains on top of. It is, as one friend described it, a "mean-spirited" film. It certainly isn't clever, funny or even worth renting. Send the nasty and mean children you don't like to see it. The Road Home stars Zhang Ziyi from Crouching Tiger, and I think she must be the cutest movie star since Shirley Temple. The film is pleasant and well acted and has a weepy plot, but it is still well worth seeing. Don't miss Margaret Cho's performance film, I'm the One That I Want. Cho brilliantly manages to work her tragic life history of addiction, racial prejudice, depression and a huge mother- daughter problem into a very funny film of a stage performance she did at the Warfield Theatre in San Francisco. As they say, "You'll laugh, you'll cry," and you'll walk out believing Margaret belongs in the top ranks of stand-up comics.

DEL MAR PROGRESS. According to the Nickelodeon folks, if all goes well, some internal demolition should start in the Del Mar in a couple of weeks. They're going to restore the main auditorium downstairs by tearing down the dividing wall. There'll be all-new screens and seats and a new sound system and concession stand. There will also be new wall coverings and a new elevator going upstairs to the two theaters. It's a huge undertaking involving lots of cooperation among everybody. If--and that's a very big IF--all goes well, best-case scenario, etc., the new Del Mar could open in the first quarter of next year! By the way, in case you haven't noticed the Nickelodeon's big theater now has a brand-new sound system, and yes, it does make a bigger difference than you'd think. Let's see a show of hands of everyone who remembers when Walt Disney demanded theaters install new speakers just to handle the original Fantasia soundtrack back in 1940.

HONG KONG (INTER) ACTION. That's what Robert Easley titled his article on Hong Kong action films in last month's Eyecandy film magazine. It was such an interesting angle on action and he knows so much about martial arts and film, I asked him to go with me to see Jet Li's newest film, Kiss of the Dragon. We agreed that Dragon was contrived and full of clichés and that neither of us liked it as a film. Easley pointed out that there was exactly one scene with Jet Li and an accomplished martial artist. The rest of the fights were either restaged from old Jet Li films or were more Hollywood hokum. Robert pointed out that Jet Li could succeed in America because he has an intensity and stage presence that is rare in films. Chinese film stars have a tough time making it here, and even Jackie Chan has become a clown in trying so hard to break our Hollywood box office. Robert suggests if you want to see some really good wushu (martial arts), go rent Fist of Legend or Legend of Sai Yuk. You can read all of Easley's piece on Hong Kong action at eyecandy.ucsc.edu in the Spring 01 issue.

41ST AVENUE PLAYHOUSE PROGRESS. I'm trying to reach new 41st Avenue theater owner Gary Culver to check on what's new over there in Capitola and when they might be opening their all-cleaned-up movie house. I'll let you know when I hear from him. From all reports, the three screens there will be showing more of the same mainstream films being shown all over the county. Anybody else miss the old days of the Sashmill Theatre with its wild and imaginative screenings of almost every type of film ever made?

MUSICAL SAW FESTIVAL. This Saturday (July 14) at 1pm, there'll be a gathering of musical saw players from all over the world at the Tom Scribner statue in front of Bookshop Santa Cruz. The sawyers will jam a little and warm up for the big Saw Player's Picnic and Music Festival at Roaring Camp starting at 10am on Sunday. Ginny Mitchell, Sage Brush Swing and Robert Armstrong of the Cheap Suit Serenaders will all be part of the show. There's a 200-student musical-saw school in Beijing, China, and they send representatives every year. It's all a lot of fun, and if you've ever wondered how Tom Scribner sounded on the saw, be there Saturday on Pacific Avenue by Concha's Flowers or Sunday up at Roaring Camp.

BUMPER-STICKER TIME. Kaitilin Gaffney saw this one up near Point Reyes: "What if the Hokey Pokey IS what it's all about?"--a sobering thought.
---
Bruce critiques films every other Thursday on KUSP-FM (88.9) at 12:50pm. Reach Bruce at [email protected] or 457.5814, ext 400.
---
[ Santa Cruz | Metroactive Central | Archives ]