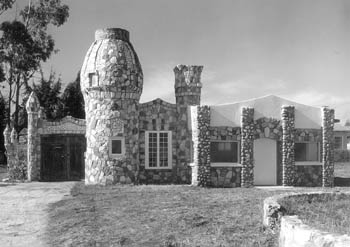 Covello & Covello Historical Photo Collection.

Home of the Kitchen Brothers: Built around 1946 by the Kitchen Brothers (no relation to the Kitchen Sisters of NPR fame), this is usually noted as the former home of Stoller Research. Stoller was owner of the Prospero Mushroom Company. This structure is at 1211 Fair Ave., and it's well worth a drive by to check out 511 Fair Ave. too.

Bruce Bratton

DEL MAR THEATRE. History enthusiast Ross Gibson went to Redding, Calif., and photographed the Cascade Theatre. The Cascade is an unbelievably exact duplicate of the Del Mar--the candy counter, the trimming on the interior beams, everything. Everything except the marquee. The Del Mar's is better, and it will be completely restored--only in stages. If you'd like to keep up on Del Mar news and read everything about the Nickelodeon, like show times, coming attractions and the like, go to http://www.thenick.com. You'll also find out about Catherine Graham's Friends of the Del Mar group of stalwarts at that site.

APOLOGY TO THE BOARDWALK: The Seaside Company called to say that Charlie Canfield did not try to get Highway 1 rerouted by the Boardwalk, as I put in my July 18 column.

BOARDWALK PARKING SOLUTIONS. One of the most intelligent ideas I've ever heard about solving the serious Boardwalk traffic problem is to have one or more parking lots away from the beach and to shuttle everybody back and forth to the Boardwalk. Think about that. Not only could we reclaim and restore the river but we could also make the entire Beach Flats community livable. Without those other massive parking lots, there'd be room for a conference center. We've got to move on this sometime soon.

DARK PLEASURES. Divided We Fall, now at the Nick, is a very dark Czech comedy. It's about the occupation of a small Czech town by the Nazis toward the end of World War II. It deals with the Holocaust in a delicate way never achieved by Roberto Benigni's miserable film Life Is Beautiful. The only word I could come up with to describe Planet of the Apes is diverting. It's watchable, just barely keeps you interested, and the ending is as commercial as it is ridiculous. The Princess and the Warrior is an excellent film. The same director and team made Run Lola Run. The plot is complex and disturbing--plan on seeing it at least twice. Made, written by and starring Jon Favreau and Vince Vaughn, is not everybody's movie, but if you liked Swingers, Made is almost Part 2. It's annoying, clever and quirky funny. Let's all get together and vote after you see it.

UNCONFIRMED RUMOR. I keep hearing that Little Caesar's Pizza is opening on Pacific Avenue. I can't find out where or when or if it's true. The rumors say south of Cathcart. Anybody know anything about this?

SPEAKING OF SOUTH OF CATHCART. Amy Marshall and the happy business people south of Cathcart who are putting on the Slugfest on Sept. 29 need a karaoke machine! They keep telling me that karaoke is coming back. There are many kinds of these machines, so call Ben at the Volume Store 457.9262 if you know of one of these devices. Suitable credit and promotions will be given in return.

JUST IN PASSING. I mentioned months ago that a Santa Cruz City Councilmember said one of the reasons they rushed Louie Rittenhouse's plans for his empty stucco high-rise office building through was "because he wanted to start pouring this summer." Since summer doesn't end until sometime in September, and our rain season starts on Oct. 15, I think now's the time to start taking bets on Louie's start date. Proceeds to go to absolutely none of Louie's favorite organizations.

LIBERAL OPINION WEEK, II. Whew, the folks at LOW are delighted with the Santa Cruz response to the mention here last week. They're getting out the free issues and subscriptions ASAP. I didn't mention all the liberal columnists and editorial cartoonists. For example there's cartooning wit by Herblock, Taylor Jones, Duane Powell, Scott Bateman, Paul Conrad and many more favorites. Other featured columnists are Helen Thomas, Bill Press, Robert Reno, Deb Price, Cynthia Tucker and Ed Koch, William Raspberry, Robert Reich, Richard Cohen and others. One other thing I didn't mention last week--and as we all know, it isn't important and certainly isn't remotely relevant--but Liberal Opinion Week is completely published, managed, produced and circulated by three women. Read it on their site at www.liberalopinion.com or call 1.800.338.9335 and ask for a free copy.

THE SCOTTISH PLAY. It's an actor's tradition never to say the name Macbeth in referring to the play--bad luck, catastrophe, etc. Shakespeare Santa Cruz's production directed by Michael Edwards is almost exactly what we've come to expect in Santa Cruz. Huge amounts of noise and smoke, lots of military uniforms, and shouting. Good lord, do they shout; there's not a quiet line in all the play! It's hard even to imagine Shakespeare Santa Cruz doing a quiet, thoughtful understated version of any of the historical plays. But Macbeth is a fine production, well acted--just so over the top and in your face, again.

WHO'S AFRAID OF EDWARD ALBEE? I think Edward Albee is one of our finest living playwrights, and Who's Afraid of Virginia Woolf? is one of the best plays of our time. Not counting rehearsals, I've now seen it about 15 times, and the Bay Shore Lyric Opera Company's presentation at the Capitola Theater is very, very good. Who's Afraid is one of those plays that you really take home with you. You can debate it and try to decode it for years, believe me. The film version, with Elizabeth Taylor, Richard Burton, George Segal and Sandy Dennis, was Mike Nichols' film-directing debut. Rent it before or after you see the Bay Shore play--it'll give you a completely different interpretation. The cast and director for Bay Shore's production were brought in from Pleasanton, the set's fine and the theater has never looked better. It only plays four more times, so don't wait. And try to avoid using the theater parking lot next door. The sign doesn't say so, but there's a $3 charge, and the guy in charge of the lot has a real attitude problem. Albee's Three Tall Women opens Friday night at London Nelson Community Center--better go see that too.

SEATTLE QUEST. I was fortunate to receive a last-minute ticket to the new production of Wagner's Ring operas in Seattle. I'll be up there all of next week absorbing Wagner's finest achievement, unless you count Parsifal. That reminds me, Wagner devotee and music enthusiast Jean Lerner isn't feeling well enough to attend this Ring production. If you know Jean, and most people do, send her good thoughts and kindly waves of love.

CABRILLO MUSIC FESTIVAL. There are still some tickets left for Fearful Symmetries, this Saturday's concert. John Adams fans who don't hear Symmetries played very often are coming here from all over. So are Christopher Rouse enthusiasts and those people who want to hear what Jennifer Higdon's music sounds like. It'll probably be the most exciting pure music night at the Civic Auditorium this season. Call 420.5260 for tickets.

LAST-MINUTE HEARINGS. Wednesday (Aug. 1), you can hear Libby Kelley speak about the dangers from cell phones and cell towers at Patagonia, 415 River St., Santa Cruz, at 7pm. Isn't anybody predicting that these cell towers are not just dangerous but that they will be obsolete in a few years? On Thursday (Aug 2), you can find out about and comment on our county transportation problem. There are several affordable and doable solutions to widening Highway 1. Now's the time to become informed. The public hearing will start at 7pm on the fifth floor of the County Building. Doors open at 6pm. You can see maps of the plans at www.sccrtc.org.

BUMPER STICKERS. Katie Bagley saw this one on a Vanagon in Los Angeles. Katie offered no excuse for being in L.A., but we're each permitted one time free. The sticker said, "Born O.K. the First Time." We need a truckload quickly, so the Palau people will get the point.
---
Bruce critiques films every other Thursday on KUSP-FM (88.9) at 12:50pm. Reach Bruce at [email protected] or 457.5814, ext. 400.
---
[ Santa Cruz | Metroactive Central | Archives ]