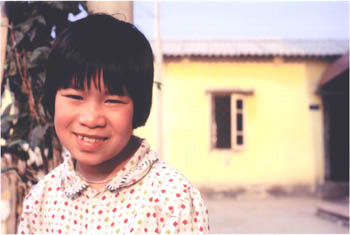 'The Friendship Village.'

A Shore Thing

The Pacific Rim Film Festival expands its vision around the globe for its most ambitious program yet

By Sarah Phelan

There's no such thing as a free lunch, so the saying goes, but there is such a delightful thing as a free film festival. Now in its 14th year, the Pacific Rim Film Festival continues its commitment to a policy of free admission for all screenings. That's right, zero dinero is required to view 13 top-rate films, all set in classy venues, often with directors on hand for scintillating Q&A sessions. Now that's what we call sweet.

The PRFF organizers have stuck hard and fast to this policy over the years, but there is one event this year for which they were willing to make an exception: the Oct. 14 screening of Heart of the Sea, which will benefit both the festival and WomenCARE's Healing Program for women with cancer.

And if you had to pick one film as a fundraiser for two worthy causes in Santa Cruz, you'd be hard pressed to make a more fitting choice than this awesome documentary about legendary pro surfer and breast cancer advocate Rell "Kapolioka'ehukai" Sunn.

For one thing, this fabulous one-hour documentary likely would not have gotten made without the Santa Cruz connection that co-director Charlotte Lagarde made while filming Swell, her award-winning documentary about four generations of women surfers in Santa Cruz.

"All four women mentioned Rell as a role model," says Lagarde, who would have started filming Sunn right then and there if Sunn hadn't been going through chemotherapy for breast cancer.

Eighteen months later, when Lagarde got the call saying Sunn was ready to film, she assumed the Hawaiian native must have "sprung back as she always had from the many treatments that she'd undergone since breast cancer first hit her at age 32."

But when Lagarde arrived in Makala, the beach town on the leeward coast of Oahu where Sunn lived, she found her to be very very sick.

"She knew her time was coming," recalls Lagarde, whose first film, 1994's Zeuf, also documents a woman surfer's battle with the disease.

Lagarde and co-director Lisa Denker spent the next 10 days interviewing Sunn and filming her surfing on a boogie board--for the very last time, as it later turned out.

"After that she fell into a coma, and a few months later she died," says Lagarde, who says she was struck by Sunn's beauty even shortly before she died of breast cancer at age 47.

"Really it was her spirit, which was so strong. Her love of life was really so grand that it comes through," says Lagarde.

No kidding. It's hard to believe that Sunn ever was ill, given the luminous beauty, grace and athleticism that shines through the film, qualities that doubtless helped to transform her from a struggling single mom to one of Hawaii's most influential women of the 20th century.

Set primarily in Makala, Heart of the Sea is full of infinitely watchable clips of Sunn surfing--she makes longboarding look as effortless as picking daisies--dancing, spearfishing and snorkeling.

It also documents how she helped carve a niche for women's pro surfing, organized at-risk youth in her community, worked to preserve Hawaii's beauty and traditions and ultimately became an activist for breast cancer awareness and for the protection of the environment from the toxins she believed caused her disease.

There's one clip in particular that will make your skin crawl, in which Sunn recalls chasing the "DDT van" in her youth, catching it--and coming home, hair and skin slick with what she now believes may have triggered breast cancer.

Diagnosed with the disease despite no family history of it, Rell soon discovered that Native Hawaiian and Pacific Islander women have the highest incidence of breast cancer of all women in the United States, but that detection and prevention programs go largely underfunded.

"Unfortunately, less than 1 percent of the money raised for breast cancer goes into researching its environmental causes," says Lagarde, "and because of the spraying of pineapple fields, there's not one place in Hawaii that can be called organic."

At least one of the two directors will be attending the Oct. 14 event at the Rio Theatre, and Hawaiian music legend Eddie Kamea plays before the film.

It Takes a Village: George Mizo is at the center on 'The Friendship Village,' a documentary about war veterans who return to Vietnam.
'The Friendship Village'
Sunn isn't the only protagonist in this year's selection of films whose death is attributed to chemical-related causes.
Take George Mizo, the protagonist of The Friendship Village--a gut-wrenching yet uplifting portrait of international war veterans who build a village in Vietnam to help children with Agent Orange-related disabilities--who dies of health complications attributed to his exposure to Agent Orange during the Vietnam War.
Originally shown on Canadian Public Television, this documentary was to be aired on PBS in the United States, but was rejected as too controversial when the war with Iraq began to heat up.
All of which goes to show that Mizo's contention that "for 40 years now, Vietnam has been the big pink elephant in the living room that everybody doesn't want to see but is there" is as true as it ever was.
In fact, local resident and member of the Friendship Village Carl Stancil says the United States is still the hardest place to organize support for the village, which Mizo helped found in an effort to restore hope and bring reconciliation and peace both here and in Vietnam.
"People don't want to deal, even the vets. Some of them saw heavy combat and are still angry or traumatized to the point that they just don't want to go there, not even in their mind," Stancil observes.
The most sobering aspect of this film is that even after all these years, Vietnam is still plagued by fallout from the war. Indeed, midway through this 50-minute documentary, someone mentions that it would cost billions to clean up the soil that's been contaminated and yet remains in Vietnam's agricultural heartland--a stat that's all the more sobering given that Americans just forked out $79 billion to invade and bomb Iraq, and are now being asked to pay a further $87 billion to supposedly rebuild it.
Director Michelle Mason hopes her film will offer lessons to people who think violence is going to solve their problems.
"The Friendship Village is the story of two former enemies who've both been to the front lines and understand that those are not answers, but part of the problem," says Mason.
The Friendship Village traces Mizo's quest for spiritual healing and reconciliation, after the Tet Offensive leaves him as sole survivor of his platoon during the Vietnam War.
That quest comes full circle when Mizo ends up back in Vietnam working alongside Sr. Lt. Gen. Tan Van Quang--the Vietnamese general responsible for planning and leading the very attack that killed all the other members of Mizo's platoon--to build this $2.5 million project on a former rice paddy, housing over 90 children and veterans suffering from Agent Orange-related health problems.
And while the United States may have a hard time looking the reality of Vietnam in the eye, a Vancouver-based environmental company is working to establish a scientific link between Agent Orange concentrations in humans and birth defects, and to remediate areas sprayed with the deadly herbicide.
At the Pacific Rim screening, Mason will be taking part in the panel discussion led by Carl Stancil and former Santa Cruz Mayor Katherine Beiers, a peace building delegate to Vietnam.
'Forgotten Valor'
Also dealing with the war vet theme is Forgotten Valor, a U.S. production, in which World War II vet George Fukuoka considers joining the ghosts of his company who did not return from battle. Another film from Forgotten Valor filmmaker Lane Nishikawa, When We Were Warriors, will also be shown at this year's festival.
This year, the festival has also expanded its scope to include films from Mexico and El Salvador, starting with Todo el Poder, a black comedy about crime and corruption in Mexico City, and Maria's Story, which charts the journey of Maria Ofelia Navarrete, an El Salvadoran woman who left her hometown to join rebel soldiers. (Navarette and producer Cathy Ryan will attend both screenings.)
Japan is represented by Shall We Dance?, a comedy about an unhappy accountant who takes ballroom dance lessons, an activity that is reportedly frowned upon in Japan.
Korea has two entries--Painted Fire, a stunning portrait of painter Jang Seung -up, and Take Care of My Cat, in which five young women try to find themselves and stay friends.
The Chinese King of Masks is set in the 1930s and tells the story of a street performer who finds a protégé to carry on his art, while the Chinese/ Mongolian entry, A Mongolian Tale, is a bittersweet love story about life in the vast, modern-day Mongolian grasslands.
Iron Ladies, a raunchy tale of a group of gay and transgender youths, is based on the true story of Thailand's 1996 volleyball champions, and is one of the most popular films ever made in Thailand. And then there's Devdas, Bollywood's most-expensive ever movie, which is replete with melodrama and fascinating musical and dance moments and stars former Miss World Aishwarya Rai.
---
The Pacific Rim Film Festival runs Oct. 9-15 at the Del Mar Theatre, 1124 Pacific Ave., and the Rio Theatre, 1205 Soquel Ave., in Santa Cruz, and the Fox Theatre. Maple and Main streets in Watsonville. Admission is free, except for the benefit show. Advance tickets to the benefit are available at Bookshop Santa Cruz and Logos. For festival information call 831.457.7894. Seating is first come, first served.
---
[ Santa Cruz | Metroactive Central | Archives ]