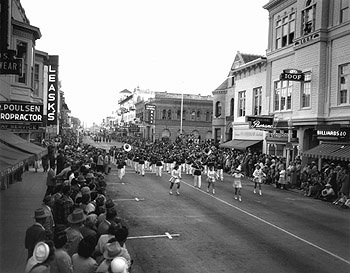 Covello & Covello Historical Photo Collection.

Armed Forces Day Parade, May 17, 1952: Talk about 'an earlier time'! Here we see everything from the Tea Cup, the real St. George hotel, the real Cooper House, County Bank, Rittenhouse Bros. menswear, Leask's, Gosliner's Shoes, and of course, the Odd Fellows Hall (I.O.O.F.). And all the men are wearing fedoras.

Bruce Bratton

THAT DAMNED SIGN. Chris Schneiter from city staff called to say that the sign was not part of the Gateway Plaza, as I wrote, but was part of the River Street widening plan. Mayor Tim Fitzmaurice called right back to say that that "abomination" and "eyesore" (his words) was part of a long public process that had plenty of public hearing time before it was approved. I met with Vice-Mayor Christopher Krohn, who showed me the City Council vote of May 13, 1997, authorizing Arrow Sign Company of Oakland to design and install that sign. Scott Kennedy, Marybeth Campbell, Katherine Beiers, Mike Rotkin and Mayor Cynthia Mathews all voted yes. Only Celia Scott voted against it, and Michael Hernandez wasn't there. The sign was designed by the urban planning firm of--and don't ever forget this name--Freedman, Tung and Bottomly. The city paid around $70,000 for the sign, and it cost another $12,650 to install it. Christopher called to say the matter of the sign is/was now scheduled to be on the Tuesday, Oct. 23, agenda. Mayor Fitzmaurice said it will either go to a commission or be the subject of a future council meeting. Keep calling the City Council about that damned sign; they need to see how many people don't like it. As of last week they had about 35 anti calls. They're also getting more calls protesting that flag on the front of the Civic. P.S: Architect/ designer Matt Thompson likes the sign.

ATTN. THEREMIN FANS. Joseph Minicello will be giving an informal theremin recital of romantic vocal and violin repertoire accompanied by pianist Mickey McGushin in Room 131 of the UCSC music department. It's free and you don't get to hear many theremin concerts nowadays and Joseph is a fine thereminist. (Full disclosure: I built Moog's transistorized version of a theremin back in 1960 and tried to play it for nearly 20 years. Trust me when I say Joseph is very good.)

RITTENHOUSE RUMOR. Actually, it's not a rumor; Louis Rittenhouse, owner of that empty plot at Pacific and Church streets, recently stated he wouldn't be building this year. Try to contain your shock! Now, since he hasn't been able to find even one tenant in 12 years to occupy his proposed building, and since the need for office space has plummeted so drastically, maybe, just maybe, Louis will reconsider and be a little open to negotiating with the city to make a nice park right there? Even to naming it after his grandfather? There has been more talk lately about other plaza sites. More on that later.

DARK PLEASURES. The really good film to see is Johnny Depp's From Hell. Everybody loves Johnny Depp now, and with his English accent, you'll probably like him better. It's very, very bloody and slashy and Heather Graham is way too clean for the part, but don't miss it, it's a wonderfully made film. The Last Castle is Hollywood at its most manipulative, patriotic worst. Redford and Gandolfini do what they know how to do, but the plot couldn't be cheaper or more macho or predictable. Wait and rent it. Iron Monkey is subtitled and Cinema 9 fans don't like to read when they see films, so I predict it won't be there very long. Besides that, the distributors are trying to capitalize on Crouching Tiger and brought out this older film, which is just barely foolish. Don't go. If you liked David Lynch's Mulholland Drive and its quirkiness and mystifying lack of cohesion, you'll love Donnie Darko, opening at the Nick. Fine acting, and a plot that will have you disagreeing with everybody else who saw it with you. By now you've probably been warned enough about Bruce Willis and Billy Bob Thornton's Bandits. Once again, wait and rent it, you won't miss anything.

THE SEVENTH SENSE. The 5th Annual Seventh Sense Fashion Show as held at the 418 Project on Front Street is over, and all three nights were sold out. I attended closing night last Sunday--you should have been there. The Seventh Sense Fashion Show is one of the very few events left where creativity, fun and art, plus lots of positive lunacy, all combine into such a Santa Cruz kind of evening. Models modeled to music by the Kronos Quartet, Nino Rota, Enya and Peter Gabriel. The whole evening reminded me of the Temple of the Canticles on Geary Street that burned down a few years ago. They're figuring on doing it four nights next October; get your tickets early.

SHAFFER ROAD DEVELOPMENT. There's an enormous rush to develop the 206 housing units out on Shaffer Road, which is out there on Highway 1. It'll be a gated community with 40 percent affordable units. To say there are a few problems with this development is like saying Santa Cruz has a water problem. Matter of fact, there is a huge water supply problem for this development along with a traffic problem. There's also the nagging question of why the developers insist that the development is linked to the development of the proposed apartment building at Pacific and Cathcart, or the 1010 building as they're calling it. Everybody, including all the greedy developers in California, knows that there's a lot of money to be made in building housing nowadays, especially since you can't sell office buildings anymore. Developers know too that cities like Santa Cruz approve housing zip, zip, zip. It's undeniable that housing is needed, but so is careful planning, and while our City Council may want to have Shaffer Road on its achievement list, it'll haunt them if it isn't done right.

THE WAR ON TERRORISM AND DRUGS. Sanho Tree, the director of the Drug Policy Project at the Institute for Policy Studies in Washington, D.C., will be at the Vets Hall Thursday, Oct. 25 at 1:30pm, to talk about the parallels between wars on drugs and terrorism. Tree will talk about economic alternatives to the illicit drug economy. He's being sponsored by the People's Democratic Club, the Universalist Unitarian Fellowship and the UCSC Center for Justice, Tolerance and Community. Call 420.1133 for more information.

FIRST NIGHT NEWS. First Night will use Palookaville probably for the last time as an entertainment venue on New Year's Eve. Signature Theaters is also giving First Night one Riverfront Theater space and one Cinema 9 space, which is very kind. The Vets Hall will become a teen venue and good old Slow Gherkin will be playing downstairs, along with Super Pineapples and Sneaky Creekans. Watsonville Taiko will open the First Night at 3pm on the main stage and Steve Czarnecki's Jazz Group will be on the South Stage. It's very important this year to remember that First Night is a nonprofit, all money goes to performers, so buy a button even if you're just going to the parade or to just one performance. It's all community, and we can all feel better about pitching in.

FROM THE FRONT LINES. Chris Blanchard saw this sticking to a bumper on Highway One: "If you are not outraged, you're not paying attention." Kate Minott reports in with the news that the Emeryville Boy Scouts and an FBI team surrounded their local Ikea store because they heard that "Our Summer Bed Linen" was on the second floor. Other than that, nothing's new.
---
Bruce critiques films every other Thursday on KUSP-FM (88.9). Reach Bruce at [email protected] or 831.457.5814, ext.400.
---
[ Santa Cruz | Metroactive Home | Archives ]