From mugs to music, the tiki fever of the 1950s has returned as a suburban cult
By Richard von Busack
Centuries ago, dwellers on Rapanui, better known as Easter Island, carved the moai, towering stone heads that have made a tiny dot in the South Pacific world-famous. Some have suggested that these statues are gods; others say that they are the effigies of chiefs. No one knows how they were erected.
In the South Pacific, other carvings--from life-size figures on the Marquesas Islands to the fierce stone gods of Hawaii and the intricate greenstone charms of the Maoris of New Zealand--give evidence of art and religion spanning a trans-Pacific culture.
At the limits of that culture, in California, exists a civilization with its own ruins. Somehow, the art of these nations, thousands of miles apart, became slurped into a cultural Mix Master and poured over the United States for a brief period of cultural history, roughly 1945-65, known as "tiki," a word which literally translated means both "God" and "statue."

Check out our list of where to find tiki.
Hear low-fidelity samples of tiki tunes.

In the United States, tiki can refer to a whole range of popular ersatz exotica that some aficionados claim represents a form of suburban rebellion. Throughout the valley, look hard enough and you can find old bachelor apartments with names like The Palms and Moana Lei. These relics are adorned with features that turn up again and again: dead sockets that once held colored floodlights, surrounded by unkillable palms; the Tiki Rooms for cocktail parties; the peculiar lagoon-like curve of the kidney-shaped swimming pool.
Sifting Through The Ruins
Digging through local thrift stores for the wreckage of tiki style are members of a new cargo cult. They're searching for the decorated souvenir drink mugs the restaurants once gave away, delving through the piles of discarded records and reviving the "exotic" instrumental jazz of such heavy-marimba musicians as Martin "Quiet Village" Denny and Les Baxter. Through Web sites and tropical-music DJ nights at local clubs (like the Limbo Lounge on Jan. 8 at The Usual in downtown San Jose), conventions and the ubiquitous zines, and regular programs on college-radio stations (such as Jack Diamond's show on Los Altos Hill's KFJC-FM), dedicated pop-culture anthropologists are unearthing relics of the tiki craze.
Tiki, in fact, may even be starting to go mainstream. Lifestyle pope Martha Stewart has been seduced by it, as she wrote in the July/August issue of her magazine, Martha Stewart Living. Naturally, "the color scheme is more muted, the food is more healthful," and since she'd burst into flames if she ever entered a thrift shop, Stewart suggests wrapping ordinary glasses in bamboo sushi mats to get the effect of the classic tiki ceramic mug.
Commenting on Stewart's article in Thrift Score, a zine for thrift shoppers, writer Al Hoff notes that Stewart actually staged the whole party for photographers in Maui. "Call me a traditionalist," Hoff sniffs, "but it seems to me that if you were in Hawaii, you could just have a beer on the beach and call it a tiki party."
Stuart Mangrum is the editor of Twisted Times, another zine that covers tiki. He is also one of the local founders of the Tiki Camp, the Polynesian-themed site at Burning Man, an annual gathering in the Nevada desert of artists, neo-pagans and curiosity-seekers. "Everybody digs it," Mangrum says. "The appeal of tiki is just about universal. When we started Tiki Camp at Burning Man in 1994, we had no idea we were mining such a rich vein of collective (un)consciousness. In a rising tide of exploitation, the Tiki philosophy remains, 'What did you bring to the party' rather than 'Give us your money.'
Venice, Calif.'s Otto von Stroheim (no relation to the famed film director) co-edits Tiki News, another tiki zine. Tiki News recently produced Exoticon, a convention of tiki art and exotic music fanciers held in L.A. last November at the Park Plaza Hotel. The event drew 1,500 people to hear several "exotic music" performers, particularly tiki cult favorite Combustible Edison reinterpreting the heavy-marimba sound that the much-imitated musician Martin Denny popularized.
A thrift shopper himself, von Stroheim became so interested in the ceramic souvenir mugs that tiki restaurants used to give away that he now boasts a collection of more than 100. At this point, von Stroheim knows his tiki collection so well that he could critique them; newer ones he laments, are fashioned from deteriorating rubber molds that leave the details blurry.
Sven Kirsten co-edits Tiki News with von Stroheim. Kirsten's a cinematographer--he shot the 1992 Robert De Niro movie Mistress--and a writer working on a book about the cult. Like von Stroheim, he became interested in tiki culture through thrift-shop hunting. "In the mid-1980s," he says, "people considered them tacky and ugly. I started to get curious about places the mugs came from and became more and more interested in tikis."
Pagan Follies
Tiki won't be the first time a culture has been uncovered through pottery shards. Anthropologist Clifford Geertz once described tracing the history of marginalia as "guessing at meanings, assessing the guesses, and drawing explanatory conclusions from the better guesses."
"There were no studies about that stuff," von Stroheim says of the first wave of tiki music and architecture. "You have to take tiki at face value and run with it." It's a common process in cultural anthropology. Fans consider tiki, perhaps rightly, as a light version of modern primitivism for people disinclined to feel the needle of the tattoo artist or, worse, the professional piercer. ("Tupu le tane, ta le tatau/Tupu fanie, fanafanau"--"The man grows up [and] is tattooed, the woman grows up and gives birth."--Samoan verse).
How consciously pagan were the tiki fanciers of the old days? "I've asked older people about tiki stuff," von Stroheim says. "They kind of hinted that the appeal of those luaus was to get drunk and get kind of wild and wear funny clothes--that pagan freedom. That was the lure of all that tiki stuff: the sexual innuendo, the paganism that was so different from their ordinary lives."
Mangrum calls tiki cultism "a direct challenge to Puritanism--sensual dances by torch light, scantily clad bronzed bodies, the works. [It was] a pagan celebration of life, scrubbed clean and made a little wacky but nevertheless a powerful subversive force in the repressive '50s."
At the tiki parties of the 1950s, Kirsten suggests, "the generation of our parents, for the first time, were ridding themselves of the Christian heritage of Puritanism. Also, to them, it was as far as they could go with their Puritan upbringing. Tiki style was almost like an alternative lifestyle, like what the hippies wanted to create with drugs and free love. Our parents were dreaming of free love in the South Seas, and their drug were these potent cocktails, their rebellion was dressing in Hawaiian shirts. Old people I talked to, they liked really getting away to another world."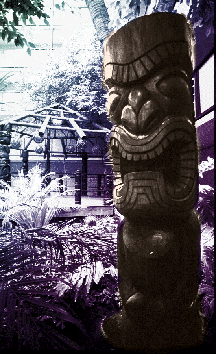 Photo by Sven Kirsten
Art and Artifact: A carved tiki that originally graced the Luau Hotel in Beverly Hills now looms over the Hana Lei Hotel in San Diego.
In California, tiki is thought to have something to do with nostalgia for the South Pacific by returning servicemen. This conjecture seems unlikely, as anyone who has read a memoir of the Pacific War (try William Manchester's Goodbye Darkness) would attest, although the musical South Pacific--which bore the same relation to the real war as TV's M*A*S*H did to Korea--helped spread the imagery of island paradises to countless landlubbers in the 1950s.
"If soldiers coming back from the war started tiki-style restaurants, it was strictly as entrepreneurs," von Stroheim believes. The absorption of Hawaii into the United States in 1959 represents the apex of the cult of tiki; when investment capital began developing Hawaii as a tourist destination, some of it boomeranged back to the mainland. Tiki may represent the first stirrings of the notion of the Pacific Rim.
Still, even if the tiki style spread nationwide in the 1950s, Polynesian-theme restaurants existed in America as far back as the 1920s, if only as venues for then-popular Hawaiian music. Virtuosos of the slack key guitar made their mark on American pop during the next few decades, especially on Bob Wills-style western swing. Even today, performers such as Raymond Kane and Santa Cruz's Bob Brozman draw fans. Unfortunately, since the worst so often eclipses the best, when people hear about Hawaiian music, they think of that jaded reprobate Don Ho.
The depths of the Depression were lightened not just by Hawaiian music but by Polynesian pop art, in such hits as Rain and Bird of Paradise. Is it just coincidence, considering how much movies influenced notions of style during the 1930s, that Don the Beachcomber's, the first famous tiki restaurant, opened in L.A. in 1934? Trader Vic's opened shortly afterward in San Francisco.
Both started a chain of imitators and established the basic elements of tiki style: high-octane rum drinks served in decorative ceramic tumblers, indoor waterfalls and flaming torches on the street outside. A healthy example is the Tonga Room in the San Francisco Fairmont Hotel, still visited for its indoor lagoon, complete with tropical storms on cue and a bandstand island in the center.
In the 1950s, various hotel chains franchised out Polynesian restaurants, with names like Kon Tiki, Kona Kei and the famous Trader Vic's. Almost every large city had a Polynesian restaurant of some sort by about 1960.
The Santa Clara Valley, a nest of instant cities that boomed right after World War II, was as much a breeding ground for vernacular architecture and experimentation as Los Angeles was to the south. Don the Beachcomber's had an outpost on Stevens Creek Boulevard; the Hawaiian Gardens (now the Italian Gardens) on Almaden Road was a well-known banquet place 30 years ago. What remains of this typical patch of commercial real estate's flirtation with the exotic are the palm trees in the parking lot, and the suspiciously Polynesian-like tilted struts holding up a wooden ramada in the front of the restaurant. On San Jose-Los Gatos Road just west of Highway 17, there was a Waikiki Village (it's now the Los Gatos Village shopping center).
From their names alone, and from the advertising that survives, these restaurants were built with tilted pylons and gables in the imagined designs of Polynesian long houses. All that really remains of these styles locally is the futurism of coffee-shop architecture, especially in the Flames on Winchester Boulevard and Olin Street, formerly an ordinary-looking Bob's Big Boy and recently renovated in retro-tropical style with crushed volcanic-rock walls and palms.
What survives architecturally is little more than fragments, such as the decorations at Lanai Liquors in San Mateo. They are the last remnants of a huge Polynesian-themed restaurant that was torn down last year.
"People started opening these places hoping to become the next Trader Vic," says Kirsten. "It wasn't pure copying or trying to cash in on a fad; you had to fall in love with it. That's what I like about tiki. People just went nuts with their fantasies. If you look at this as an art, it's amazing how little it was covered by the press and the art world. These designers of the restaurants were artists in their field; it's amazing how little respect they got."
Le Sacre du Sauvage
Exotic music, as much a part of tiki style as decorated ceramics, is enjoying a revival in the Santa Clara Valley. Its most notable local proponent is Jack Diamond, who plays it on his Sunday-morning show on KFJC (89.7FM). Appropriately, Diamond lives in a Menlo Park version of a lanai apartment.
Though that courtyard is at present full of damp redwoods, puddles of rain and dead leaves, a parrot squawks from a nearby apartment. Diamond's apartment has some vintage imitation Polynesian wall hangings, but he also has prominently displayed a copy of Les Baxter's famous 1952 album Le Sacre du Sauvage. Along with Denny, Baxter is one of the main sources of tiki style in music.
Diamond's main man, however, is Juan Garcia Esquivel with his multitracking, shocking brass accents, arcing lap guitars and signature choruses of "zu zu zu zu." (Esquivel, from Mexico, recorded in a sort of musical Esperanto to avoid being seen as only a Latin artist.)
"People used to point and laugh at me for listening to Martin Denny and Esquivel," Diamond says, "and now they all claim they were totally into it."
Le Sacre du Sauvage, a play on the title of Stravinsky's The Rites of Spring, was almost as influential as the real Le Sacre du Printemps. There aren't reliable dates on some of the albums, but Baxter was recording and being imitated through the 1950s. Martin Denny, an interpreter of some of Baxter's music, recorded between 1957 and 1962. His dreamy 1959 hit "Quiet Village," the "Louie, Louie" of tiki music, influenced other instrumentalists with its use of gongs, bongos, flutes and marimba.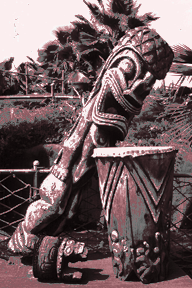 Photo by Sven Kirsten
Relics of a Suburban Cult: A tiki leans against a faux-Polynesian drum at a defunct tiki amusement park.
Diamond is irked to hear the musical explorations of Denny described as "lounge" music. Just as the exoticism of Polynesian-themed restaurants had a cousinly relationship to modern-style coffee shops, tiki music is part of a musical moment. The kind of space-age bachelor-pad music popularized by Esquivel developed as musicians experimented with the range of the newly developed high-fidelity technology in the 1950s.
Denny, for example, considered himself a jazz pianist more than anything else, and tiki music employs some very avant-garde methods. Even easy-listening pianists Ferrante and Teicher, usually considered the Castor and Pollux of corn, were exotic once. The pair put out very early records with prepared piano--bits of metal woven into the piano's wires--a process scoped out by that pioneer of the prepared piano, John Cage.
One other possible explanation for the popularity of the musical tiki icons: their low cost. A lot of these records were discarded and easy to find even for minimum-wage slaves tired of confrontational music. Pleasingly, they were reissued by such record companies as Curb, Bar None and RCA after the demand, instead of being reissued to begin a demand.
Remembrance of Restaurants Past
The demand might well be there for the revival of tiki lounges and restaurants as well. The theme restaurant is coming back in a modest way; both Kirsten and von Stroheim are impressed by a very popular submarine-themed restaurant in Century City named Dive, which is decorated with TV monitors of water, piping and grating--exactly the sort of high-concept restauranteurship that the Polynesian places represented.
And yet, tiki restaurants wink off the map. The most recent issue of Tiki News ran an obituary for the last tiki-themed restaurant on Waikiki Beach, which closed last year. The craze for tiki ended slowly but decisively with the arrival of the hippies.
"You know what happened to them all," Kirsten says. "With the big generation changes, the thing was practically over with." Scorning artificiality and alcohol, and discontent with seeking hedonism halfway, '60s kids went off not to dream of paganism but to live it.
Still, these beautiful architectural follies, often abandoned or closed, endure in some corners of the country. According to Kirsten, "It's fascinating to see how, 30 years ago, people went through all this labor to create these places--so elaborate, so perfectly baroque. Nobody could afford to do a place like that now. If you had the right backers you could renovate some of these restaurants that are left--not dressing them down and making them more conservative but bringing back the props. They could do it."
Kitsch as Kitsch Can
"As soon as kitsch is recognized for the lie it is, it moves into the context of non-kitsch, thus losing its authoritarian power and becoming as touching as any other human weakness. For none among us is superman enough to escape kitsch completely. No matter how we scorn it, kitsch is an integral part of the human condition."--Milan Kundera, The Unbearable Lightness of Being.
How racist is tiki? Is it really the old social orders you're yearning for? The questions always exist when mulling over the pop culture of the past, especially when it comes to colonized art transported back to the colonizing country. The best Polynesian-themed decor had genuine artistry to it; the worst had bald caricatures of tubby cannibals with bones through their noses.
Von Stroheim and Kirsten, who have seen both styles, are interested in tiki but do not unreservedly approve of it. As a consequence, von Stroheim is trying to keep his zine open to genuine Pacific culture. In the latest issue of Tiki News, he reviews a book by Daniel Pouesi on Samoan culture, including a series of essays from American Samoan Congressman Eni Faleomavaega.
"I'm trying to be sensitive," says von Stroheim. "There's a really strong Hawaii nationalism movement to get back to Hawaiian roots. I'm worried about people misinterpreting tiki and being offended by it. All this tiki stuff is mainland stuff, naiveté. You wouldn't have a tiki place built today."
As Kirsten says, "I'm not a preservationist in the sense I want tiki bars preserved exactly as they were--that wouldn't be half as interesting if all these places were still around, and they'd be so politically incorrect you wouldn't be able to stand them. A fascination with the exotic is part of the western European temperament, and tiki style, when it was happening, was an example of a white middle-class fad." Which it still is; and in the renewed interest in the exotic, the same notions of escape may be coming back to haunt the grandchildren of the tiki builders.
Island cultures are fragile. Yosihiko Sinoto, senior anthropologist at the Bishop Museum in Hawaii, told Paul Theroux in the latter's book The Happy Isles of Oceania, "Polynesia is gone." Few places on the planet are remote enough to have escaped the VCR.
A tiki-loving friend reminds me that heirloom strains of everything from camels to grapes have survived better transplanted than they have in their native countries. Obviously, the real Oceania is no real paradise except for those who can afford to come and go. It's been romanticized as a paradise by almost every western observer, in art by Gauguin, as a magic region in Malinowski's study of the Trobriand Islands, The Sexual Life of Savages, and in Margaret Mead's Coming of Age in Samoa.
The islanders were used, as the un(Western) civilized had been used by commentators since Thomas More--whose Utopia was a remote island--as living examples of how our own morality could be improved. Or, later, loosened.
And while there is a range of conditions from one island nation to another, almost all the islands have been colonized, and often have more in common with Once Were Warriors than Blue Hawaii. They're plagued by alcoholism, violence, pollution, over-fishing, nuclear testing and fundamentalist Christians missionaries.
I've never been closer to Hawaii than the Hawaiian Gardens, a gang-ruled suburb in L.A. But, according to Theroux, there's even a gang calling itself the Crips in New Zealand now, so there may be nowhere to escape except to a Polynesia of the mind, and to let oneself be inspired to a weirdly enduring fantasy by the sight of something so mundane as a swirl of marimba and a blue floodlight on a queen palm tree.
"We thought we were just poking sticks at a kitsch-culture corpse," says Mangrum of the tiki revival, "but it turned out to be far more alive than we realized. Alive and dancing."


[ Metro | Metroactive Central | Archives ]