Blues music is not dead, but you're about as likely to see a corpse dance as you are to hear this classic American genre on commercial radio. Which makes it tough for neophytes weaned on Eric Clapton to decide who's really who in blues.
That's where labels like Drive Archive Records come in. Rather than leaving potential converts scratching their heads in bewilderment, the company has packaged a representative sampling of material originally produced by artists dating as far back as the early 1950s.
The label's two newest releases--Singin' the Blues and Nothin' But the Blues--are essential listening, not just because they contain excellent music by masters of the genre but also because some of these recordings are now collector's items. Perhaps just as notable is the fact that both discs feature some intriguing pairings.
While both albums include a smattering of standards--Jimmy Reed's "Bright Lights, Big City," Otis Rush's "I Can't Quit You Baby"--Drive Archive does offer generous portions of hard-to-find items.
Singin' the Blues is the more satisfying of the two discs. For starters, there's Elmore James' "Dust My Broom." This version of the famous number finds the slide guitarist teamed up with storied harmonica player Sonny Boy Williamson (no. 2).
Hearing James and Williamson double up on the song's signature riff is a thrill worth repeating. Williamson's playing is an eerie precursor to the later wah-wah pedal antics popularized by guitarists like Jeff Beck. Though he doesn't quite pull it off, Sonny Boy's blowing nearly steals the show.
"New Way of Lovin' " is an even rarer track showcasing the bawling of Howlin' Wolf protégé Li'l Wolf. Produced by Willie Dixon (he's also on stand-up bass), the track also boasts some fine stride piano by Lafayette Leake and seamlessly overdubbed guitar by Kenny Wayne Shepherd.
Though John Lee Hooker's reemergence as an active recording artist is often attributed to Bonnie Raitt's magnanimity, the elder statesman of the blues was a commanding presence on disc and stage long before Raitt entered the picture. Here, Hooker's Mississippi boogie, normally crawling-snake slow, is booted up a notch by Lowell Fulson's urgent, citified playing. Also on this Paris session is harmonica player Carrey Bell, holding his own on electric bass.
The Magic Man
Many deep-blues aficionados are convinced that guitarist and vocalist Magic Sam's name would have the marquee appeal of a Buddy Guy or Albert King had he not succumbed to a heart attack at age 32. One listen to Sam's "All of Your Love" is enough to dispel any doubts.
One of the pioneers of the westside Chicago style, along with Guy and Rush, Magic Sam forged the bridge between Muddy Waters-era electric blues to what can be described as the modern blues. As a singer, Sam has all the right tools to make brown sugar melt, and his guitar playing, shimmering with tremolo, is at once strikingly sensual and remarkably intelligent.
Rush's "Double Trouble" is aptly named; even more than the Magic Sam cut, this is a blues-guitar blowout. Rush is a fine guitarist and singer, and yet his recorded output as a leader is distressingly scant. On "Deep Trouble," he trades scorching-hot licks with Ike Turner. Though now the butt of sinister-nigger "jokes," Ike was once a respected guitarist and bandleader. It's hard to tell who's yanking on the "whammy bar" (my guess is it's Turner), but if anyone tells you that the British guitar brigade of the late-'60s was the first to explore this sonic device, tell them to listen to this.
A much less controversial Turner, Big Joe, weighs in with a raucous version of Leroy Carr's "Night Time Is the Right Time," a number that comes closer to straight-up R&B than any other on the album. Indeed, the song sounds remarkably like Motown's arrangement of the Temptations' B-side chart-maker "You'll Lose a Precious Love." But of course, no one shouts it out like Big Joe, and he blasts away with enough power to light up his native Kansas City.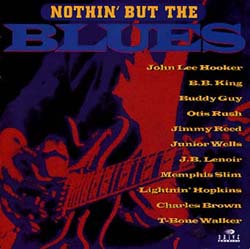 Little By Little
Although Nothin' But the Blues is less consistently satisfying, it does have its moments. Buddy Guy's "Sit & Cry the Blues" is another Willie Dixon tune. Guy's guitar playing is superb, sobbing with as much panache as Buddy's Bobby Bland's inspired vocal line.
This emotional yet controlled debut performance, caught on tape some 40 years ago, is an excellent reminder for Guy-lovers that he wasn't always the maddeningly histrionic performer he nowadays seems to believe he must be.
Guy's contemporary, Otis Rush, gets in another shot on still another Dixon composition. As performed by Rush, "I Can't Quit You Baby" is the very essence of Chicago blues in the middle 1950s. Although not the guitar virtuoso Guy was and is, Rush has a brittle attack that makes you sit up and listen.
Other highlights include "Little By Little," sung by the redoubtable harp player and sometime Buddy Guy associate Junior Wells. The track boasts some cool and sexy ax-picking by Earl Hooker and fine backup vocals by Dixon.
J.B. Lenoir's rendering of "I Want My Baby" is also outstanding; Lenoir's peculiarly girlish voice, some bar-walking funky saxophone and Sunnyland Slim's spirited piano conspire to make "I Want My Baby" the sort of tune that must be experienced in a juke joint.
Influential pianist/composer Memphis Slim's career spanned America's pre- and post-WWII era. His "Everyday (I Have the Blues)" was recorded by Big Joe Turner, transforming the tune into a genre classic.
Though Slim could boogie with the best of them, his entry here is a down-and-dirty mistreater. Slim's playing and singing are organically intertwined; it's hard to imagine one without the other. When he does deliver a solo, it is surging with fearsome aggression.
If there are any faults with these Drive Archive drops, it's that they are a little on the short side by today's standards. Singin' the Blues clocks in at under 35 minutes; Nothin' But the Blues, only seconds more. Then there's the matter of the accompanying liner notes, which, although valuable, still could have been more comprehensive. Who, for instance, were the musicians backing Memphis Slim on 'Born With the Blues," a session very likely recorded in Paris, France?
All quibbling aside, these discs are ideal starting points for blues beginners. So what's stopping you?
[ Metro | Metroactive Central | Archives ]