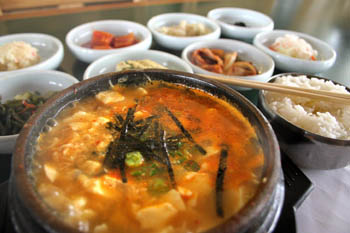 Super Soup Me: Blue Stones specializes in a hearty Korean soup called soontofu.

Stones' Soup Rocks

Blue Stones offers good tofu soup and other Korean specialties

By Stett Holbrook

THE STRETCH of El Camino Real near Lawrence Expressway in Santa Clara might well be called Little India because of the profusion of Indian restaurants, markets and stores. Then again, you could call it Koreatown for the same reasons.

The wonders of Silicon Valley demographics have brought the cuisines of these far-flung countries to the same neighborhood and often the same shopping centers. I've named this ethnic dining gold mine the Seoul Delhi. (See this week's Live Feed for more.)

It was on a reconnaissance trip through the Seoul Delhi recently that I came across Blue Stones Korean restaurant. I'd read about the hearty, wintry Korean soup soontofu sold at Santa Clara restaurants on the Asian food website eat.tanspace.com. When I saw a big banner proclaiming "tofu soup" in front of Blue Stones I pulled in for a closer look.

Blue Stones, located on a prominent corner just south of Lawrence, has been open for about two years and replaced an Indian restaurant. Inside, the restaurant looks like it might have been a diner or burger joint years ago. The hideous, flesh-pink chandelier hanging in the middle of the dining room doesn't say Korea or India to me but rather 1970s Americana schlock.

Diners appear to be mainly Korean and Chinese, but a few non-Asian diners come in as well, no doubt at the behest of their Korean dining partners. Service at Blue Stones varies. On one visit, our server was a cold automaton. At lunch another time, service was cheery and helpful. In both cases, the food arrived quickly.

Blue Stones' menu is vast. On my first visit, I went straight for a bowl of beef and vegetable tofu soup ($7.95), a.k.a. soontofu. The soup, which is available in four levels of spiciness, is really more of a stew. It arrives bubbling in a black clay pot. The silky, crumbly tofu fills most of the bowl. It is the rich, reddish and peppery broth (I chose medium spicy) that brings the soup to life. Combined with tiny bits of beef, green onion and a poached egg hidden beneath the tofu, it's a warming, satisfying bowl of soup that I found myself eating past the point of full.

And you will get full at Blue Stones. While the prices are higher than at some nearby restaurants with similar menus, portions are very generous. Plus, the panchan, the small bowls of complimentary condiments and side dishes, are like free appetizers. They include bok choy kim chi, tofu cake, daikon radish, cooked bean sprouts, seaweed, potato salad and adzuki beans.

In addition to its tofu soup, Blue Stones seems particularly proud of its seafood, tofu and green onion pancake ($7.95 half order, $12.95 full order). Signs for the dish are everywhere in the restaurant. The dish looks something like an omelette and appears to be battered in a flour and egg mixture studded with green onion, bell peppers and bits of octopus and that fake crab stuff. The fried exterior surrounds a soft, almost rubbery tofu center. Dip it into the accompanying spicy soy sauce, and it's quite good.

I also liked the vegetable bimbim bop ($10.95). The popular bowl of rice, vegetable, meat and fried egg is the hamburger and fries of Korea, though at Blue Stones it is a little pricey to qualify for fast food. It arrives sizzling in another one of those forge-hot black stone pots and is piled high with carrots, zucchini, mushrooms and green onions topped with a slightly overfried egg. A light, barely oily sauce tied it all together. My favorite part was the layer of crusty rice that developed on the bottom of the bowl.

I thought that most spicy-food-loving countries were confined to southern latitudes, but Korean food is a notable exception. The spicy sautéed pork with vegetables and rice-paper wrapper ($12.95) doesn't hold back. Thick slices of pork, fish cake and kim chi are bathed in a red chile sauce that had me reaching for bottle of O.B. Korean beer. However, the accompanying slips of rice wrappers vexed me. I tried to make little tacos with them, but they were slippery, and the pork and vegetables kept sliding off.

The one dish that bombed was the black cod in special sauce ($14.95). The thick shellac of sauce that covered the fish was far more salty than special.

Dessert is limited to the stick of spearmint gum placed in the leather billfold that contains your bill. The gum keeps its flavor for approximately 72 seconds before becoming a tasteless wad. But the rest of my experience at Blue Stones was pretty sweet.
---
Blue Stones
Address: 3530 El Camino Real, Santa Clara.
Phone: 408.243.0019.
Hours: Mon-Thu 11am-10pm and Fri-Sat 11am-11pm.
Price Range: $8-$20.
---
---
Send a letter to the editor about this story to letters@metronews.com.
---
[ Silicon Valley | Metroactive Home | Archives ]