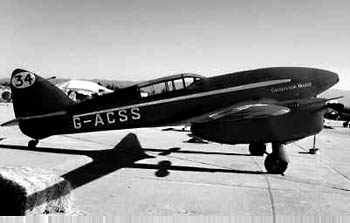 Lofty Ambitions

Wings of History Air Museum

By Najeeb Hasan

ABOUT A YEAR and a half ago, Peter Talbot, who describes himself as a weekend pilot, was flying at an altitude of about 1,200 feet out of Merced in his fire-engine-red 1939 Funk airplane. Apparently, his fuel cap was not vented properly, and he came crashing down. The Funk, which can reach speeds of up to 100 mph, hit the ground at about 50 mph and immediately rolled over. Talbot emerged, shaken but unscathed.

Now, Talbot's Funk can only be seen in a painting hanging in a display hangar at the Wings of History Air Museum in San Martin, about 30 miles south of downtown San Jose. The actual aircraft is back home, where Talbot, a volunteer at the museum, is painstakingly reassembling it, a process that will take him at least another five years.

The Wings of History Museum has been in San Martin since the late 1970s, when Ernie Fillmore was the president of the Northern California Antique Airplane Association. Now, Vaughn Lamb and Frank Womack devote themselves to running the museum. The founders used to be associated with the still existing West Coast Fly-In & Air Show in Watsonville and took some of the profits from the show to create the museum. Now, the two organizers of the Watsonville show and the museum have parted ways, but Wings of History, relying entirely on volunteers, still opens for the public four days a week.

The museum encompasses three display hangars, a propeller shop, a clubhouse, a gift shop and an aeronautical library. The propeller shop still functions (it's one the few places aeronauts can locate handmade wooden propellers for antique airplanes) and is named after Swedish craftsman Ole Fahlin, who taught the current craftsman his trade. Inside the hangars, antique airplanes of all sorts and sizes look ready to take off. Among the flying machines are an exact replica of the 1903 Wright Flyer (which was hauled to Dumont Dunes in California to cameo in a United Airlines ad in 1997); a flyable replica of a French World War I Nieuport XI (despite the Wright brothers, the French, Talbot confides, were actually the early aviation pioneers; most parts of antique airlines have French names); and a 1928 American Eagle biplane with its famous OXX-6 engine (the original engine was 90 horsepower and weighed 400 pounds).

In another hangar, Talbot proudly displays the museum's latest acquisition, on loan from a wealthy local businessman: a World War II-era P-51 Mustang. The P-51 served as the United States' foremost fighter during the war, the equivalent of Britain's Spitfire. The one in San Martin (which still flies) boasts 12 cylinders and a Rolls Royce engine, and zips along at than 400 mph.

Another eye-catching display is the SimCopter, built about 50 years ago by David Dobbins in Guadalajara, Mexico. "He flew it once and was smart enough to leave it alone," Talbot remarks. "It would have killed him eventually, I think." The SimCopter looks like a fusion between an automobile and a helicopter. Dobbins built the machine so that the pilot could detach the rotors and drive away in the automobile after he was finished flying. Dobbins, according to a 1957 article in El Occidental, succeeded in flying his creation one time ... at a height of 5 feet.

Wings of History Museum Hours: Sat-Sun, 11am-4pm. Museum workdays in the restoration shop, prop shop, library and for display maintenance: Tue, Thu, 10am-3pm. Group tours by appointment. 12777 Murphy Ave., San Martin; 408.683.2290. wingsofhistory.org
---
Favorite Local Collections
Rite of Pez-age: The Museum of Pez Memorabilia in Burlingame.
The Hole Truth: Lou's Living Donut Museum in San Jose.
Composing a Life: The Ira F. Brilliant Center for Beethoven Studies at San Jose State University.
Waste Not: The Garbage Museum in Milpitas.
Lofty Ambitions: The Wings of History Museum in San Martin.
High-Tech Hit Parade: The Intel Museum in Santa Clara.
History Lesson: The Japanese-American Museum of San Jose.
Beyond the Doily: The Lace Museum in Sunnyvale.
Museums: A complete guide to local museums.
---
Send a letter to the editor about this story to letters@metronews.com.
---
[ Silicon Valley | Metroactive Home | Archives ]