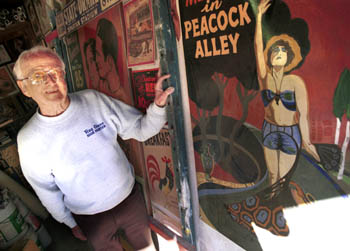 Photograph by George Sakkestad

Brushed Aside

O Sign Painter, Where Art Thou?

By Genevieve Roja

A COMPUTER MAY produce a sign 10 times faster than Rey Giese, but it will never match Giese's discriminating brush strokes or match his passion and elbow grease. At 81, Giese (pronounced "GEESE") is the last of the sign painters, those colorful, jumpsuited characters who traveled town to town hand-painting advertisements for beer, liquor, chew and cola. Since he was 14 or 15, Giese has been part of this clan, first as a painter for Shell Oil, as a painter's apprentice under Neal Bernard, and later for Hill Signs. His first job required traveling from Redwood City to San Luis Obispo to paint and retouch letters and signs at Shell's gasoline stations. The company would pay $1.75 per day for out-of-town jobs, nearly covering the $1.50 room rates at nearby boarding houses and motels. He'd come home with about $4.50 for the weekend, which didn't sound like a lot, but boy, it sure was enough to hang with the buddies. Shoot--back then 25 cents could buy ham and eggs just about anywhere.

His parents didn't mind him working so young and traveling everywhere. Strangers routinely lent rides to hitchhikers, crime wasn't rampant, and people in general were pretty darn nice. And besides, he was learning on the job, producing and publicizing signs for just about any occasion, any restaurant, San Jose state game, diner, travel agency, bank or jeweler. The man who never graduated from San Jose High did it all.

One peek inside his garage studio and anyone will be convinced that he is indeed an artisan's kind of historian, even though the first thing anyone sees are pictures and paintings of half-naked and naked women hanging on the walls. He tells me he's not a dirty man, that there's an explanation behind it. Half were given to him by clients, and the others were oil paintings given to him by Harold's, the now defunct Vegas casino. Giese's women, I can assure you, are all clad, airbrushed, all resembling Betty Grable and other All-American pinup girl types of that era. Each girl held her hair up the way Norma Jean did before Marilyn, clad only in one-piece bathing suits, short dresses and high heels to show off creamy calves. Initially, these were the girls Giese wanted to paint, but alas, he was better at painting movie theater posters and show cards--which were usually placed in the windows of diners to advertise menu items. His body of work is nothing short of phenomenal, considering most of the work was replicated from looking at a pattern, small picture or drawing. His precise attention to detail can be seen in his show cards, which display his fancy block lettering and script, a more sophisticated style of cursive.

Everything I bump into and trip over in this garage is a remnant of history, a bookmark in time. One show card in red and black advertised a "champagne flight" from San Jose to Reno--stag only! it says--for $10. I spot a bumper sign for Blum's, an old department store in downtown San Jose. It advertised a 15-cent taxi ride to anyone who purchased anything over $1 at the store. Yet another sign advertised men's gold watches by Bulova for $8.95. Sensing my disbelief, Giese asks me to read all signs like this aloud. After I read each one, Giese raises his eyebrows and asks if I can believe that, and I say no, I can't. But it's not the 25-cent meatloaf dinner specials I'm hearing about that are wowing me--it's the stuff inside his studio: the two flat drawing tables; barrels of T-squares; hundreds of rolled-up drawings; an Irene Dunne movie poster Giese did in art deco style, dated 1937; another poster showing Mae Murray starring in Peacock, which played at the Victory or Padre Theater in San Jose; an old poster belonging to his father that advertised Charles Lindbergh's flight across the Atlantic, pinned to the ceiling.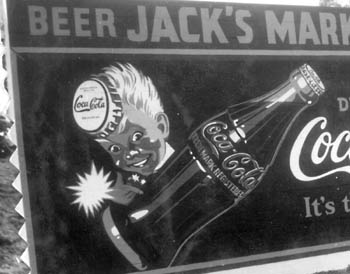 Stacked one behind the other, framed and unframed, these painted pictures chronicle decades of painting and remarkable discipline. All those years of painting have taught him patience, too, as he explains in detail the difficulty in silk-screening signs when each letter demanded hand-etching. The time it took to complete a sign like the Reno trip, for example, could take a day, even two. He demonstrates the process of gold leaf--a lettering technique using 23-karat gold--by carefully removing from his tar-colored tool box a piece of gold leaf from between two pink tissue squares as thin as tracing paper. "Rub it into my sleeve," he says to me. It disappears into the fibers of his gray sweatshirt, leaving no trace of gold or leaf. In actuality, when etched onto glass, the gold leaf resembles the kind of lettering found on the door of a police detective's office, or an old Wells Fargo bank. In Giese's case, he gold-leafed the crosses atop St. Joseph's Cathedral (now painted over in blue, to Giese's dismay), as well as San Jose's fire trucks and first black-and-white police cars.
Giese's body of work doesn't even faze the master himself, who chuckles when asked if he can pinpoint the exact number of signs he's completed in his lifetime. If his photo albums--which catalog almost all of his sign commissions--are any indication, he's painted thousands upon thousands. Election banners for local and national politicians, billboards for new home "estates," a 25-foot sign celebrating San Jose's bicentennial year in 1977. He's met mayors, governors, district attorneys--too many to name. He'd rather tell me about his children and grandchildren, his legacy. There's no talk of retirement; in fact, he proudly announces he still works seven days a week, living his life on call. Nothing has slowed him--not even a heart attack he suffered years ago that shrank his chubby frame into a lean one. Why stop now? he says. There are people to see, always places to paint and a legacy to nurture.
Old Signs: Silicon Valley's Disappearing Legacy
Sign Language: What historic signs say about our lives, and why action is needed to save the valley's scarce reminders of its commercial past.
Plaque Removal: Metro reporter Genevieve Roja takes a neon-lit journey in search of the valley's oldest and most intriguing signs.
Hand-Painted Wonders: Long before graffiti, brick buildings were a palette for sign painters. Today, they are endangered species.
Telltale Signs: Close-up looks at the Courtesy Chevrolet and Orchard Supply Hardware landmark signs.
Pooch Politics: Famed cartoonist takes doggie-head sign to heart.
Living Large: Giant roadside statues are often 'borrowed.'
Signs From the Underbelly: Columnist Eric Carlson offers a photographic tour of some of the most interesting signs in San Jose.
[ San Jose | Metroactive Central | Archives ]