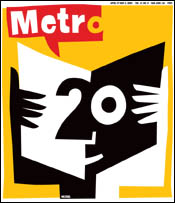 Metro's 20th Anniversary Issue
Thank You, Silicon Valley!: A founder looks back.
How We Barely Survived a Publishing Startup 20 Years Ago...: By Julia Smith.
A Letter to 1985, From the Year 2005: By Richard von Busack.
Growing Up in Public: A look back at some of Metro's most talked-about articles.
Cover illustration by Max Kisman




Thank You, Silicon Valley!
FOR 20 YEARS, Metro has tried to provide an alternative to the celebrity-stalk/freakshow school of journalism, which is why you don't find sensational headlines about the Wendy's chili finger or the Scott Peterson trial, or interviews with starlets and football players. As Metro begins decade three, our mantra is "Real News, Real Culture," which means we believe that culture and politics are not entertainment in drag, but forces that shape our social existence. And we try to cover them in meaningful and thoughtful ways.
Publishing the valley's leading weekly newspaper for two decades has been eventful. We've survived the Loma Prieta Earthquake, the dotcom boom and subsequent implosion, two Bush presidencies and modern rock. We've watched competitors come and go or get bought, and outlasted more publishers of the Mercury News than Fidel Castro has U.S. presidents. And we're happy to be, as always, a locally owned and operated newspaper whose mission is, simply, to serve the Santa Clara Valley.
Much has changed since we started in the days before the world discovered the Internet, before iPods and flip phones, before wristwatches accepted satellite information feeds. Back when Metro's lonely red boxes dotted the barren sidewalks of local downtowns—now they're sandwiched in with all the others like library books or are exiled to anonymous green structures—the valley was a smaller place. Freeway overpasses were less impressive structures, and nobody rode light rail. (Well, some things never change!)
Becoming a pre-eminent valley information source—independent surveys say a weekly Metro edition touches more residents than any radio station or the majority of daily newspapers—did not come about because we were trying to be popular. Too frequently we have been the bearer of bad news. That a mayoral frontrunner had lied about the circumstances of his departure as a hospital executive. That another had failed to list a partnership with the mayor and a major developer on her disclosure statements. That a leading council candidate had a phony degree on his résumé. That the frontrunner for San Jose police chief was unqualified to hold that position. That the mayor's secret affair with one of his staff members had created a dysfunctional office—and that he wasn't paying for his golf games with lobbyists. That local labor bosses were skirting financial accountability while raising millions from foundations and deploying phone banks and precinct walkers to install allies in powerful offices.
We've watchdogged government waste and reported on agencies when they spent public money frivolously for such things as flowers in their lobbies or "economic development" trips to Rouen, France, from where we have yet to see a single business deal. And we think citizens should be aware of how their money is spent, by pulling the shroud off of public servants' salaries and perks, such as the money they spend dining and drinking and renting SUVs courtesy of taxpayers.
We've been the most consistent counterpoint to the valley's powerful daily, without which their version of the valley's story would go unchallenged, and their backroom politics unreported. In a valley that cheerleads development, and whose political and media elite is intertwined with growth interests, we've tried to call attention to the destruction of old signs, historic buildings, fruit orchards, funky businesses and open spaces, as well as other attempts to erase the comforting reminders of the valley's agricultural past.
We've helped start free jazz and summer music festivals and downtown associations, supported youth groups, women's shelters and community gardens, and given free and discounted advertising to hundreds of groups around the valley.
Publishing a newspaper in San Jose has been a great way to spend a couple of decades. We've enjoyed helping businesses and art groups and community activists pursue their dreams, as well as providing pages and a launching pad for talented writers, photographers, artists and designers. We liked having psychedelic legend Ken Kesey stop by and take our staff for a ride on his bus, giving Linux creator Linus Torvalds a tour of the office, seeing the band X play at our front doorstep and hearing poet Allen Ginsberg bless Metro's building with an impromptu reading.
So it's been a good run. To every one who has participated in the Metro experience, who has worked here, supported us or cut us a break somewhere along the line, a big thanks. We're grateful for the opportunity to be part of the mix in a place that's filled with smart, creative people and where you never know what surprises tomorrow holds.
Dan Pulcrano, Executive Editor
---
Send a letter to the editor about this story to letters@metronews.com.
---
[ Silicon Valley | Metroactive Home | Archives ]