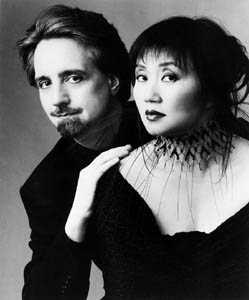 Menlo Maestros: Wu Han and David Finckel hope to establish [email protected] as a major summer music festival.

Chamber Fest Debuts

The valley's newest classical festival, [email protected], explores the history of chamber music

By Michael S. Gant

ALONG THE PENINSULA and in the valley, as the temperature rises, so do the summer festivals: jazz, food, wine, the Fourth of July, crafts, kids, Shakespeare. The one exception is classical music, strangely enough. To the south, the Cabrillo Music Festival (see story) and the Carmel Bach Festival have drawn audiences for decades. But in this area, classical-music fans have been underserved with the kind of festival that, say, jazz lovers take for granted. Wu Han and David Finckel hope to change all that with their ambitious [email protected] festival, running Aug. 3 to 18, with concerts in Atherton and Palo Alto.

After a one-day trial run last year, Finckel and Wu Han have put together a two-week-plus event devoted to the art of chamber music, complete with themed concerts, workshops and lectures. The idea, Finckel says on a conference call from the Aspen Music Festival, "comes from all the other festivals in the whole world, because we love music festivals." Jumping in, Wu Han adds, "It's a wonderful way to celebrate the music. Aspen, Salzburg, Tanglewood--each one has its own character." Pianist Finckel and his partner, cellist Wu Han, plan to build on their experience running SummerFest La Jolla. As Finckel relates, "About a year after we left the La Jolla festival, we saw many places, and we very quickly we realized that Silicon Valley didn't have a festival." Wu ̃nishes the thought: "The weather is beautiful. This is fertile soil with youth musicians. And there are so many families, which is our generation."

The opportunities are overshadowed somewhat by the state of the economy and the demise of the old San Jose Symphony, but Finckel and Wu Han express an undimmed optimism. "Of course, it's in our minds," Finckel says of the symphony's collapse. "[It's] very sad and regrettable. That's not a reason to shy away from such a challenge; we need to bring some music back in. It's an encouragement to keep music in a community that deserves music."

The festival, which is set up at the Menlo School, a college prep school, in Atherton, features repeating performances at the intimate Stent Family Hall, which holds an audience of only 150, and St. Mark's Episcopal Church in Palo Alto, which seats 380. The heart of the schedule lies in five programs laid out in chronological fashion. "The Age of Grandeur" covers the period from 1650 to 1750 and features works by Couperin, Telemann, Vivaldi and J.S. Bach. "The Age of Reason" focuses on Haydn, Mozart and Beethoven. Romantic composers Schubert, Mendelssohn and Schumann are highlighted in "Emotion Unbound." The experimental ferment of the early 20th century--Webern, Ives, Stravinsky and Schoenberg--anchors the "New Dimensions" program. The festival brings audiences up to the minute with "Music Now: Voices of Our Time," with pieces by John Corigliano (a frequent touchstone at the Cabrillo Music Festival), John Harbison, Bright Sheng and Ned Rorem.

The impressive roster of guest performers includes the St. Lawrence String Quartet, Carter Brey, principal cellist for the New York Philharmonic, pianist Jeffrey Kahane and violinist Ani Kavafian from the Music Society of Lincoln Center, and young lion Anthony McGill, a prodigy clarinetist who earned a seat in the Cincinnati Symphony Orchestra at the age of 19. An interesting twist to the festival's pedagogical structure is the Audio Notes CDs that provide introductions to each program and will be mailed to advance ticket buyers.
---
[email protected] runs Aug. 3-18 at the Stent Family Hall in Atherton and St. Mark's Episcopal Church in Palo Alto. Major concerts take place Aug. 5-6, 8-9, 11-12, 14-15 and 18 at 8pm. For ticket info and complete schedule of events, call 650.725.ARTS or check www.musicatmenlo.org.
---
---
Send a letter to the editor about this story to letters@metronews.com.
---
[ Silicon Valley | Metroactive Home | Archives ]