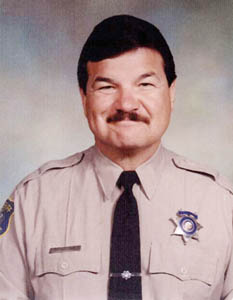 Smoking Gun: In a handwritten side letter, Deputy Sheriffs' Association negotiators agreed to sign away the union's right to support a ballot measure. The declaration by Jose Salcido, above, contends that the side letter was not a quid pro quo for a new contract with raises for the deputies.

Guilt by Association

Did DSA head Jose Salcido sign away his union's political rights and perjure himself in hopes of being named sheriff?

By Dan Pulcrano

A DISTRICT ATTORNEY'S investigation has concluded that Deputy Sheriffs' Association head Jose Salcido committed perjury when he gave a sworn declaration as part of an apparent coverup of a vote-buying deal between the powerful union and the county's chief executive.

"At no time during the bargaining process did any county negotiator indicate or suggest that the county's willingness to agree to an acceptable wage and benefit package was contingent upon the DSA's agreement not to support an effort to place the interest arbitration measure on the ballot," Salcido declared under penalty of perjury on June 9, 2004.

Last month, Assistant District Attorney David Tomkins forwarded a report to Sheriff's Department investigators stating that Salcido's statement "is false and violates Section 118 of the California Penal Code." That section makes it a felony to commit perjury by knowingly providing untrue information under oath.

Citing transcripts and minutes of a DSA meeting, the DA report contradicted Salcido's sworn statement, noting that Salcido went to union members and "he made it clear that the wage increase was contingent upon the signing of a side letter that forbid the union from supporting the binding interest arbitration initiative." It is illegal to spend public money to influence the outcome of an election.

The pay negotiations were going on at a time when Gov. Arnold Schwarzenegger was widely expected to name Santa Clara County Sheriff Laurie Smith to head the California Highway Patrol. That would have left the county's top law enforcement position open for appointment by the Board of Supervisors. Salcido was heavily lobbying supervisors to name him to the $185,000 a year post. Getting his union to oppose Measure C—against which all five supervisors had signed a ballot argument—certainly wouldn't have hurt his chances of landing the job.

When contacted last week, DA Tomkins refused to discuss the report or even acknowledge that there had been an investigation, citing office policy. No charges have been filed against Salcido, who declined to be interviewed for this article.

"There is no investigation currently going on. There was an investigation, and it has been concluded, and we are satisfied that there is no criminal liability." Chief Assistant District Attorney Karen Sinunu said on Monday. After doing some checking, Sinunu confirmed that Tomkins sent over "this little skimpy report" to Lt. Luther Pugh of the Sheriff's Department at that agency's request because "it is our custom to cooperate with local law enforcement agencies."

Sinunu is a declared candidate for district attorney, and hopes to succeed longtime DA George Kennedy, who has endorsed her for the top job. Salcido's DSA will likely be a plum endorsement in that race as well. Sinunu says, however, that politics was not a factor in the decision not to prosecute. "When we can't prove a case beyond a reasonable doubt to 12 jurors, we don't charge it," she said.

She volunteered that a change was possible—but not probable.

"When we turn down a case for criminal filing, 99 percent of the time it is the end of it. Occasionally some additional evidence comes up and we take another look at it," she added.

Sinunu said the decision was based on information not contained in the Tomkins letter; this additional information was based on a more detailed report by Bureau of Investigations criminal investigator Joseph Brockman. "Joe Brockman interviewed other people who are not contained in the [Tomkins] report," Sinunu said.

Others who have seen Brockman's report, however, say Brockman concluded perjury as well. Pugh says he requested information from Tomkins because "we wanted to know what the status was, and we began our own internal investigation." Sheriff Smith is currently reviewing the results of that internal inquiry, Pugh said.

The Quid Pro Quo

Sources familiar with Brockman's investigation say that he reviewed tapes of an April DSA meeting which clearly show that county officials cut an economic deal with the union to secure its nonendorsement. According to transcript excerpts, DSA counsel Ron Yank told members, "The county put a real good package on the table ... the county is not going to go forward on [the pay raise deal] unless we commit to that side letter." The side letter prevented the DSA from supporting Measure C, for which other public employee unions were seeking voter approval. The measure would have provided for binding arbitration of collective bargaining disputes between the county and its unions.

"Later in the meeting, Jose calls for a vote on the side letter. A person in the audience asks, 'What's the downfall if we don't sign it?' Salcido replied, "We don't get the contract,'" according to the DA documents reviewed by Metro.

"Salcido and Yank presented the offer to the general membership. Both Yank and Salcido made it clear to the membership that the pay raise was conditioned upon the signing of the side letter."

"[County Executive Pete] Kutras offered substantially more in pay increases conditioned upon the unions signing side letters to the contracts agreeing not to support the binding arbitration initiative," the DA letter continued.

"Two other unions—correctional and nurses—refused the offer and told Kutras that the tactic was illegal. The wage offer was then pulled off the table for those two unions."

Following the union vote to sign away its right to support the ballot measure, a group of citizens including former San Jose Councilman John Diquisto filed suit alleging that Kutras, county labor relations manager Luke Leung and others broke the law by using public funds for political purposes.

In late October, on the eve of the election, Superior Court Judge Socrates Peter Manoukian ruled that "the use of side agreements wherein pay raises are promised in exchange for not taking a position on a pending ballot measure constitutes use of public funds for partisan purposes. This Court concludes that the acts of which the plaintiffs complain violate Government Code 3203 and Government Code 8314."

Section 8314 states that it is illegal for a local official to "use or permit others to use public resources for a campaign activity"; 3203 says there will be no restrictions placed on political activities of public employees. "The court believes that any side agreement alleged in the complaint does just that."

The Coverup

Metro has learned a frenzied effort ensued to craft a cover story that would show that something occurred other than what was being alleged in the lawsuit: a criminal pact to influence an election that involved the highest ranks of county government. Not only was the county executive involved; board chair Pete McHugh had been directly involved in the DSA pay negotiations, and supervisors knew about the side letter.

Through their lawyers, Kutras and Salcido engaged in an apparent conspiracy to synchronize their depositions and make sure their stories matched by reminding each other, through intermediaries, which version of events they recalled and sharing details of what they planned to say in their sworn depositions. The depositions would give a different version of events than tapes, transcripts and minutes of the DSA member meeting. The "voluntary offer" scenario markedly diverged from what Salcido represented to his members —that their hopes of bringing home better paychecks would evaporate if they rejected the side letter. It would dispute the notion of a quid pro quo—compensating election assistance with salary increases.

The chain of events commenced when attorney Yank learned of the lawsuit on June 4, 2004. He put his dialing finger into high gear and called Salcido, Leung and Kutras for "discussion with all of them about our role and the fact that we may be dragged into the middle."

Five days later, Deputy County Counsel Martin Dodd called Yank at Kutras' request, according to legal bills on the letterhead of Yank's law firm, to compare notes and get everyone's stories straight. Yank wrote that he assured Dodd that "the County never asked for the side letter, but it was offered by our team." At least one of the declarations was changed after the two lawyers conferred, as Yank noted: "review proposed draft declaration; telephone call to Dodd making certain changes re same."

After a furious round of calls among Yank, Dodd, Leung and Salcido, the language was massaged and the documents were signed, under penalty of perjury.

While Salcido was vouching for a version of events that would keep the heat off Kutras and the supervisors, the skids were being greased to slide the DSA boss in as county sheriff if Smith was named California's top law enforcement official. On June 8, County Board of Supervisors chair Pete McHugh placed an unusual proposal into the board packet that would have allowed the board to appoint Smith's replacement without any public notice or hearings "if the Board determines that circumstances require an immediate appointment from among qualified persons already known to the Board." After Metro disclosed the proposal, the attempt to make democracy more efficient by dispensing with public process was deferred and eventually abandoned.

Then, investigator Brockman began asking questions. On Aug. 12, Salcido called Yank to discuss the district attorney's investigation. Two weeks later, on Aug. 28, Salcido called Yank "concerning his declaration and preparation of side letter; remind him that original language was hand written by me, but then typed up by County," according to Yank's billing statements.

The Aftermath

In September, Gov. Schwarzenegger appointed CHP insider Mike Brown to the state post, dashing Salcido's hopes for a promotion. Now, the department's one-time rising star, who looked like he had locked up the sheriff's post, is instead the target of an internal affairs investigation that could cost him his job. Sheriff Smith refused to be interviewed for this article, calling it "a personnel matter."

Rank and file DSA members grumble that the raises turned out to be much less than they had been led to believe, and they wonder if their president sold them down the river in an attempt to advance his career.

Salcido declined an interview request, and Kutras said he had to seek advice from his attorneys before responding to questions.

"As you know this is an active civil suit with more depositions and discovery expected," he emailed.

Legal bills normally protected by attorney-client privilege, such as the ones quoted above, might even become subject to disclosure if sufficient evidence exists that lawyers coached their clients to lie under oath.

"Our president more than likely committed perjury," believes 20-year Sheriff's Department officer Charvez, a DSA leader and Salcido critic. "I can't believe that the grand jury hasn't picked this up yet. It's so frustrating."
---
Send a letter to the editor about this story to letters@metronews.com.
---
[ Silicon Valley | Metroactive Home | Archives ]