---
Fall 2005 Arts Guide:
[ Movies | Music | Stage | Classical | Performing Arts | Visual Art ]
---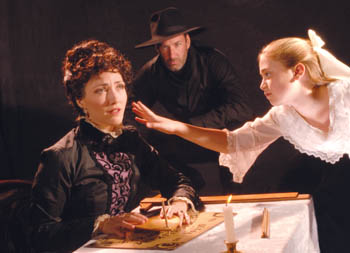 Flight Makes Right: Marisa (Lizzi Jones) hovers over Sarah Winchester (Tamra Hayden) while sinister Jack Kerrigan (Dan Sharkey) wonders why he can't fly in San Jose Rep's 'The Haunting of Winchester,' opening Sept. 3.
Youth Moves
The theater scene is full of youthful energy, themes and emotions this fall
By Marianne Messina
THIS FALL SEASON in San Jose theater is going to be so youthful and energetic, it may feel more like spring: San Jose Rep brings out some heavy romance and teens in love; San Jose Stage's two fall offerings include teen protagonists; City Lights and Renegade Theatre Experiment are both doing plays by thirtysomething fave David Auburn; and American Musical Theatre mounts a local production of the childhood staple The Wizard of Oz.
To top things off, a surprising number of major theaters will be presenting children's plays. Renegade Theatre Experiment brings out the BFG and TheatreWorks revives an old tradition (with a face-lift): Into the Woods. Sondheim's musical is "somewhat of a fairy tale for adults," says TheatreWorks artistic director, Robert Kelley. Kelly has had a 15-year history with the play, and he notes that his perspective on it has matured. "In this particular show, I'm very aware that what one generation does inevitably influences the other." Kelley suggests that "a three-generation span is sort of the basic unit of what we think of as the extended family."
And that conceit is borne out in San Jose Stage's season opener: a world premiere called Tenders in the Fog. Taking a true story of a lobster boat that went down off the coast of Maine, playwright Trevor Allen "reconceived the premise and made it a crab boat out of San Francisco," artistic director Randall King reports. The three-generation span, "a grandfather, father, son," takes up the tension of "the young Jimmy Bailey with the angst of all youthful generations," King explains.
When children's theater works for adults, it is often because it recognizes that the world, to use Kelley's words, is a "tangled woods." Few children's writers get this idea better than Roald Dahl, whose writing has inspired films, as well as plays like The BFG upcoming from Renegade Theatre Experiment. "It has a dark, gross sense of humor," says Sean Murphy, RTE's artistic director. (The young heroine is kidnapped by a giant and taken to a place where they eat children.)
On the romantic side of youthful verve, San Jose Rep brings back the days when the topic on every teenage girl's mind was marriage, in a new Jon Jory adaptation of Jane Austen's Pride and Prejudice. Not only will the stage come alive with giddy girls and dashing beaux, but a tri-co-production with Arizona Theatre Company and the Alliance Theatre Company will pull no purse strings on production values.
For a slightly older younger crowd, David Auburn combines humor, cynicism and the elegance of math as he tackles questions of identity and the workings of the mind. Both in Proof (City Lights' fall opener) and in Skyscraper (at Renegade), "It's mathematics that is the unifying factor," according to Chris Tan who's directing the latter at RTE.
Tan enjoys working with Auburn's blend of angst and humor. "I think the most fun character in the play is Louis, a 110-year-old man who is losing his mind. His forgetfulness is the setup for many great gags, and yet his frustration at his forgetfulness keeps us well grounded in the serious." Likewise, in Auburn's Proof, Catherine struggles with the idea of being betrayed by her own mind, "the fine line between genius and insanity," says City Lights artistic director Lisa Mallette.
Two new works to look for this fall: Rep's The Haunting of Winchester and TheatreWorks' Baby Taj. Five years in the making, Haunting was commissioned by the Rep's artistic director, Timothy Near, expressly to celebrate the company's 25th anniversary. With a local composer (Craig Bohmler) and San Jose's famous attraction at its core, the play could help more people find the way to San Jose (may this musical replace the song!). And Baby Taj, the story of an American-born woman who goes to India to adopt a child, will be colorful, including costumes from two periods of India's history.
Of course, if you're a humbug when it comes to children's themes and teen heroes, but you're not ready to flop down to Rodgers and Hammerstein, huffing "Those were the days," the diverse South Bay fall season has something to offer, especially for the serious-minded.
Pear Avenue Theatre takes on Night of the Iguana, "a play normally performed on a grander scale," admits Diane Tasca, artistic director at the tiny theater, which is upgrading its lighting and sound system this season. And opening this week, TheatreWorks' Intimate Apparel leads us through the misadventures of an early-20th-century young seamstress. A little something to get the blood flowing for this fall's "spring fever."
---

Stage

American Musical Theatre Of San Jose
San Jose Center for the Performing Arts; season subscriptions available; 888.455.SHOW

The Wizard of Oz—Sept. 13–25
Little Women—The Broadway Musical—Oct.11–23
West Side Story—Nov. 1–13
Mamma Mia!—Nov. 29–Dec. 4
2006 Highlight: The Lion King—Jan. 20–Feb. 26

Broadway by the Bay
Presented by the Peninsula Civic Light Opera. San Mateo Performing Arts Center; $15–$33; 650.579.5568

Bus Barn Stage Company
Bus Barn Theatre, Los Altos; 650.941.0551

Aida by Elton John and Tim Rice—Sept. 8–Oct. 1
Romance in D—Opens Nov. 17

City Lights Theater Company
City Lights Theater; 408.295.4200

Proof—Sept. 22–Oct. 23
Wise Women—Nov. 17–Dec. 18
2006 Highlight: String of Pearls by Michele Lowe, a West Coast premiere—May 18–June 18

Foothill Music Theater
Foothill College, Los Altos Hills; 650.949.7414

A Penny for a Song—Nov. 4–19

Hillbarn Theatre
1285 E. Hillsdale Blvd., Foster City; $17–$30; 650.349.6411

The Last Night of Ballyhoo—Sept. 22–Oct. 16
My Way, a Musical Tribute to Frank Sinatra—Dec. 1–31

Lyric Theatre
Devoted to Gilbert & Sullivan. Mayer Theatre, Santa Clara University; $20–$27; 408.986.1455

Ruddigore—Oct. 1–9
The Arcadians by Monkton and Talbot—Nov. 4–5 at Mission City Center for the Performing Arts, Santa Clara

MACLA
Castellano Playhouse, San Jose; $5/$7; 408.998.2783

S-e-x-Oh! presented by Teatro Luna, an all-Latina troupe from Chicago—Sept. 16

Northside Theatre Company
Olinder Theatre, San Jose; $12/$15; 408.288.7820

Murder at the Howard Johnson's—Oct. 6–30
A Christmas Carol—Dec. 7–24

PacRep Theater
Forest Theater, Carmel; 831.622.0100

Beauty and the Beast—ends Sept. 25

Palo Alto Players
Lucie Stern Theater, Palo Alto; $18–$29; 650.329.0891

I Love You, You're Perfect, Now Change—Sept. 17–Oct. 2
The Drawer Boy—Nov. 5–20

The Pear Avenue Theatre
The Pear Avenue Theatre, Mountain View; $10–$25; 650.254.1148

Night of the Iguana—Sept. 16–Oct. 2

The Renegade Theatre Experiment
Historic Hoover Theater, San Jose; $15–$20; 408.351.4440

Skyscraper—Sept. 15–Oct. 1
The BFG—Nov. 3–26
2006 Highlight: Waiting to Dance by Erica Hemenway, a world premerie— Feb. 2–18

San Jose Repertory Theatre
The Rep, San Jose; various series packages available; 408.367.7255

The Haunting of Winchester—Sept. 3–Oct. 2
The Tricky Part—Oct. 15–Nov. 13
Pride and Prejudice—Nov. 26–Dec. 30
2006 Highlight: Iphigenia at Aulis, a world premiere adaptation—April 29–May 28

San Jose Stage Company
The Stage, San Jose; $20–$42; 408.283.7142

Tenders in the Fog—Sept. 21–Oct. 16
The Sugar Bean Sisters—Nov. 16–Dec. 11
2006 Highlight: Inherit the Wind—Feb. 8–March 5

Santa Clara University
Productions at the SCU Center for Performing Arts and other venues; 408.554.4015

Seven Guitars—Sept. 16–24 at Mayer Theatre
Fall One-Act Festival—Oct. 22–23 at Fess Parker Studio Theater
Metamorphoses—Nov. 4–12

Saratoga Drama Group
Saratoga Civic Theater, Saratoga; $16–$22; 408.264.3110

Oklahoma!—Sept. 17–Oct. 9

South Valley Civic Theatre
Morgan Hill Community Playhouse; 408.842.SHOW

Count Dracula—Oct. 7–29
Inspecting Carol—Nov. 18–Dec. 10

Tabard Theatre Company
Joint Venture Churches, San Jose; $10–$18; 408.979.0231

Smoke on the Mountain, a family musical—Oct. 20–30
A Taffeta Christmas, a musical—December

Teatro Visión
Mexican Heritage Plaza, San Jose; $8–$17; 408.272.9926

TheatreWorks
Mountain View Center for the Performing Arts and the Lucie Stern Theater, Palo Alto; $20–$52; 650.463.1960

Intimate Apparel—through Sept. 18 in Mountain View
Baby Taj: From India With Love—Sept. 28–Oct. 23 in Mountain View
Into the Woods—Nov. 30–Jan. 7 in Palo Alto
2006 Highlight: The Clean House, a Northern California premiere—Jan. 18– Feb. 12 in Mountain View

West Valley College
Saratoga; 408.741.2058

Epic Proportions—Oct. 21–29
A Christmas Carol, the Broadway Musical—Nov. 18–Dec. 4

West Valley Light Opera
Saratoga Civic Theater; $22–$26; 408.268.3777

Western Stage
Hartnell Performing Arts Center (Studio Theater and Main Stage), Salinas; $17–$25; 831.755.6816

Cannery Row—Through Aug 27
Bay Boy, the Musical—Sept. 2–24
The Waiting Room—Sept. 23–Oct. 16
Rain of Gold—Oct. 22–Nov. 5
The Cherry Orchard—Nov. 11–Dec. 11
Wind in the Willows—Dec. 2–17
Kids
California Theatre Center
Sunnyvale Community Center Theatre and Mayer Theatre, Santa Clara; $11/$12; 408.245.2978

The Sleeping Beauty—Oct. 1 and 8
The Princess and the Pea—Oct. 14
Rapunzel and the Witch—Oct. 15 and 22
Dear Mr. Henshaw—Oct. 29 and Nov. 5
Frog and Toad—Nov. 12 and 19
The Best Christmas Pageant Ever—Dec. 3, 10, 16–17
The Elves and the Shoemaker—Dec. 2 and 17–18

Children's Musical Theater Of San Jose
Montgomery Theater, San Jose; subscriptions available; 408.288.5437

Los Altos Youth Theatre
Bus Barn Theatre, Los Altos; 650.947.2796

A Little Princess—Oct. 21–Nov. 5

Peninsula Youth Theatre
Mountain View Center for the Performing Arts; $16/$19; 650.903.6000

How to Eat Fried Worms, Centerstage series—Oct. 21–22
Disney's Beauty and the Beast, Stories on Stage—Nov. 12–20 at Mountain View
The Selfish Giant, Stories on Stage—Nov. 18-19
The Velveteen Rabbit, Stories on Stage—Dec. 16–17

Target Family Series
Montalvo Arts Center, Saratoga; $8–$16; 408.961.5858

The Very Hungry Caterpillar—Oct. 22 at 9 and 11am and 1pm
Cinderella—Oct. 29 at 11am and 1pm
Hansel and Gretel by the Jim Gamble Puppets—Nov. 12 at 11am and 1pm
Pinocchio—Nov. 19 at 1 and 3pm
Elves and the Shoemaker—Dec. 3 at 10am, 12:30 and 3pm
---
Send a letter to the editor about this story to letters@metronews.com.
---
[ Silicon Valley | Metroactive Home | Archives ]