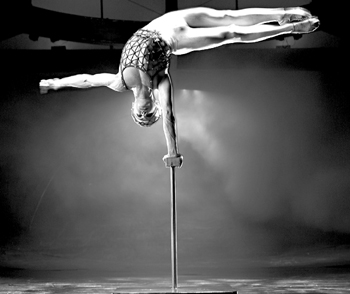 In the Balance: Cirque du Soleil presents 'Alegría' in November at PacBell Park.

And There's More
---
Fall 2003 Arts Guide:
[ Stage | Opera | Dance | Classical Music | Concerts | Academic Angles | Movies | Jazz | More ]
---
Cirque du Soleil
THE POPULAR avant circus empire brings Alegrìa to San Francisco.
Where: PacBell Park, 74 Mission Rock St., San Francisco
When: Limited engagement starts Nov. 6. Tuesdays-Thursdays at 8pm, Fridays-Saturdays at 4 and 8pm; Sundays at 1 and 5pm
How Much: $35-$70
Info: 800.678.5440; cirquedusoleil.com
Children's Musical Theater of San Jose
THE GROUP, now in its 36th season, showcases the area's best young performers.
Where: Market and San Carlos streets, San Jose
How Much: $12-$20
Info: 408.288.6241; www.cmtsj.org
---
Dec. 5-14: Fiddler on the Roof
March 5-14: Little Shop of Horrors
May 14-23: Once on This Island
---
California Theatre Center
THE GROUP presents a wide variety of plays for youngsters during the school year. This year's productions include Brave Irene, The Bremen Town Musicians and The Frog Prince.
Where: Sunnyvale Community Center Theatre
How Much: $11-$12
Info: 408-245-2978; www.ctcinc.org
Peninsula Youth Theater
Where: Mountain View Center for the Performing Arts, 500 Castro St., Mountain View; Cubberley Community Center Theatre, 4000 Middlefield Rd., Palo Alto
When: Most shows at 7:30pm, with matinees at
How Much: $6-$16
Info: 650.903.6000; www.mvcpa.com
---
Nov. 15-23: Les Misérables, School Edition
March 13-21: Once Upon a Mattress
May 7-16: Holes
---
Villa Montalvo Family Theater
Where: Carriage House Theatre, 15400 Montalvo Rd., Saratoga
How Much: $8-$16
Info: 408.961.5858, www.villamontalvo.org
---
Nov 8: Aladdin. 1 and 3pm.
Nov. 15: Sarah, Plain and Tall. 11am and 1pm.
Nov. 23: Jim Gamble Presents The Nutcracker. 1 and 3pm.
Dec. 6: Babes in Toyland. 11am, 1 and 3pm.
Dec. 7: A Scottish Christmas. 3 and 7pm at the Fox Theatre, Redwood City.
Dec. 13: The Elves and the Shoemaker. 11, 1 and 3pm.
---

Falls Apart: Frederic E. Church's monumental 1856 landscape 'Niagara Falls' is part of the upcoming 'Hudson River School' at Stanford's Cantor Arts Center.
Museums and More
Between the Eadweard Muybridge and "The Changing Garden" shows at the Cantor Arts Center at Stanford and the current "Surf Culture" extravaganza at the San Jose Museum of Art, it's already been a banner year for visual arts in the valley.
To follow up its extensive look at how wave riding has influenced artists, SJMA plans an equally ambitious late-fall show called "The Not-So-Still Life." California art has long been pegged to the landscape, but this exhibit focuses on the often-disparaged genre of the still life. The tripartite survey encompasses the early-20th-century still lifes of California impressionists such as Edgar Payne and Guy Rose; the interpretative refashioning of the genre by the modernists of the 1930-1950 period; and the boundary-breaking experiments of the second half of the century by David Hockney, Robert Arneson, Edward Kienholt, Ed Ruscha et al.
Not quite so sweeping but just as intriguing is the other new fall show, "Beyond Tradition," which presents significant works from the museum's permanent storehouse of modern photography. This show features a number of contemporary photographers working at the experimental borders of the genre, ranging from rediscovering lost developing processes to the latest in digital technology. In the same vein, the Triton Museum of Art at Santa Clara University just opened an exhibit by Bay Area artist Ron Guzman, who creates provocative juxtapositions of 19th-century photos with new digital images. The show runs through Nov. 9.
For its fall show, Santa Clara University's de Saisset Museum hosts "Theatrical Realism," a first retrospective devoted to painter Inez Storer. Working in a bright palette and using simple, often cartoonlike images, Storer creates visual tales based on her childhood as a Jew raised as a Catholic. In related exhibits, the gallery at Villa Montalvo will be exhibiting examples of Storer's recent works, starting Nov. 9, and the San Jose Institute of Contemporary Art will mount "An Artist's Artist: The Legacy of Inez Storer," starting Nov. 8. (Also at SJICA and worth hustling out to see before it ends Sept. 20 is "Dwellings," 3-D structures created by artist Tracey Snelling, who then uses them as miniature sets for his film noir-themed photographs.)
At Stanford's Cantor Arts Center, the season gets underway with "The Beginning of Seeing," a gathering of the African and Oceanic sculptures and objects collected by abstract expressionist Adolph Gottlieb, paired with examples of Gottlieb's canvases from the 1940s and '50s showing how he used tribal influences in his art.
The big draw, however, will be "Hudson River School," which features nearly three score works from the Wadsworth Atheneum collection of major 19th-century landscape paintings, including 10 by Thomas Cole, 11 by Frederic Church and five by Albert Bierstadt. These epic paintings initiated the American landscape tradition and contributed to both westward expansionism and incipient environmentalism with their sweeping, sometimes highly romanticized visions of the young country's natural wonders.
In the galleries, WORKS/San Jose has asked guest curators Carla Turturici and Brenda Berg to pick the best new examples of the printmaker's art from San Jose State University and UC-Santa Cruz. The show, which runs Oct. 2-Nov. 1, is named "Highway 17 Express: Multiple Runs," on honor of the bus line that connects the two communities. Anno Domini follows up its socially charged Adrien Lee exhibit with "Meat Consciousness," a two-for-one show featuring mixed-media pieces by Craig LaRotonda and Kim Marie focusing on our obsession with the flesh.
Building on the exceptional results of this spring's environmental installation by Patrick Dougherty, Villa Montalvo has invited Herb Parker to create a new site-specific work for the front lawn of the estate. This large-scale "living sculpture," made from sod and rammed earth, will be on display Oct. 18-May 3. Parker will be working on the piece throughout October.
Michael S. Gant
Lit Bits
October features three significant literary sightings. Oct. 2, David Eggers, who is either the saviour or the most irritating overachiever of modern literature--depending on your tolerance for McSweeney's in all its manifestations--reads at Villa Montalvo's Carriage House Theatre at 7:3opm ($25/$30).
On Oct. 16, SJSU's Center for Literary Arts kicks off its annual Major Authors Series with an appearance by Neil Gaiman (7:30pm at Morris Dailey Hall, $7/$15). Gaiman, the force behind Sandman, is the first comic-book author to make the series--an acknowledgment that some of the best literature these days comes in the graphic novel form. At the end of the month, on Halloween to be exact, David Sedaris, reads as part of the Stanford Lively Arts Series (8pm at Memorial Auditorium on campus). Sedaris has been tearing up the pages of The New Yorker lately with comic memoir-short stories that traffic in deep trenches of mordancy.
The Major Author Series continues with Studs Terkel, author of Working, on Oct. 29; poet Li-Young Lee on Nov. 12; and next spring, prodigious historian Simon Winchester, who just followed up his entertaining book about the Krakatoa volcano with a new volume about the creation of the Oxford English Dictionary. Check the website--www.litart.org--for details.
Montalvo's lineup of readings at the Carriage House continues with Adair Lair, Oct. 25, and Garrison Keillor, Nov. 12 at the Fox Theatre in Redwood City.
In Menlo Park, Kepler's crowded Authors Showcase includes in-store appearances by filmmaker Barry Levinson (Sept. 24); fantasy master Neal Stephenson (Sept. 26); humorist Dave Barry (Sept. 28); East Bay novelist Maxine Hong Kingston (Sept. 29), former Secretary of State Madeleine Albright (Oct. 10); acid-penned political columnist Molly Ivins (Oct. 17); Bill O'Reilly basher Al Franken (Oct. 24); and British novelist Martin Amis (Nov. 19). Most of these readings begin at 7:30pm, and are free.
New this fall, the Commonwealth Club of Silicon Valley will host an appearance by mystery specialist Richard North Patterson, who will talk about his new book, Fiction, the Second Amendment and Gun Control (copies of which will be on sale at the Friends Bookstore on the first floor of the library). The event takes place at the new Martin Luther King Jr. Library on Oct. 30 at 6:30pm. Members of the Commonwealth Club and library cardholders get in free; $10 for everyone else.
Michael S. Gant
---
Send a letter to the editor about this story to letters@metronews.com.
---
[ Silicon Valley | Metroactive Home | Archives ]