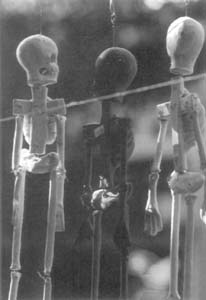 Skeleton Crew: Traditional Dia de los Muertos arts and crafts on display at last year's festival.





Fête Noir

Día de Los Muertos celebrates life and death

By Marianne Messina

EL DIA DE LOS MUERTOS on November 2nd is not one day, but the culmination of several days' preparations designed to remember and honor the dead. The date corresponds to the European All Soul's Day and like many American holidays, it took on the features of already existing local festivities. Though the Central American natives celebrated the dead many times a year, their most important feasts were in midsummer, and they viewed the dead as, in some sense, still alive and operating in the lives of the living, After the Spanish conquest, "the midsummer festival was transferred to November 2," says Father Jon Pedigo of Cathedral Basilica St. Joseph. "And so what happened is that it became this bizarre mixture of European and indigenous religious forms."

This weekend, San Jose will hold its fourth annual Día de los Muertos Festival at and around St. Joseph's Cathedral. Traditionally, on October 31 or November 1, celebrants begin to construct altars and ofrendas, which memorialize those who have died. "The altars are the memory," says Father Pedigo. "They usually have a picture or the toys of the dead person or child. Then they had the ofrenda, which was usually food or drink. And the two were always put in a house or on the street. It was something that the dead would be passing through. Again, there's not that division between living and death or dying."

Día de Los Muertos: Celebrations and Exhibits.

While the November 1 celebration concerned more personal or immediate losses, November 2 was the opportunity to celebrate anyone who had died, from ancestors to great leaders. In the hall next to St. Joseph's, families and civic groups from around the San Jose community will be constructing traditional altars in honor of their dead--heroes, leaders, family members. "Certain things would be on the altar," Father Pedigo explains. "You'd always have candles; you'd always have water; and you'd always have food."
San Jose's celebration on Saturday and Sunday (October 28-29) will offer up two days of music and displays, including Saturday morning craft workshops for kids, an interactive cyber-altar contributed by the Tech Museum, and a one-act play about a woman dealing with death and loss, starring Alicia Rizzo.
Sunday's two band stages will feature well-known local bands like Los Otros, as well as Cielo Ceniza, a bilingual rock band with blonde alto Cielo at the helm, and East LA Sabor Factory (newly signed to Sony), an 11-piece band with a lively horn section.
---
Día de los Muertos Festival takes place Saturday-Sunday, Oct. 28-29, in downtown San Jose, at St. Joseph's Cathedral Basilica, San Fernando and Market streets and the surrounding area. Oct. 28 features folkloric art workshops, at St. Joseph's, 10am-2pm, donations $2, 408.928.5522; opening of the Galería de Ofrendas, at St. Joseph's, 7pm, 408.283.8100, ext. 2208; Teatro de Muertos, a one-woman play with Alicia Rizzo, at 8pm, $5 donation; 408.283.8100, ext. 2208; Charanga Nueve performs at Fuel, 44 Almaden Ave., San Jose, 9pm-2am, $7, 408.295.7374. Oct. 29 features a street fair that includes food, children's activities, a gallery of altars and live entertainment by bands and performing arts groups.
---
[ San Jose | Metroactive Central | Archives ]