[ Metroactive Central | Archives ]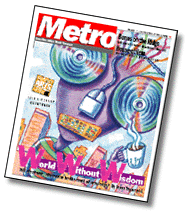 November 9-15, 1995
News
Bones of Contention: A San Jose developer wants to build a golf course atop a Native American sacred site in San Jose. Didn't he see Poltergeist? Laura Stuchinsky reports.
Arts &amp Entertainment
Movies
Superflys and Foxy Brown: Cheaply made and often crudely stereotypical, the blacksploitation film nonetheless shattered Hollywood stereotypes. Nicky Baxter screens the films, which play at the Towne Theater in San Jose through November 23.

Addicted to Blood: A vampire film like no other, Abel Ferrara's "The Addiction" transcends the genre. Reviewed by Richard von Busack.

Also reviewed: "Kicking and Screaming"

Art
"212 Degrees Fahrenheit" exhibit looks at gang violence from the inside out

Beat Street
Beat Street Todd Inoue on Pearl Jam's San Jose layover

Comics
Stupid is as stupid does in comics both big-time and local

Music
Pizzicato Five Japan's neo-disco-lounge act are unreliable, capricious, willful, luxurious, affected, lying, dubious, random. . . and, well, cute

Prince is dead, long live "npg" and its new album, The Gold Experience

Stage
'Arcadia,' by Tom Stoppard, plays at the Stage Door Theater in San Francisco
Metro Staff Box
---
This page was designed and created by the Boulevards team.
Copyright&copy 1995 Metro Publishing and Virtual Valley, Inc.