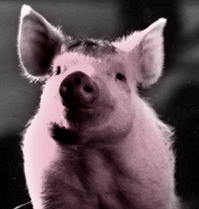 A Pig Shall Lead Them: "Babe" heads our best-10 list--alphabetically at least.

The riches and wretches of 1995's movies--from 'Babe' to 'Waterworld'

By Richard von Busack

I'm honoring the convention of the top-10 list this year, although compiling it means comparing various styles and sensibilities when I'm unsure that one is better than the other. Also, I am limiting myself to movies that opened in the Santa Clara Valley in 1995; unfortunately, such worthy contenders as the wrenching Dead Man Walking and the ridiculously entertaining Richard III won't play here until January. Let's wait to talk about them then; sufficient to the day is the evil thereof, though Ian McKellen's evil Richard Plantagenet certainly wouldn't agree with that particular Biblical advice.

Looking at the list, what the films seem to have in common is that they are all, except for Safe and The City of Lost Children, stories of rebels. Some years are good for spectacle, some for storytelling; this was a good year for screen rebellion. We're entering into a fascinating era; reactionaries, and there are plenty of them flourishing now, always provoke a counter-reaction. Whether his name is Leon Theremin or Farmer Hoggett of Babe, the individual who stands in opposition to his times is in for some very rough treatment. Persuasion's Anna Root and Double Happiness' Sandra Oh almost lose their lovers from parental disapproval before they fight back. By making the romantic decision to drink himself to death, Nicolas Cage's soulful, hard-drinking hero in Leaving Las Vegas also fights his way out of this life.

The Perils of Patricia: The forces of history closed in on Patricia Arquette in John Boorman's underrated "Beyond Rangoon."
But the consequences of not fighting are worse, as seen in Beyond Rangoon and Safe, both brilliant object lessons about the price of turning oneself into a human versions of a gated community.
The best films of the year provide an asymmetrical sample of modern cinema: of mystery, of surprise, of the sense of living a lot of lives vicariously. There were fireworks on a sweltering New Year's Eve night in Australia, a rainy afternoon in 19th-century Bath, dawn on a raft outside of Rangoon, sunrise after a white night in Vienna. But what struck me the most about the year were the sheer number of films. The weekend I'm writing this, more than a dozen films are being released.
Maybe that sheer number has contributed to the quirkiness of the best pictures. Studio goliaths are pounding away at each other, trying to outdo each other in volume and firepower; meanwhile, intimate little pictures flourish and multiply in the shade. In the year after Pulp Fiction became the first independent movie to make $100 million, studios are hungrily searching for pick-up deals: small films they can pick up for not very much money and turn around for a sizable profit. It may be that the success of a Pulp Fiction (or, for that matter, a Babe) will result in more movies being made because someone burns to make them, instead of because the demographics are right.
With the top 10 out of the way, we can remember some of the other highlights of 1995. There were many fine thrillers--balm for dangerous times like these--particularly the incredible Hong Kong action picture From Beijing With Love, which is far up on the list of the best of the about 300-350 movies I saw this year, and begs (okay, it doesn't beg, I'm begging) for a revival. Also superbly diverting were the better-known thrillers Shallow Grave, Mute Witness, Copycat, Outbreak, Desperado and GoldenEye, as well as parts of the messy and overpraised but often compelling Seven.
Comedy is considered the lesser art by those who have never made people laugh, so I also want to mention for one last time this year Miami Rhapsody, Party Girl, Jeffrey, Home for the Holidays, Living in Oblivion and the highly styled To Die For.
The year was also graced by a number of worthwhile revivals at the Stanford, the Nickelodeon and the Camera Cinemas. Here's to all of them; the area would be more than half-way to cultural Modesto-ism without their hard work. Of the many revivals, I'm particularly grateful for The Wages of Fear (1952), Belle de Jour (1967) and Remember the Night (1940).
To avoid the sin of omission, I should also confess a weakness for material that lured me in because it was just plain turned me on: the live-action Lillian Roth (c. 1934) singing "Down Among the Sugar Cane" in the Betty Boop festival, Marisa Tomei running around in her tropical nylon underwear in The Perez Family, and one last round of applause for the Canadian art-house sex symbol, that feral Frostback, the one, the only Mia Kirshner, both baby-faced dominatrix and big-eyed, helpless cowgirl in Love and Human Remains and equally devastating as a Catholic schoolgirl stripper in Atom Egoyan's Exotica--Demi Moore and Sharon Stone, indeed!
Otherwise, I wouldn't call it a very sexy year in the movies. The public demanded it, Hollywood supplied it; then, enough of violence and sex, we cried, we want swill to narcotize our whelps! And Hollywood obligingly, flooded the theaters with lots of pictures, "you know, for the kids," as Tim Robbins kept repeating in The Hudsucker Proxy. There were few adult movies compared to the constant flood of kid schlock in 1995. Bob Dole, who plainly hasn't seen a movie since he dozed through The Sound of Music in 1965, wasn't out here on the front, monitoring what was the fibrous bulk of 1995 moviemaking.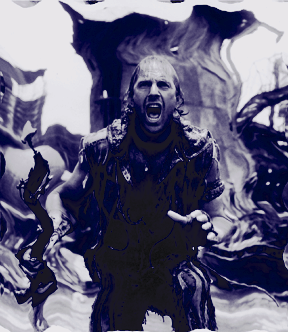 Photo by Ben Glass
What Was I Thinking??!: Kevin Costner in "Waterworld."
The losers of 1995 are full of material designed to tickle a six-year-old and gag a grownup. Remember, it takes just as much energy to make a bad movie as it does to make a good one. The year's worst, in alphabetical order: A Walk in the Clouds, Born to Be Wild (kid steals gorilla from flea market; the gorilla indeed looks like it came from a flea market), Congo (ditto), Delta of Venus, Fluke (Eric Stoltz as a talking dog), Gordy (the other [talking] white meat, besides dog), Hackers (for over-promotion and errant noisy self-satisfaction), It Takes Two, Jury Duty, Kalifornia (not a 1995 release but seen by most people on video this year, and bad enough to make two years' worst-of lists), Man of the House, National Lampoon's Senior Trip, Operation Dumbo Drop, Powder, Roommates, Species, Tommy Boy, Vampire in Brooklyn and of course Waterworld.
Missing are the letters E, L, Q, U, X, Y and Z. So for those: 'E' is for editors who gave Showgirls all of that coverage on the grounds that it was a "controversy" (when, indeed, nothing could be less controversial, since almost everyone who saw it agreed upon it). 'L' is for what 'L' it was to sit through some of these puppies. 'Q' is for Quentin Tarantino-worship (monomaniacal fan boys: Do what Tarantino would do--watch a bunch of different movies besides Pulp Fiction, especially some French and Hong Kong imports). 'U' is for you, the viewer, all too often suckered by advertising. Lastly, 'X,' 'Y' and 'Z' are for Xerxes, the Tremendous, You're Never Too Old to Eat Dirt and Zebra in the Kitchen II: Electric Stylin' Rave Boogaloo, all unreleased in our area and, as the expression goes, unseen by our reviewers.
As for the actors: Olivier is dead, Brando is busy being rolled in the thorns by his family, Sean Connery persists in picking the least interesting material possible, Morgan Freeman is becoming a character actor (why wasn't he cast as Othello?) and John Malkovich is nowhere to be seen on screen.
That leaves Nicolas Cage, who, in his two movies this year, Leaving Las Vegas and Kiss of Death, embodied the best of the astounding energy, the hideo-comic spirit, the depth and breadth the movies have to offer. He wore the smile of the skull beneath the skin in two parts that were illustrations of murderous force: the urge of a half-bright, muscle-bound pissant to be respected in Kiss of Death, and the equally inexplicable urge of a man trying to kill himself with drink in Leaving Las Vegas.
Robert Downey Jr. and Kevin Spacey had both remarkable years, and Emma Thompson is the actress I'd rather watch more than any other, even Holly Hunter. The difference is that I wouldn't have gone to see Junior just to see Thompson, but I'm nearly ready to go see Flight of the Intruder on video just to see Cage. Jim Carrey made 20 times as much money for being 1/20 as funny, while the mainstream press fawned over the workmanlike performances of a dozen affable nonentities. This is the way of the movies: According to the Academy of Motion Picture Arts and Sciences, Tom Hanks is the best actor in cinema (two years running!). We Cage fans know better.
---
1995's Top 10

Babe; Beyond Rangoon; Crumb; Double Happiness; Leaving Las Vegas; Persuasion; Safe; The City of Lost Children; The Usual Suspects; Theremin: An Electronic Odyssey

Honorable Mention: Before Sunrise, The Incredibly True Adventures of Two Girls in Love

---
[ Metro | Metroactive Central | Archives ]