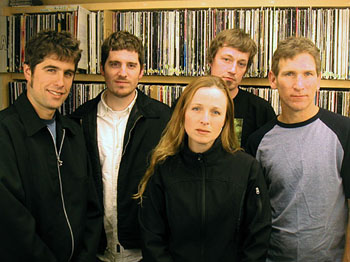 Thinking Man's Band: 20 Minute Loop use wordplay to get to deeper human truths.

Word Pop

20 Minute Loop spin stories of interior life

By Sara Bir
---
The Dictionary Story, originally called the arbilexicon, is a kind of reverse Mad Libs™, in which a conventional number of words randomly selected from a dictionary--usually ten--serve as the springboard for a short story; that is to say, the words chosen at random must be used in the body of the story.
--20 Minute Loop
---
The title of 20 Minute Loop's third and most recent album, Yawn + House = Explosion (Fortune), is derived from a dictionary story. But everything in this band's world eventually evolves--or devolves--into a story. Stories are 20 Minute Loop's stock in trade.
The first adventure of 20 Minute Loop's Midwest tour (dubbed the Meriwether Lewis Trail of Madness, in which they--kind of--retrace Lewis' alleged 1806 journey to scare the natives) began before they even pulled out of the parking lot of their San Rafael rehearsal studio. Their rental van turned out to be a smaller model than the one they had reserved, presenting a new angle to the already formidable challenge of fitting five musicians' equipment, the musicians themselves and dozens of homemade cookies into one overly cozy vehicle. Over the next several weeks, they will go on to conquer exotic, uncharted locales such as Laramie, Wyoming, and Hiney's in El Paso, Texas, a venue the band have already mythologized as a sort of Hooter's featuring butts instead of boobs.
Though their collective sense of humor can at times run through such sophomoric shallows, the music of 20 Minute Loop is complex, literate pop that's often threaded with a dark undercurrent. The band's beginnings go back to 1997, when vocalist and songwriter Greg Giles began playing music under numerous less catchy monikers. Kelly Atkins joined up soon after, forming what would become the musical and lyrical core of the group. Guitarist Joe Ostrowski came onboard in 1998, and bassist Nils Erickson and drummer Mike Romano settled in after a small handful of other musicians had come and gone. Initially a North Bay band, 20 Minute Loop are now more accurately a Bay Area one, with members in Marin, San Francisco and the East Bay.
Critics have often trotted out XTC and Pixies comparisons when describing 20 Minute Loop. I'll happily do that as well: 20 Minute Loop sound as much like the Pixies as Donovan does Slayer (though I did once hear Kelly tear up an impromptu cover of AC/DC's "Back in Black"). The band's dense, twisting arrangements, Kelly's punctuating keyboards, and the vocal do-si-do of Kelly and Greg frame lyrics embedded with impressionistic inner monologues of characters at turning points, on the brink of arguments or just coming out of them. It's the kind of stuff that sounds absurd when read typed out as lyrics, but which the band pull off uncannily in song.

Sounds Good Music.2005
Grace Notes
A Loop Is a Loop Is a Loop
Just Plain Bob
Sublime Spindles
Bye Bye BVH
U Love 2 Swoon
Pukemeisters
Young Tree Grows
What Is Hip?

Taking a break from the puzzle of van loading, Kelly and Greg tell of the inspiration for Yawn + House = Explosion: 11-year-old Sophia, a friend of the band and the blonde lass who appears tenderly embracing chickens on the CD cover. It turns out that Sophia is quite the wordsmith, too. "Sophia likes to write dictionary stories--the title of our album came from one of her dictionary stories," says Greg. "I sort of commissioned her to do all of the artwork for our lyrics, to write them out. Paid her 100 bucks. We just wanted to make the whole thing look like it was the product of her mind."
"To an 11-year-old, 100 bucks is a lot of money," says Kelly. "When she's 20, she'll be like, 'What the hell? They paid me $100 for this?'"
There has been nearly a four-year gap between Yawn and the band's previous album, Decline of Day. Their former drummer left shortly before they had planned to start recording basic tracks in his studio, where they had recorded the first two records. "At the time, it felt like the most horrible thing in the world, but it's all worked out fine," Kelly explains. "We ended up having to find a drummer, teach him all of the songs and then get to a point where we felt we could record. It took six to eight months just to do that. Then we started recording basics."
"We didn't just go into a studio for a few weeks; we recorded the basics at a conventional studio, put that on a tape and we did everything else with ProTools in people's apartments--and Nils was the de facto producer," Greg clarifies.
"Which was great, because it gave us a lot of flexibility," Kelly adds. "[The album] got more flushed out."
Or, as Greg puts it, "We put in more bells and whistles." Not literally, of course, but Yawn + House = Explosion does include more synthesizers and, on several songs, horns, which Nils arranged. There's also their first recorded cover ever, an appropriately feverish version of Hüsker Dü's "I'll Never Forget You."
"I think we've just gotten more intuitive with each other," Kelly says. "Don't you think," she asks Greg, "we've kind of grown more as a unit?"
"No, I don't think so," he says, laughing. "We've become contrarian."
Undeterred, Kelly continues. "I think that we've had much more time to get comfortable with each other's strengths and weaknesses." Such growth undoubtedly continues on the tour. In a post to the band's message board from the road, Nils describes the seating arrangement in the van as "carving out Hobbit holes." Yet another great way to deepen a band's connectivity. The 20 Minute Loop that return to the Bay Area will be an even stronger 20 Minute Loop, with Hiney's of El Paso under their belt and even more stories to tell.
---
Welcome 20 Minute Loop home at their next show, Sunday, June 19, at Cafe du Nord in San Francisco. Write your own dictionary story, and peruse fans' dictionary stories, on 20 Minute Loop's website, www.20minuteloop.com.
---
[ North Bay | Metroactive Central | Archives ]