Arts
Strange Visions at MACLA
'Speculative Latinidades' imagines identity in an uncertain future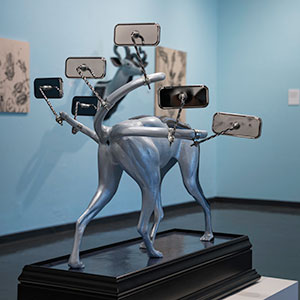 Javier Martinez upsets the order of the natural world with his sculptures Double Ass Coyotl and El Tlacoc. By shifting animal DNA around, he invents a new breed of mutants. His silvery-blue coyote, as the title suggests, is headless with two rear ends.
The artist seamlessly merges two dog bodies together. Either they've collided in a science experiment that's gone terribly wrong or this was some deranged god's first draft of a pooch. At one end, a striped tail lifts and holds still in the middle of a wag. The other half, painted in creamy silver, extends three tails of its own. Each end has two rear-view mirrors attached and reflecting the lone striped tail back to itself.
His work is part of "Unicorns, Aliens & Futuristic Cities: Speculative Latinidades," a new group show at Movimiento de Arte y Cultura Latino Americana (MACLA) running now through Aug. 19. Broadly curated around the intersection of Latinx identity and science fiction, artists like Martinez reinterpret, rewire and then advance old tropes. Instead of referencing a unicorn from a dusty European tapestry, Martinez creates his own Aztec-inspired mythology, replacing a deer's rack with two writhing snakes. The sculpture is mounted like a trophy head. If the artist in this scenario is the hunter, then he's defeated a strange and menacing beast.
Jorge Gonzalez's mixed-media landscape paintings enter the sci-fi orbit with the sense of a turbulent cosmic drift. His work, including the bright red and orange El Rancho Solar, approaches the theme from an extraterrestrial point of view. With pools of oozing earth and sky fusing together, a world's gone molten. He's positing a plausible vision of life on Mars—from a safely removed vantage point—or a not-so-distant Earth, without polar ice sheets and oceans. Birth of the Four Directions suggests that the Big Bang was a colorful blast of controlled chaos. Gonzalez likes to imagine what the eyes of the creator can see.
From beneath the terrestrial leaves of a tree, Veronica Rojas' entries are graphically intense and drawn with an exacting, exquisite precision. If Gonzalez studies the macrocosm, Rojas finds equally fascinating worlds in her microcosms. Plant life, whether sepals, petals or branches, are the beautiful stars in a three-paneled work like Germinación. A lovely muted tangerine background from the left third meets a pale minty green floating to the middle. Tendrils wave and dance and reach up the canvas. Rings like eyes, or Saturn's, scatter about above them until they descend upon the stocks. Bulbous blooms stretch out and down in search of companionship. Something round, a dark pond or pod, might be the source of all this fertility springing into motion. Rojas combines organic shapes with a designer's impeccable ability to organize and arrange her thoughts. Her work makes emotional sense while also satisfying the eye and the mind.
Only Michael Menchaca's La Raza Cosmica (The Cosmic Race) features technology, a major ingredient in sci-fi but not on the agenda at this exhibit. He's lined up four video monitors against a wall that's been papered with pre-Colombian patterns. Each monitor is framed with stripes and patterns. On screen, six rounded rectangles display a series of different cartoon characters that disappear, return and replace each other. They look like a mashup of Las Vegas slot machines and Japanese pachinko games. Menchaca took his inspiration for the piece from "La Raza Cosmica," an essay by Jose Vasconcelo. The Mexican philosopher speculated about the possibility of a "fifth race" of people forming, one that would combine all racial identities. Menchaca tangles with that suggestion through highly charged imagery that mixes and mismatches animal and Latinx bodies. Like the other artists in "Unicorns, Aliens & Futuristic Cities," a post-racial version of the world still dwells in the realm of science fiction.
Unicorns, Aliens & Futuristic Cities
Thru Aug 19, Free
MACLA
maclaarte.org