Arts
Review: 'Nine'
Beloved Broadway musical comes to 3Below Theaters & Lounge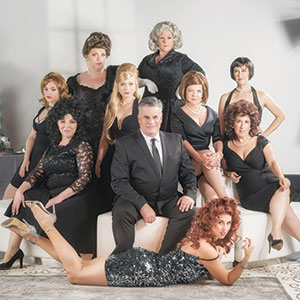 The first thing to be said about Nine is that it is not going to be performed by Children's Musical Theater any time soon. It was the double-Tony Award-winner in 1982 for best musical, and for best revival in 2003; it was also made into a widely disliked 2009 film, with Daniel Day-Lewis in the lead. It's source is Federico Fellini's 1962 8 ½ (the number of films he'd made up until then): the confessions of a famous director (Marcello Mastroiani, Fellini's frequent surrogate) whose fascination with women warred with the Catholic guilt deep in his bones.
Produced and directed by the Guggenheims of 3Below Theaters & Lounge (Evan Scott, Stephen and Shannon), it's set in Italy in the early '60s. Guido Contini (Stephen) is in the doghouse. His long-suffering (but not fool-suffering) wife Luisa (Susan Gundunas) has had about enough of his roaming. "This is not my idea of a successful marriage," she says.
Guido broods on a neuftet of women who inspired him or countered him, including his mother (Michele Shannon), Luisa, the bad girls, the collaborators, the churchly ones, the critics. And he imagines harmonizing his memories and fantasies of them all, like a conductor using his baton.
Guido and Luisa flee to Venice, where the maestro can work on a script, but he's tracked down by everyone he's running from, especially his hot mistress Carla (the fantastically slinky Becky Elizabeth Stout). In the euphemistically titled "A Call from the Vatican," Carla gives him a call that should have melted the wires of the landline. Not distracted enough, Guido tracks down the star of his previous films, hoping she'll inspire him again, but she, Claudia (Amy Bouchard) has moved on.
The musical's showstopper is "Be Italian," nationalistic advice to the boy Guido (Elijah Seid-Valencia) from the voluptious and lovable prostitute Saraghina (Krista Wigle). Wigle and the ensemble sold the song with force, but to an indifferent fan of this musical's tunes, it seems strange Olive Garden hasn't appropriated it for an ad campaign.
Elizabeth Palmer's Liliane La Fleur—a French producer who seems to think that what Guido's film needs is a bit more skin and dazzle—takes the cake for the "Folies Bergeres" number. Bedecked in a feather boa, Palmer works the front row as fearlessly as a Berlinese cabaret artist. Maybe it's not Italianate and Venetian elements that work best in this colorful diversion but the Parisian style, yet this robust and sexy production is another success for the Guggenheims.
Nine
Thru Nov 10
3Below Theaters & Lounge, San Jose
3belowtheaters.com