Arts
Rick Guidice: The NASA Paintings
Inventive, vibrant and, ultimately, hopeful depictions of our species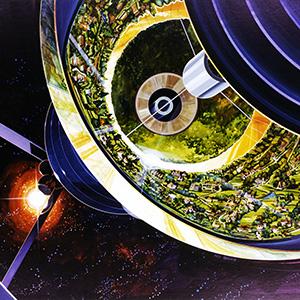 On the cover of a 1975 NASA report entitled Space Settlements: A Design Study, the reflection of a space station appears in the face panel of an astronaut's spacesuit, as he or she floats in through the void. Look closely at the astronaut's left shoulder and you can make out the word "Guidice" in sky blue lettering. NASA owns Reflections, the name of the painting, which Rick Guidice created, along with a series of about sixty more for the NASA study. Over the course of 15 years, Guidice worked with a group of professors and engineers, from academic institutions, like Princeton, Stanford and the Ames Research Center, to illustrate a plausible vision of what human settlements in space might look like.
Ten of the original paintings are currently on display at the New Museum Los Gatos (NUMU), and they're spectacular. Collectively, they offer inventive, vibrant and, ultimately, hopeful depictions of our species—alive and well, far beyond terra firma's warm embrace, and gravitational pull.
In the kaleidoscopic, 1975 painting, Double Cylinder Settlement, Interior, lush, verdant hills and dales enjoy a view of the moon. The piece will look familiar to anyone who has seen the Matt Damon-starring, Neill Blomkamp film, Elysium. Guidice paints cold metallic interiors—of what is essentially a metal container—through the lens of How Green Was My Valley not Alien's frightful dictum: "In space no one can hear you scream." Meeting Guidice in person only confirms the impression the paintings evoke: if there ever were such a place in space, you'd want it to spring from his imaginative palette.
Guidice's involvement on the project began a few years after he opened his Los Gatos office in 1968. At the time, he worked as a freelance illustrator while also rendering architectural designs. One illustration in particular in the early 1970s, a Formula One race car, caught the attention of some NASA engineers. In the era before digital comps, Guidice brought his portfolio to the Ames campus in Mountain View, a half hour from his studio, and they gave him the job. NUMU, pursuing its mission to tell stories by local but globally relevant artists, heard about his work through the Los Gatos grapevine. Tom Yacoe, another local artist, prompted the museum to unearth this body of Guidice's early work.
And that's just what NUMU did. With the help of Guidice's records, they found a dozen works available from NASA's archive that were cleared for release (two more remain hanging in conference rooms at Ames and, at the time, were unable to be lent out). Where, then, in NASA's archives are the fifty or so remaining paintings of the series housed?
The 10 works on display suggest an expanding universe—one in which mankind populates outer space beautifully. Imagine all sixty of the paintings reunited in one exhibit hall, that rare coupling of science and art on display, the breadth and depth of knowledgeable souls positing new worlds. The mind reels upward.
To find out more about the evolution of the exhibit, Guidice will engage in a panel discussion at NUMU Thursday, Sept. 24, beginning at 6pm. The exhibit of Guidice paintings runs through Feb. 14.
Rick Guidice: The NASA Paintings
Thru Feb 14, Free