Features & Columns
Silicon Alleys: Unearthed Saga
Local artists and historians remember Japantown's past with technology of today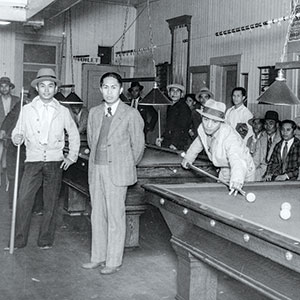 Japantown is the perfect San Jose neighborhood for artists to fuse the natural with the digital, especially now, as one of the city's most intriguing historic locales faces all the classic threats of gentrification, real estate greed and political indifference.
A new project, Hidden Histories of Japantown, makes that fusion by implementing augmented reality (AR) technology to dig down deep and tell stories long buried "beneath the surface." AR works by installing an app on a smartphone, which then overlays computer-generated sounds, images and text on the camera's view of the real world, producing an alternate, "augmented" experience.
Initiated by local Japantown historians Tom Izu and Susan Hayase, Hidden Histories came into being after the Japanese American History Museum of San Jose (JAMsj) received an Immersive Technology in the Arts grant from the Knight Foundation.
What Hidden Histories aims to do, according to Hayase, is show people there's something underneath it all: something deeply meaningful, interesting, fascinating, funny, or even tragic. These stories have nothing to do with commercial condominiums or hipster hangouts. Japantown denizens and visitors need to know the stories of the streets, not just what place has the best sushi. Art and technology can help.
"When I heard about augmented reality, I thought 'This is an incredible way to show people something that's kind of beneath the surface,'" Hayase says. "I think people kind of sometimes fetishize local history and a lot of local history museums, they'll show you, 'Oh, this is what a frying pan used to look like,' or, 'This is a Pinafore that women used to wear.' It's kind of boring."
Plus, the neighborhood's history is much more than just that of Japanese Americans. Beginning in the late-nineteenth century, thriving communities of Chinese Americans set up shop in what was then called Heinlenville, one of San Jose's historic Chinatowns. Later in the 1930s, a thriving Filipino district, "Pinoytown," emerged on Sixth Street. All of that gets buried with the passage of time.
The Knight Foundation grant and the Hidden Histories project came along at the right time, Izu and Hayase say. With the "Googletown" hysteria already appearing to kickstart various gentrification schemes, they both felt a sense of urgency.
"We really need to rally our people who maybe aren't really thinking that Japantown is kind of under threat," Hayase says. "This is kind of a way to really remind people how precious Japantown is and how precious Heinlenville is and how precious Pinoytown is—not only the stories and the lives and the culture, but the relationships between people."
For the project, nine artists were commissioned to create AR-based works that highlight the forgotten stories of Japantown. Some of the artists are students from the CADRE Laboratory for Digital Media at SJSU, while others are more seasoned practitioners. The projects will debut next year.
The Hidden Histories website already features interviews that function as splendid source material for artists, or anybody else. In them, one learns about illegal Prohibition-era sake manufacturing at Seventh and Jackson or a long-forgotten printing business, back when operators had to use tweezers to set each Japanese character onto the machine. The northeast corner of Fourth and Jackson looked quite a bit different in 1931, when Leo Escalante's Manila Pool Hall was a major gathering spot for first generation Filipino workers in Santa Clara Valley.
Whether or not Escalante's Pool Hall makes it into any of the nine artist's projects remains to be seen, but since we're always getting beaten over the head with this "Capital of Silicon Valley" nonsense, why not give artists AR tools to explore local history, educate the masses, tell stories and thus make San Jose a more interesting place? "It's like using advanced technology to do archeology," Hayase says. She admits she gets a lot of satisfaction knowing that Hidden Histories takes advantage of AR in ways it wasn't intended to be used.
"We're teaching people to tell these really interesting stories using this technology rather than just somebody who's going to buy it so they can play a game or something."