Features & Columns
Silicon Alleys: Second's Helping
Former Zanatto's grocery location gets a second (or third) shot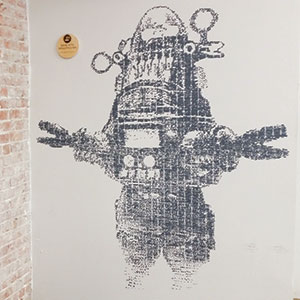 A masterpiece of creative urban synergy is about to unfold inside the mammoth Second Street building formerly occupied by TechShop, Zanotto's Market and Allen's Furniture.
CreaTV, Chopsticks Alley and WORKS/San Jose, separately and together, will soon collaborate to transform the space into something long overdue. Just navigating the empty interior, surrounded by exposed brick, steel beams, blue gaffer's tape and leftover hanging conduit, one can envision a better future, when arts and culture are valued by landlords.
In all of downtown San Jose, no other scenario embodies the endless, universal cycles of creation and destruction, on both micro and macro levels, than this building and its immediate surroundings. The history is crazy.
I cannot possibly separate myself from the story. When I lived upstairs 22 years ago—on a floor mattress, in my friend's living room, with a master's degree and no real job—Zanotto's had just opened to wondrous fanfare in the old Allen's Furniture space. At the time, the city was attention-starved and desperate for name recognition of any sort, so it threw money at various schemes to make the neighborhood look safe for yuppies and first-generation dotcommers. Yet even with subsidies, Zanotto's could not survive. The Fountain Alley crackheads and the vomiting jock-bar clowns were simply not interested in a $20 jar of imported olives.
What I miss most, though, are the grumpy old Japanese ladies who worked at the sushi counter. They were awesome. And so were the sandwiches.
Zanotto's actually went through two cycles of life in the same building. By the time it reincarnated, nothing had improved. The nightclubbers now vomiting on the street had already spent $20 for each mixed drink, so they wouldn't drop another twenty for those olives either.
Then a stripped-down Safeway emerged one block away, putting a nail in the Zanotto's coffin before succumbing ten years later to its own street druggies, shoplifters and dashed business model. In downtown San Jose, every block is a different neighborhood, of course.
But I'm getting ahead of myself. The first Zanotto's incarnation came along with a convergence of many other failures. The city was scheming to put a Lucky Strike bowling alley next door, on the ground level of the Globe apartments, and also a House of Blues one block over on First Street, both of which never happened.
Luckily, what did happen was The Improv. Whatever you think of former Mayor Ron Gonzales, he deserves credit for helping to save the Jose Theatre, the oldest venue in the whole city. Barry Swenson and Jim Fox initially contemplated smashing half the block to build even more overpriced apartments, but wiser heads prevailed and the city coughed up a few million to refurbish the theater. As a result, the new apartments emerged on the Third Street side and the Improv has now lured countless comedians to downtown since 2002.
Meanwhile, as the second Zanotto's incarnation began to circle the drain, several urbanist hotshots were already starting to sprout up around the neighborhood. You see, every five to seven years, another generation shows up, always under the impression that it will be the one that finally transforms downtown San Jose into a global urban epicenter. This has been going on since the '50s.
So, a few years back, someone had the idea that Second & Santa Clara was going to be "The Maker District." As a result, people convened meetings, wrote on whiteboards and fingered a few budgets to lure TechShop into the old Zanotto's space. TechShop was already two blocks away at 2nd and San Carlos, but had to move because the Swenson Company needed to build a "luxury" student housing tower.
Unfortunately, just a few months after TechShop moved into the old Zanotto's space in 2017, the whole company went bankrupt, shuttering all its locations. Alas, the space became empty again.
Now things are looking up. CreaTV is moving its operation into the building, along with WORKS/San Jose, an alternative art and performance space with a 44-year history at various downtown locations. Chopsticks Alley, a Viet-themed arts organization, will join them, all to foster a collaborative technology-enabled arts complex, a truly "San Jose" idea that is long overdue. Even the grumpy Japanese ladies would be proud.