Features & Columns
Silicon Alleys: Pie in the Sky
Tony & Alba's carries on just the way its founders would have wanted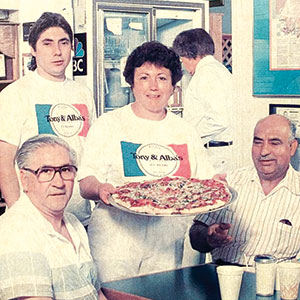 The only San Jose pizza restaurant to grace the cover of People is also the same family business that received the first online pizza order 30 years ago.
Right now, Tony & Alba's on Stevens Creek Boulevard is knee-deep in all sorts of heroic efforts to help people get through the COVID-19 era, but their humble beginnings go back to the original Mountain View location at 619 Escuela Ave.
In the '80s, Mountain View was still a glorious bastion of old-school gritty suburbia, with a smattering of stoner apartment complexes, nefarious car washes, dive bars, stripmalls and Moffett Field employees. High-tech as we know it today was only just emerging. There was no eclectic foodie scene of any sort. When Tony and Alba Salciccia first opened their joint on a side street off El Camino Real, they had no idea what it would turn into.
"It was just a little hole in the wall," said Diana Vallorz, daughter of Tony and Alba, who now runs the current location with her husband Al. "Early in the morning they'd be there, until late at night. My father even got a trailer so he could nap in the back, in-between. Or they'd go rent a hotel room so they could go right back to work the next morning. It was just my father, my mother, and then one employee that they hired."
In the early days, an extra large combo was $13, a sandwich was $3.50 and a salad was $2. Coffee was 50 cents with free refills. Soon enough, Joe Izzo wrote a rave review in the Mercury-News and the business skyrocketed. People lined up all down the block and around the corner. A solid base of loyal customers emerged, the second generation of which still patronize the current Stevens Creek Blvd location.
At times, the shop even contributed pizza to Shoreline Amphitheatre, the San Jose Arena, Spartan Stadium and several other sporting events. In fact, one of the first moments I ever witnessed any example of a corporate Goliath crushing the little guy was when I worked at Shoreline in the late '80s.
Tony & Alba's supplied amazing pizza for the concession stands, but only until a nationwide conglomerate took over the operation and abandoned Tony & Alba's for a more standard and miserable kind of slop. It was a travesty of justice from which I never healed.
But I digress. At the same time, Tony & Alba's became the favorite pizza place for much of the fledgling hi-tech industries. So much so, that in 1990, nearby employees of Sun Microsystems even designed proprietary UNIX-based toolkits allowing them to order directly from their SPARCstations. Before the World Wide Web existed in its current form, Sun engineers coded up a user interface that allowed them to choose Tony & Alba's menu items and pizza toppings right from their screen, and then pipe the order to a fax protocol, which was then sent through the phone line to Tony & Alba's.
Even though the final result came in the form of a fax, it's safe to say this was the first instance of somebody ordering a pizza online, straight from their desktop workstation.
Tony Salciccia is sadly no longer with us, but Alba still remains, although Diana and Al own the business. People even recently included Tony & Alba's on the cover and inside the magazine, mentioning them in a round-up of local businesses that donate to their communities during the COVID-19 era. Tony & Alba's currently provides free pizza and delivery for quarantined seniors over the age of 70, plus the shop also donates pasta lunch bags to healthcare workers and helps out San Jose's Roma Bakery by selling their bread.
Even though the current Stevens Creek Blvd restaurant is the only remaining Tony & Alba's, customers still fondly remember the original Mountain View store decades ago. Everyone brings it up. For the most part, the business carries on just the way Tony would have wanted.
"When we started doing this thing with the seniors, I could picture my father saying right away, 'Let's do this,'" Diana said. "They were big in the community. It's exactly what my father would have done."