Movies
Remembering Agnes Varda
French filmmaker died March 29 at age 90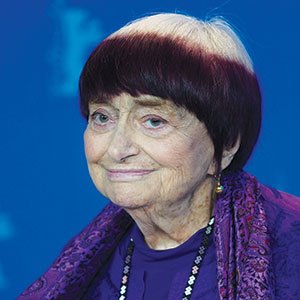 The enthusiasm, tenderness and drollness of the late Agnes Varda, who died on March 29 at age 90, has been mourned throughout the cineaste community. If she had just made The Gleaners and I (2001) that would have been enough.
That captivating humanist documentary has Varda, a petite, little old lady with hennaed hair, investigating the old peasant custom of gleaning. The activity was famously portrayed by Millet in 1857, showing three peasant women combing a harvested field for wisps of wheat.
Driving around France, Varda visits the camps of migrants and squatters. They root through a potato field where spuds too big or too small have been left behind by the harvesters. She also finds a family of singers, helping themselves to the grapes of an abandoned vineyard. To explain the legal rights of such potential trespassers, she brings in robed, lace-jaboted advocates. (Varda wonders if the well-off who go in for gleaning in the fields could count as legally "needy," to which a lawyer replies, "Yes. They are needy. They need to have fun.") As Varda interviews the poor at the turn of the millennium, she makes a case that gleaning is a rebel's duty, a way of fighting the waste and planned obsolescence built into the system.
The rest of Varda's work is just as unmissable, but particularly note her Vagabond (1986) one of the best movies ever made about the harsh side of the homeless life. The radiant 1967 short Uncle Yanko is about her relative, an aged bohemian painter living on a Sausalito barge; it's rich with sunlight and color. Her second movie Cleo from 5 to 7 (1962) made her an early luminary of the French New Wave. This story of two existential hours in a woman's life demonstrates Varda's lifelong preference for documentary camera work; there's rarely been such a snatched-off-the-streets of Paris film. She was there at the right time to capture the city right before it got gobbled up by developers.
One can't exaggerate the sense of joy and play in Varda's filmmaking process, as well as her surprise in realizing that she too is a gleaner—a scavenger for stray images. She records herself in The Gleaners and I, prowling a secondhand store. She finds a little something to put on her mantlepiece, an empty clock.
"A clock with no hands is my kind of thing," she quips. "You don't see time passing."
Varda's films are available on various streaming services, including the Criterion Channel, which launches April 8.
Agnes Varda
(1928-2019)