Movies
Review: 'Uncut Gems'
The new Adam Sandler drama is pretty, but lacks focus—time to get caught up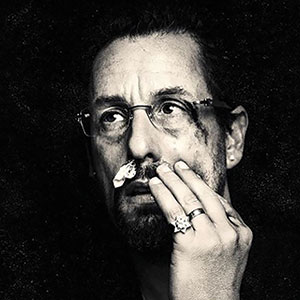 The title sequence of Uncut Gems opens on the depths of a fine black opal, penetrated to observe lightning flashes of Day-Glo orange and green. This fades into the smooth, gray-pink walls of a human colon during a colonoscopy. Tonight, we're going to see an asshole thoroughly probed. In the role of Howard Ratner (asshole and rat), Adam Sandler has a certain fascinating yet monotonous drive.
He's Howie, a terminal hustler with colossal gambling debts. He's also an NYC Diamond District salesman, who caters to the kind of thug-life clientele whose quarrel-prone, armed entourages would scare off most dealers. The more top-drawer names in hoops and hip-hop are led to Howie by his pilot fish (Lakeith Stanfield), where they're beguiled by watches that cost 20 grand, and diamond-studded trinkets such as a miniature Furby whose eyes swivel. Through shifty means, Howie acquires the opal we see in the title shot: a million-dollar score, obtained from exploited Ethiopean Jewish miners. In a moment of chatty foolhardiness Howie shows the opal to Boston Celtics star Kevin Garnett (playing himself). Garnett wants it and takes it, no matter what trouble it causes for Howie.
Directors Josh and Benny Safdie have the advantage of considerable forward motion, as well as the Hitchcockian law that we won't judge a lowlife as long as he's good at his game. Any given movie audience today is at least half-full of debtors, so Uncut Gems has a hook they'll feel.
It's sins of the flesh that get Howie. Julia (Julia Fox), who works with him, is the standard film noir girl—crude, hot but totally decent; obedient as a sexbot and tough enough to resist the hand that tries to sweep her away. Her willingness for everything is a contrast to Dinah (Idina Menzel), Howie's Jewish empress of a wife, who is waiting until after Passover to file for divorce. Menzel is primarily a stage actress, and they haven't yet made a movie that she doesn't overpower.
Uncut Gems can be read as an ethnic story, a tale of the punishment that a Chosen Person can expect for straying. This is underscored in a Passover litany of the plagues unleashed by He Who Shall Not Be Named. Maybe I'm too gentile to get Uncut Gems, but I'd counter-accuse people who didn't turn up for the Coen Brothers' A Serious Man because they heard it was all about Jewish self-loathing. Compared to this?
Sandler is reasonably good. His uneasy, egg-shaped face bares its teeth in anxiety instead of contempt—as in his other 800 movies. His timing is good when he mutters in passing to a colleague who wishes him a good Passover, "So, you're a Jew again? Welcome back." He's convincing in an I-want-my-mommy fit after the tower of trouble he's stacked for himself finally collapses.
The star whose name can get your movie made is the same star who'll want his character's humanity inflated—he'll want his character to be a diamond in the rough, hence the plural in Uncut Gems' title. This movie will have us know that Howie's soul sparkles. If he's a degenerate gambler and a cheater, he's also a family man who'd move mountains for his son and who stuffs the kid's bedroom with toys as if it were a warehouse. A viewer needs to remember these things when they're being yelled at for two hours as if they were Sandler's personal assistant.
The movie winds up with a final hustle, in which the loan sharks (Eric Bogosian and Keith Williams Richards) are trapped in a glass security booth. Aesthetically speaking, it's like standing outside that prime rib place in San Francisco where you can watch the sides of beef aging through the glass windows. The Safdies have talent, and if they'd cut this uncut gem they'd get closer to the work they're emulating—Sidney Lumet's Before the Devil Knows You're Dead, for example. Photographer Darius Khondji makes the work fevered and appropriately opalescent. Let's see what they do next. Hopefully it's something where they aren't contractually obligated to remind you that the protagonist is a mensch every five minutes.
Uncut Gems
R; 135 Mins.
Valleywide