[ Archives | Metroactive Central ]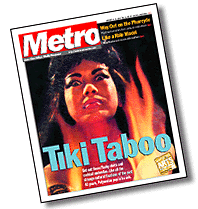 January 4-10, 1996
Cover
Polynesian Polyester: Dig out those Hawaiian shirts and bamboo picture frames--tiki is blowing in on the trade winds of mainstream culture again. Is it island love, pagan lust or an archaeological excavation of the '50s soul? Richard von Busack takes tiki to the limit.
Arts &amp Entertainment
Music
Madonna Materializes: Long after Michael Jackson and Bruce Springsteen have faded into scandal and mediocrity, Madonna continues to create pop epiphanies.

Jazz and Blue Notes: Nicky Baxter takes one last look back at 1995's best albums.

Czars of Bizarre: On its new album, hip-hop humorists the Pharcyde show flashes of bitterness.

Get a Moog On: The Rentals indulge in roaring guitar, infectious female "ooh-hoo-hoo" background vocals and soaring violins.

Audiofile: Reviews of the latest CDs by World For Ransom, Sexx, The Beauticians and Wild Bouquet.

Beat Street: Shonen Knife is sharp.

Books
Science Fiction and More: Octavia Butler defies categories in Bloodchild, a collection of short stories and essays.

Art
Digging Up the Future: Michael Sturtz sculpts the future--warts and all.

Stage
Suspense in the Flickering Light: Gaslight, at ACT in San Francisco, deftly combines suspense and drama with touches of humor.
Dining
Sensuous Sushi: Christina Waters visits Yakko Japanese Restaurant in Mountain View and its world-class sushi bar.

Bargain Bites: Ranch 99 Market, a spanking-new Asian food megastore.

A la Carte: Chile weather; Mirassou moments; making tracks.
---
This page was designed and created by the Boulevards team.
Copyright &copy 1996 Metro Publishing and Virtual Valley, Inc.