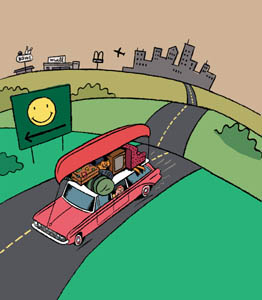 Illustration by Brian Biggs

Close-by Campouts

Getting-away-from-it-all on less than a tank of gas

THE VALLEY IS, as some like to say, a great place to get away from. And as the weather warms up, everyone will try. But most will drive their brains out, through places like Bakersfield and Redding. Many will head into territory where they brush up against L.A.-liens. Others will arrive late to their destinations, without reservations, and embark upon the horrific tradition known as setting up camp in the dark.

Whether it's for a four-day weekend or an extended escape, the South Bay makes a perfect jumping-off spot for relatively nearby camping adventures--to the ocean, the redwoods, the Marin headlands or the oak-dotted foothills.

The beauty and solitude of these destinations belie their proximity to civilization. We set a one-way driving time of two-and-a-half hours. Here are some of the best natural hideaways to pitch a tent, sleep under the stars, and listen to the crickets, for less than a tank of gas, plus all the information for getting a reservation in early.

The New Bohemians: A dotcom escapee decides to take the money and run--halfway around the world. And she's not alone.
New Economy Nomads: Travel to bohemian lands is affordable.
Call of the Wild: Never mind the rain--sunshine and wildflowers are ahead. Now's the time to plan great escapes.
Be Reserved: Popular Parks Can Be Booked Online.
Exterior Decorating: Gadgets for the quintessential car camper abound and some are worth the price.
Mission Accomplished: Three missions, one afternoon, a heavenly feeling.
Ready to Run: Training for a marathon is 90% perspiration, 10% lunacy.

North
Angel Island State Park
Located on Angel Island, surrounded by the waters of the San Francisco Bay, this place is for campers willing to do a little work for great rewards. It requires a ferry boat ride from the city, followed by a two-mile hike into one of nine tent camping sites. But the sites offer privacy, the views can be exquisite (if the fog doesn't become a wet blanket), not to mention the peace and quiet of having the island to yourself at night. Plus, who else can say they've gone island hopping without getting on a plane?
General Info.: For ferry information from San Francisco, Vallejo and Oakland/Alameda, call 415.705.5555. Angel Island State Park: 415.435.1915; reservations: 800.444.PARK.
Samuel P. Taylor State Park
A beautiful setting tucked deep in the redwoods near San Rafael and the Point Reyes National Seashore, this campground has 25 sites exclusively for tents and 35 others for tents or RVs. There's a creek, plenty of shade and about 20 miles of hiking/biking trails. For a great day trip, the Point Reyes Seashore and surrounding towns are a short and scenic drive away.
From U.S. 101 in Marin, take the Sir Francis Drake Blvd. exit. Head west for 15 miles. Park is on the left.
General Info.: 415.488.9897. Reservations: 800.444.PARK.
Steep Ravine Environmental Campsites
Located in Mt. Tamalpais State Park, overlooking the ocean from Rocky Point, this campground is a real gem. Small, with only six tent sites and 10 primitive cabins, it requires campers to do a little walking, but it's well worth it. Hikes, ocean views, no RVs and a real feeling of isolation. From U.S. 101, take the Stinson Beach/Highway 1 exit. Turn left at Highway 1 and drive north 11 miles to the campground gate on the left. Reservations required.
General Info.: 415.388.2070. Reservations: 800.444-PARK.
China Camp State Park
Some great hiking surrounds this beautifully wooded and wildlife-rich park adjacent to Pablo Bay. It has 30 walk-in sites for tents, with showers available. From San Francisco head north on U.S. 101 toward San Rafael. Take the North San Pedro Road exit and head east for five miles to the park entrance at Back Ranch Meadows. The road leading to the campground veers off to the right. Campers will have to park and walk in to their sites, but only a short distance.
General Info.: 415.456.0766. Reservations: 800.444.PARK.
South
Henry W. Coe State Park
This place, all 100,000 acres of it, is natural mecca of beautiful winding trails, oak-studded foothills, sparkling ponds, streams and small lakes teeming with wildlife. It's a favorite among area nature-lovers for good reason: there is enough room to find peace. There are several camping options here--20 drive-in sites located near park headquarters, as well as 80 hike-in/bike-in sites. Since some of the park's most pristine fishing ponds are 10-25 miles in, it's popular with the equestrian set. Some of the wilderness hikes are harder than they look, so talk to headquarters about water availability and conditions before you begin.
From U.S. 101 in Morgan Hill, take the East Dunne Avenue exit, head east, cross over Anderson Lake and go to the park entrance (13 miles).
General Info.: 408.779.2728. Reservations: 800.444.PARK.
Joseph Grant County Park
This hidden-from-view, just over the hills park is a vast and beautiful getaway from life on the valley floor. With 40 miles of hiking trails and a picturesque lake nestled into oak grasslands, this place contains open space as far as the eye can see. The 40 campsites are open to tents or RVs, so tent campers best arrive early and stake a spot on the periphery. Lick Observatory can be accessed by a drive east for a view of the life you've left behind.
General Info.: 408.274.6121. Reservations: 408. 358.3751.
Manresa State Beach
Ocean views, seclusion, beach access and no RVs. That about sums up why this is a worthy--and popular--choice for close-to-home camping. That said, reservations are essential here. With 64 walk-in sites on the Pacific Ocean and easy access from Highway 1, Manresa has real restrooms and coin-operated showers. From Highway 1, take the San Andreas Road exit. Head five miles to Sand Dollar Drive, where there will be signs leading to the park's entrance.
General Info.: 831.761.1795. Reservations: 800.444.PARK.
Pfeiffer Big Sur State Park
Julie Pfeiffer, not Michelle. And yes, this campground is at the far edge of local, but it's so well worth the 2-to-3-hour drive from here, it had to be included. The Big Sur beach zone is among the most scenic in the state, offering breathtaking views of sea and shoreline and abutting beautiful hiking trails and fragrant redwood forests. Abundant animal and plant life and the crispest of air guarantee a memorable escape. But the word is: reserve now. It has 218 drive-in sites, and some fabulously remote hike-in and bike-in sites that are definitely worth the trip. Located off Highway 1, 26 miles south of Carmel.
General Info.: 831.667.2315. Reservations: 800.444.PARK.
West
Big Basin Redwoods State Park
Why do lifelong valley and Santa Cruz residents turn up their noses at this park? For no good reason. This is one of the state's best and most beautiful getaways, and it's situated right in our own backyards. With waterfalls, giant redwoods, seclusion and a range of short and long hikes through the forests of the Santa Cruz Mountains, Big Basin offers 74 sites for tents only, and 41 tent cabins (must be reserved) plus 38 walk-in sites and 40 hike-in sites.
General Info.: 831.338.8861. Reservations: 800.444.PARK. Tent cabins: 800.874.8368.
Portola Redwoods State Park
Commuters stacking up along Highway 280 have little idea what would happen if they drove due west and followed winding mountain roads. The fact is, in about an hour of twisting and turning roads, they'd reach some of the most beautiful and secluded forests of the Santa Cruz Mountains. Located near Skyline Ridge, this park offers 53 sites for tents or RVs. From 280, head west on Page Mill Road to Skyline Blvd./Highway 35. Cross Skyline and continue west on Alpine Road for about three miles. Turn left on Portola State Park Road and go three more miles to the park's entrance.
General Info.: 650.948.9098. Reservations: 800.444.PARK.
Butano State Park
Beautiful hikes, fleeting ocean views and statuesque redwoods make this park near Pescadero north of Santa Cruz a favorite. There are 21 drive-in sites and 18 walk-in sites, with picnic tables, fire grills and restroom. From Highway 280, head west on Highway 92 to Half Moon Bay. Head south on Highway 1 and take a left at the Pescadero Road exit (15 miles or so). Pass the town of Pescadero and turn right on Cloverdale Road. The park is about five miles in, on the left.
General Info.: 650.879.2040. Reservations: 800.444.PARK.
Henry Cowell Redwoods State Park
Different Henry than the Coe fellow and not to be confused with Henry Coe State Park, this pretty and treesy park is parted by the San Lorenzo River in the shady Santa Cruz Mountains. This low-key spot has 112 sites for tents and RVs, basic camp amenities, and some hikes offer views of the ocean. Take Mount Hermon Road off Highway 17 and drive West toward Felton. Go left on Lockwood, then left on Graham Hill road. The camp will be on the right.
General Info.: 831.335.4598. Reservations: 800.444.PARK.
Half Moon Bay
This is a three-mile-long state park consisting of Francis, Dunes, Venice and Roosevelt beaches, with 53 grassy campsites that overlook Half Moon Bay. Because of summer fog, spring and fall are the best time to visit. From Highway 280, take Highway 92 to Half Moon Bay, go through the town, then head south on Highway 1 for one block. Turn right on Kelly Avenue.
General Info.: 650.726.8820. No reservations required.
East
Anthony Chabot Regional Park
Nestled into the east bay foothills and overlooking Lake Chabot, this well-developed campground features 65 tent and RV sites. There's fishing and boat rentals, as well as hiking and biking trails amid the eucalyptus and rolling hills. From Interstate 580 in Oakland, head east at the 35th Avenue exit. Eventually this turns into Redwood Road, where you continue for eight miles to the park entrance.
General Info.: 510.639.4751. Reservations: 510.562.2267.
Mount Diablo State Park
At almost 4,000 feet in elevation Mt. Diablo offers some of the best views of the state. Pick a clear spring day and you may be lucky enough to see all the way to Yosemite. The park's 60-plus campsites are located in oak and grassland, with the protected sites being the most desirable. (Beware the wind.) From Highway 680, take the Diablo Road exit and head east. Turn left at Mount Diablo Scenic Blvd., then three miles or so to the park gate.
General Info.: 925.837.2525. Reservations: 800.444.PARK.
Del Valle Regional Park
The blue-green waters of long, slender Del Valle Reservoir fill this wooded canyon adjacent to the Ohlone Regional Wilderness area. Known for its trout, striped bass and catfish, Del Valle is big with the fishing and boating crowd and hence fills up on weekends, especially holiday weekends, even with 150 sites. It also offers some beautiful and challenging walks stretching into the nearby wilderness area and to the peaks beyond. Take the North Livermore Avenue exit off Highway 580 and head south. Turn right on Mines Road and head three miles to Del Valle Road. Take another right and go three miles to the park's entrance.
General Info.: 510.635.0135. Reservations: 510.562.2267.
[ San Jose | Metroactive Central | Archives ]