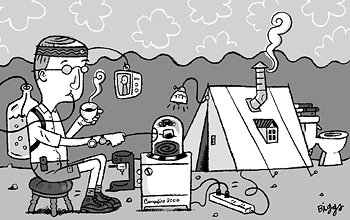 Illustration by Brian Biggs

Exterior Decorating

Gadgets for the quintessential car camper abound and some are worth the price

By Corinne Asturias

THE YUPPIE MACHINE has gone into overdrive in the outdoors world of late. And the result is more choices. The camper will have to decide in his or her own mind:

Is it worth carrying into camp?

Is it torturous to clean afterward ?

Is it worth carrying out of camp?

Is it one of those things you will look at in its box later and feel foolish for purchasing, owning and dragging into the middle of nowhere and back?

These are personal questions, with personal answers. Here's some of the latest gadgetry on the shelves at local sporting goods stores.

The New Bohemians: A dotcom escapee decides to take the money and run--halfway around the world. And she's not alone.
New Economy Nomads: Travel to bohemian lands is affordable.
Call of the Wild: Never mind the rain--sunshine and wildflowers are ahead. Now's the time to plan great escapes.
Close-by Campouts: Getting-away-from-it-all on less than a tank of gas.
Be Reserved: Popular Parks Can Be Booked Online.
Mission Accomplished: Three missions, one afternoon, a heavenly feeling.
Ready to Run: Training for a marathon is 90% perspiration, 10% lunacy.

Ciao, Baby
The Camping Espresso Maker
Well, OK, the manufacturer actually spells it with an 'X,' as in "Mini Ex-presso Maker," and this unfortunately puts them in the category of people who spell barbecue with a 'Q.' But anyway, this setup is small and durable and stainless steel and shiny. The little cups, like tiny orbs, are quite Euro and could double as shot glasses later in the, er, day. The bottom reservoir of the coffee maker fills with water, and as it boils, the pressure forces it through the coffee and out a little spout, where hopefully the camper has a cup waiting. Makes two pretty tasty demitasse cups. Price: $24.99. Cups: $1.95 each.
In Hot Water
Solar Showers
This is essentially a big collapsible plastic bottle that a camper fills with water and hangs from a tree in the sun each morning, which delivers a spray of surprisingly hot water each evening. The amazing part? It really works. Since there are so many remote campgrounds without showering facilities and even more which claim to have them, but really offer lukewarm, quarter-fed medieval torture devices, this is a solid concept for the devoted camper. (Unfortunately, it's also the closest many of us have ever come to using solar power.) Also great for washing dishes and taking sponge baths. They cost anywhere from $20-$30. For the serious bather, there's the Sun Shower Enclosure, for an additional $27.95.
Between a Rock And a Hard Place
ThermaRest Pads
Who can put a price on a good night's sleep? Well, someone tried and it turns out it's a lot--anywhere from $60 to $100 for the thinnest, most durable and most comfortable sleeping pad imaginable, the ThermaRest. These semi-inflatable pads have actually been around for many years, but are now available in more shapes, sizes and thicknesses than seem necessary. They roll up thin and with a few puffs of air (literally, six or so) provide a durable cushion of air between hips, shoulders and the ground.
Sucking Sound
The KamelBak
It is apparently now deemed too much work for the average person to actually remove a water bottle from a backpack, unscrew the lid and take a sip from it. One must now carry a large flat reservoir on the back with a tube going to the mouth, which merely has to be sucked on for water to trickle into the mouth, like a hospital patient. The KamelBak water system was a wondrous invention for racing cyclists and extreme hikers, but it has now become de rigeur for all activities that take place more than a quarter-mile from a drinking fountain. They cost between $40 and $100, and if you can get over the idea that you look like a hospital patient, they'll help ensure that you've always got enough water with you, wherever you hike. Some of the more expensive ones come with zipper compartments and pouches, so they can double as daypacks.
The Kitchen Sink
Coleman Camp Kitchen
They've finally done it--come up with the mother of all kitchens, and it's coming soon to the back of a Suburban near you. The Coleman Camp Kitchen is essentially a tabletop-sized suitcase on legs, that opens up to reveal a countertop, a sink, a stove area and a wall of hanging utensils and pots and pans. There's undercounter storage space for dishes and the ever-important paper-towel holder. And because it has legs, the cook need not be restricted by the location of the picnic table. (What is it with the rangers that tables are situated in the windiest location possible?) It also solves the ever-challenging problem of food prep space. And when the work is done, why not close it up and play a game of backgammon on the lid? Drawbacks: it's heavier than a stove, and costs $230. And hey, isn't the reason for going camping to GET AWAY from the demands of overly tidy kitchen syndrome?
Heads Up
The Headlamp
Ever notice that a flashlight is (1) never around in the dark (2) never where you left it and (3) never pointing where you need it? Well, if you don't mind looking like a coal miner, (and isn't camping really about letting go, anyway?) there is a plethora of illuminating devices known as headlamps that solve these problems. Various devices from Petzl and Princeton Tec offer an array of headlamps on adjustable head straps, in varying intensities. They run from $20 to $60, with the high end being the high output halogen model. But, regardless of price, all headlamps have the distinct advantage of pointing where you're looking and allowing the hands to be free for other things.
[ San Jose | Metroactive Central | Archives ]