Summer 2005 Guide
Movies
Music
Theater
Festivals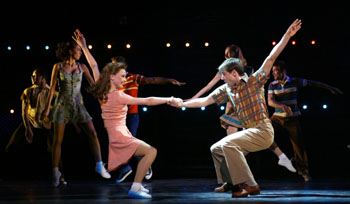 Photograph by Joan Marcus
Tharp Speed: American Musical Theatre of San Jose swings into summer with a production of Twyla Tharp and Billy Joel's 'Movin' Out,' June 14-26.
Burning Up the Boards
The not so lazy hazy days of summer theater
By Marianne Messina
THIS SUMMER is going to be anything but lazy in theater around the South Bay. Instead, companies are kicking off expanded seasons or taking on ambitious projects or making new statements.
One of these is Renegade Theatre Experiment, which launches both an expanded four-play season and its residence in a new venue with Lorca in a Green Dress (July 14-30). To mount Nilo Cruz's surrealistic play about the Spanish poet Federico Garcia Lorca, the company is undertaking the costly construction of a thrust stage and the search for a flamenco dancer, who will be an integral character in the play.
"She represents the passion of Lorca and acts through her dance," says RTE artistic director Sean Murphy. According to Murphy, Cruz's play has added a human dimension to his understanding of the revered poet. "The play involves Lorca arriving in a bizarre purgatory ... and having to go through a series of self-evaluations in order to accept his death prior to moving on to the next stage of growth," Murphy explains.
"This screamed Renegade to me," Murphy continues, "given where we are in our development as a company. We are entering a new home [the Historic Hoover Theatre in San Jose's Rose Garden district] and don't really know what the future holds for us, but, like Lorca, we are going to experience everything fresh this season."
Coiled Again
San Jose Stage Company also initiates its expansion to a year-round season by bringing Canada's Electric Company to produce Brilliant! The Blinding Enlightenment of Nikola Tesla (June 1-26 at the Stage in San Jose). With Brilliant! the 23-year-old company opens itself up to another company for the first time. Artistic director Randall King felt "it would be a good comparative for our audience to see another producing company ... perform in our environment."
King knew from the opening scene of a video he saw of Brilliant! that he wanted it for the Stage. "When the lights come up, there's a woman sitting on a box like a bird ... with a cowl of a pigeon. ..." As the woman proceeded to create the character of a park pigeon Tesla befriends, King was struck by the innovative acting.
In its quirky look at the loneliness of the man who invented the Tesla coil and is known as the father of alternating current, the play includes a dueling tap dance between Tesla and rival Thomas Edison, and an ever-present staging device: a blue ball (on which images are displayed) that represents the huge world of Tesla's vision. "Because he saw things that no one else saw, people thought he was mad," says King.
This summer, Pear Avenue Theatre of Mountain View offers a more cynical look at the connection between madness and genius in Amy Freed's The Psychic Life of Savages (May 20-June 5). Offbeat and occasionally irreverent, Freed's play re-creates the various mental illnesses of poets like Sylvia Plath, Robert Lowell and Anne Sexton, suggesting possible dependencies between the poet and the illness. Pear artistic director Diane Tasca sums up the psychology: "This sets me apart, but makes me special."
Maude Squad
Another adventurous production for the summer will be a new musical version of Harold and Maude at TheatreWorks (July 20-Aug. 14). Taking on the cult film, composer Joseph Thalken (goodbye Cat Stevens soundtrack) and writer Tom Jones (of the Broadway hit The Fantasticks) will be in residence at TheatreWorks polishing off the script. (For a nice companion theater outing, California Theatre Company will be staging Tom Jones' The Fantasticks in repertory this summer, June 2-July 24 at Sunnyvale Community Theatre).
Director Robert Kelley admits that he was a big fan of the Colin Higgins film, shot entirely around the Bay Area in the 1970s. Kelley points out that a key scene took place in a Palo Alto church where he was once an altar boy, just blocks away from the Lucie Stern Theatre where the play will be performed.
And yet, "I actually responded more strongly to the musical when it was all said and done," Kelley reports. "It focuses on the issues a little more tightly because you have to concentrate on just a few scenes. ... You can definitely see the influence these two [Harold and Maude] are having on each other."
Generally, producing a classic is not considered bold theater, but Northside Theatre Company's version of Moliere's 17th-century Tartuffe promises to be an exception. "We are taking liberties with the entire play," says director Richard T. Orlando. "Tartuffe always reminded me of an evangelist. Then I studied a few translations and found one that fit the concept I wanted to do. We are setting the play in 1950 and placing it in central Texas. That's right—it's funny, it's French, it's farce and it's Texas."
Stuck on Idols
In addition to the fresh and the quirky, this summer season will have its share of full, fat, emotionally satisfying musicals. San Jose Stage's summer musical, Idols of the King (July 13-Aug. 7 at the California Theatre in San Jose), makes the "postage-stamp" Elvis come alive. Randall King traveled all the way to Alabama to scout out just the right Elvis. And in the show's final Vegas number, the search pays off.
"The classic rockabilly Elvis is there, the gospel Elvis is there, the movie Elvis is there," says King, and though Elvis impersonator Scot Bruce is dressed like "that bloated, sweaty Elvis in Vegas," as King puts it, the slim, youthful Bruce can suggest the older Elvis without losing sight of the younger. "You just go with it because that's who Elvis wanted to be."
Mix music with magic and a love story, and you have Brigadoon, produced this summer by Foothill College (July 22- Aug. 14 at Smithwick Theatre). In this story of a mythical Scottish town that materializes for a single day every 100 years, who can resist Mr. Lundie's line, "I told ye when ye love someone deeply, anythin' is possible. Even miracles."
When two Americans wander into the town, one falls in love and is forced to ask himself what are the important things in life. Jay Manley, who's directing the 50-cast-member production, is caught up in his own love affair with "the music, the music, the music! Frederick Loewe's score is one of the richest, most melodic, lushest scores in all of the Broadway literature."
A generation newer and with added darkness, Movin' Out (June 14-26 at the San Jose Center for the Performing Arts) puts love to the test at American Musical Theatre of San Jose (after its current run of Cats). With Twyla Tharp choreography—moonwalking, breakdancing—set to Billy Joel's music, this musical hits all the buttons from nostalgia to serious questions about how to put life back together after a war.
Alice Aforethought
Starting their summer season with a leaner, more interactive, reviewlike musical, City Lights presents A ... My Name Is Alice (May 19-June 26), a feel-good panorama of women building supportive relationships. Bouncing through varied women's lives, the play's five actresses enact many roles.
"Because it's only five," says director Lisa Mallette, "it's fun to see them show up—you know, this one just sang this ballad, and in the next one they're playing a guy in a scene and in the next scene they're doing '60s girl-group backups."
The women of Alice are meant to establish a rapport with their audience. "They all have this warmth, an openness that is sort of instinctual," Mallette says of the actresses she chose for the show. "They don't have that separation, that wall up between them and the audience."
For love without the music, the summer's offerings will include Dolly West's Kitchen at TheatreWorks (June 15-July 10), set in Ireland during World War II (and with a robust cast that includes actors from British TV and American soap opera), and two plays on lost love, Pear Avenue's What the Birds Carry (July 8-24) and City Lights' The Pavilion (July 28-Aug. 20), in which the lovers get a second chance, 20 years later at their high school reunion (their classmates are all played by a single actor).
The summer will also see visiting solo performers, comedienne Kate Rigg at City Lights in Birth of an Asian (June 3-July 10) and Avner the Eccentric (Avner Eisenberg) in Exceptions to Gravity at San Jose Repertory Theatre (June 11-July 17). In the tradition of Marcel Marceau, Avner takes the simplest objects, "a stack of paper cups, paper napkins," and turns them into his unique humor. From Broadway to film roles, his routines have sparked a huge engine of success, but the humor boils down to a simple idea, according to Avner.
"I think the real key to, well, all theater, but physical theater in particular, is to be interested, not interesting. ... Let the audience go on the emotional ride that the actor is going on." From Avner's lips to the summer theater god's ears.
---
Send a letter to the editor about this story to letters@metronews.com.
---
[ Silicon Valley | Metroactive Home | Archives ]