---
The Metro Bars & Clubs 2003 Guide
[ San Jose Outskirts | Campbell | Cupertino | Los Gatos | Mountain View | Peninsula | Santa Clara | Saratoga | Sunnyvale ]
---

Photographs by Dru
Blank Check: Indie, punk, no-wave, and DJs shake the shack at the Blank Club.
San Jose Central
840 North First
840 N. First St, SJ; 408.282.0840
Hours: Mon-Fri 11am-9pm, Sat 5-9pm
Crowd Age: 40s and up
Music: Occasional live jazz on Saturdays with Noel Catura
Decor: Bistro casual
Signature Drink: Chardonnay
Amenities: Access to your elected representatives
840 North First came alive in the '90s, much to the delight of local city officials who risked jaywalking across First Street to get there. Silicon Valley socialites still frequent the tony spot for lunch and dinner. Illuminated by three minispotlights, the marble bar is inviting and relaxing--and placed away from the main dining area, so as to keep eyes from spying who's slipping a Mickey to whom.
---

A.P. Stump's
163 W. Santa Clara St, SJ; 408.292.9928

Hours: To be announced
Crowd Age: 30 and up
Music: No
Decor: Sleek and elegant
Signature Drink: Fine wine from its 4,000-strong cellar
Amenities: New American cuisine

On March 22, a two-alarm fire inside A.P. Stump's air duct shut down the downtown San Jose dining establishment. General manager Randall Bertao says major repairs should be finished this week, and the restaurant is scheduled to reopen July 4 weekend. "The work that had to be done was more extensive than we thought," said Bertao, "The ducting had to be remanufactured and reconstructed up to new specs." A.P. Stump's plush and dramatic interior was kept intact, and Bertao used the extra time to collaborate with his staff on new culinary treats. Bertao says, "We're going to reopen with a more knowledgeable staff and new menu ideas." Cheers to that.
---

Agenda Lounge
399 S. First St, SJ; 408.380.3042

Hours: Restaurant Tue-Sat 5:30-10pm; lounge Wed-Fri 5pm-2am, Sat-Sun 8pm-2am
Crowd Age: Mid 20s-early 40s
Music: DJs playing reggae, salsa, soul, hip-hop and house, plus some live events; call for schedule
Decor: European deco
Signature Drink: Apple Martini
Amenities: Upscale restaurant, outdoor patio, pool table

Like a brick house--which, coincidentally, it is, albeit an architecturally sophisticated one--Agenda stands smack in the middle of the SoFA club hubbub. California cuisine on the main floor, a DJ lounge upstairs and hard-thumping music in the Speakeasy--an underground (in the literal sense) dance club--ensure everyone stays busy.
---

Aqui Cal-Mex Grill
5679 Snell Ave, SJ; 408.362.3456; 1145 Lincoln Ave, SJ; 408.995.0381

Hours: Mon-Thu 11am-9pm, Fri-Sat 11am-9:30pm
Crowd Age: Families
Music: Piped-in salsa
Decor: Southwestern funk
Signature Drink: Margaritas with creative ingredients
Amenities: Televisions, California-Mex cuisine

Aqui stands out from the gaggle of establishments along Willow Glen's Lincoln Avenue for its casual and customer friendly nature--not to mention its 40 tequilas and exotic fresh fruit mixers. A second location in South San Jose sports funky Southwestern art and a larger bar to accommodate the Santa Teresa/Blossom Valley clientele.
---

The B-Hive
372 S. First St, SJ 408.298.2529

Hours: Thu-Sat 9pm-2am
Crowd Age: 20s and up
Music: Hip-hop, R&B and reggae DJs
Decor: Hip-hop saloon
Signature Drink: Bombay Gin ('n' Juice), (Pass the) Courvoisier
Amenities: Pool tables

50 Cent probably had the B-Hive in mind when he wrote "In Da Club"--the place buzzes to hip-hop and R&B. Other clubs have tried to siphon off the B-Hive's attendance with similarly themed nights, but the Hive (formerly known as Ajax) remains the preeminent SoFA spot to get crunked up. The Hive attracts attention (Sabercats, SJSU athletes, Raiders and Niners) because of its heavily promoted KMEL nights; it's also a favorite of SoFA district police, who monitor patrons' every move past 1am.
---

Big Lil's Comedy Cabaret
157 W. San Fernando St, SJ; 408.295.7469; www.biglils.com

Hours: Fri-Sat, doors at 6:30pm, show at 8pm
Crowd Age: All ages (but PG-13 material)
Music: No
Decor: Saloon
Signature Drink: Beer
Amenities: Vaudeville, comedy, Tony Roma's catering

One of the last remaining vaudeville outposts in the Bay, Big Lil's cranks out the villains, heroes, damsels and double-entendres. It's a complete evening out with laughs, hisses, and a catered Tony Roma's barbecue dinner. Lately, Big Lil's has been experimenting with its format by booking regular Wednesday standup comedy nights. Starting in September, Big Lil's presents the second season of Stand Up! It's Thursday Night, where a splinter group of Big Lil's actors perform sketch comedy at the KRON studios inside the Knight-Ridder building. The shows are taped in front of a live audience and broadcast on KRON at 1:30am Saturday morning.
---

Blake's Steakhouse and Bar
17 N. San Pedro Square, SJ 408.298.9221

Hours: Daily 11am-10pm
Crowd Age: Mid-30s
Music: None
Decor: Loft
Signature Drink: Sharktini
Amenities: Occasional wine tasting

If you're going to meet someone at Blake's bar, it's easy to find. Walk inside the double doors and--bam!--there's the bar, right in the middle of the restaurant. Blake's was once a bookstore; now it's a steak house and a more refined place to drink than some of San Pedro Square's more rowdy pubs. The bar is perpetually packed before Sharks games and HP Pavilion events, so plan accordingly.
---

The Blank Club
44 S. Almaden Ave, SJ; 408.29.BLANK; www.theblankclub.com

Hours: Sat-Tue 9pm-2am, Wed-Fri 5pm-2am
Crowd Age: 20s-30s
Music: Indie/punk/electro-pop/DJ
Decor: Dark and dangerous
Signature Drink: Pabst Blue Ribbon
Amenities: Comfy couch, friendly bartenders

Named after the documentary The Blank Generation, which chronicles the birth of punk rock, the Blank Club spikes its environs in black paint, with a DJ booth, stage and dance floor, leopard-print couch, and retro red booths creating different cool zones. Larry Trujillo, the Blank's booker, reels in great indie, pop and punk acts, along with assorted no-cover DJ nights.
---

Blue Tattoo
170 W. St. John St, SJ; 408.286.1515; www.bluetattoosj.com

Opens: June 27

Blue Tattoo's grand opening occurs a week after this issue--June 27--and while this kind of scheduling conflict would normally make us grumpy and belligerent, our beer-goggled excitement negates all that. The Blue Tattoo is laid out on the site of the old Club Ecco and a complete remodel promises four separate rooms bumping house, down-tempo, R&B and commercial hip-hop. Owner Eric DeBlasi, the brain trust behind clubs like Ibiza (featured on Wild on E!), Southern California's Margarita Rocks and, until two years ago, the Limelight in Mountain View, plans an oyster bar and a margarita bar where 50 different margaritas can be made, plus the biggest spread of after-work delectables in the South Bay. See you there.
---

Branham Lounge
1116 Branham Ln, SJ 408.265.5525

Hours: Daily 9am-2am
Crowd Age: Over 30
Music: Jukebox
Decor: Dark living room
Signature Drink: Manhattan
Amenities: Fireplace

For a friendly drink without the frills, at a place where it's possible to chat without shouting over the din, Branham Lounge checks in with high marks. The lounge keeps the lights low and chairs comfy, allowing even the most discreet couples (a la Billy Paul's "Me and Mrs. Jones") to pitch the forbidden woo in front of the fireplace.
---

The Britannia Arms
5027 Almaden Expy, SJ; 408.266.0550; and 173 W. Santa Clara St, SJ; 408.278.1400; www.britanniaarms.com

Hours: Daily 11am-2am
Crowd Age: 20s-40s
Music: Live music Thu-Sat
Decor: Brit tongue-in-cheek
Signature Drink: Guinness, Newcastle, Bass
Amenities: Heated outdoor patio, big-screen TVs, dart boards, foosball, video games, dominoes, soccer league

A casual ambience plus tasty pub grub make all three South Bay locations of the Britannia Arms popular places to congregate, watch sports on the big screen and catch some of the area's most popular bar bands. But there's something extra special about the Brit on Almaden, which has been unofficially christened the rock & roll Brit: After rehearsal and on nights when they don't have gigs, local rock musicians often gather here to knock back a few and, on occasion, belt out some karaoke tunes.
---

Under-cover Druthers: Party on the dance floor or cuddle up in a gauze-draped tent--the choice is yours at Cabana.

Cabana
396 South First St, SJ; 408.971.2262; www.cabanasanjose.com

Hours: Thu-Sat 9pm-2am
Crowd Age: 20s-40s
Music: DJs--house and hip-hop
Decor: Tropical deluxe
Signature Drink: Bottle service in the cabanas (includes bottle of vodka, juices and glassware)
Amenities: Four full bars and a sushi bar, numerous cabanas

Gilligan, meet Ginger's fantasy. From the moment you enter Cabana, you're transported to a lush, resortlike paradise. Eyes immediately zoom in on a giant two-story cabana--the second story of which is designated for the club's sexy go-go dancers--then on the cool blue lights of the sunken dance floor that serves as the club's centerpiece. Full bars stretch along opposite walls. Luxurious semiprivate cabana suites with sheer draperies line two tiers upstairs, and sleek couches encourage flirty conversation.
---

The Caravan
98 S. Almaden Ave, SJ; 408.995.6220

Hours: Daily 6am-2am
Crowd Age: 21-100
Music: Jukebox, wide variety, live bands on Thu-Fri
Decor: All brown; dive bar meets desert caravan
Signature Drink: Chillum Shots
Amenities: Pool table, dart board and plenty of head games

Catering to the hard-drinking crowd, hipster refugees from the club scene or occasional strays from the Greyhound Station and the Plaza Hotel upstairs, the Caravan calls itself San Jose's best dive bar. But it's not that bad, really--regulars are treated well, the drinks are strong and live music is back. They even sell six-packs to go. Sign above the bar says: "Sex is like credit. Some get it, some don't."
---

The Cardinal Lounge
3197 Meridian Ave, SJ; 408.269.7891

Hours: Restaurant open 24 hours; lounge, daily 10am-2am
Crowd Age: Upper 20s-60s
Music: Live bands, karaoke and a jukebox heavy on pop and R&B
Decor: Vegas casino lounge
Signature Drink: Whatever you want
Amenities: Mon, Wed karaoke, TVs, jukebox

In Vegas, food service ends early, but alcohol flows forever. Here, it's the reverse--this is California, after all. Located in the Hacienda Gardens Shopping Center, the Cardinal Lounge has all the style of a Vegas lounge, with a black, red and mirror color scheme. Fridays and Saturdays are generally the busiest. On alternating Tuesdays, Sweet Talk sings hits by icons like Stevie Nicks, Pat Benatar and Janis Joplin.
---

City Bar and Grill
Hilton Hotel, 300 Almaden Blvd, SJ; 408.947.4444

Hours: Mon-Thu and Sun 11am-midnight, Fri-Sat 11am-1am
Crowd Age: Late 20s-50
Music: None
Decor: American, with wood and polished glass
Signature Drink: Martini
Amenities: Three televisions

A great place to infiltrate the convention crowd getting hammered on the boss's dime, City Bar & Grill looks a lot better inside than the Hilton does from the outside--picture those American grills from the 1950s. Swill custom martinis while hip jazz emanates from the stereo.
---

Club 175
175 N. San Pedro St, SJ 408.298.9283

Hours: Thu-Sat 9pm-1:30am
Crowd Age: 21+
Music: Yes
Decor: Brick House
Signature Drink: Sour Apple Martini
Amenities: Two dance floors, four bars, VIP room, patio

The brick building at the corner of San Pedro and St. James has endured multiple rebirths since its day as a theme bar called Paradise Beach. The name has changed (Club Frixion, Vertigo and until recently Club Wild) but the notoriety has not--it's a virtual Freaknic every weekend. Club 175 is a dressy, 21-and-over dance club with big, beefy bouncers. Fridays feature DJs spinning hip-hop, R&B and dancehall. Saturdays is a gay-friendly night with different promoters, including Club Papi.
---

Club Caribe
1001 S. First St, SJ; 408.297.7272

Hours: Fri-Sun 8pm-1:30am
Crowd Age: Mid-20s-early-30s
Music: Banda, cumbia, ranchera, tropicana and salsa. Live bands nightly
Decor: Elegant, tropical
Signature Drink: Corona
Amenities: TVs blasting soccer matches

A longtime favorite Latino dance joint, Club Caribe hops on the weekends. People line up around the corner to get into the spacious place. Men don their cowboy hats, women dress snazzily, scantily. Coronas flow and folks spin on the dance floor amid the tropical environs. A fun place to sweat.
---

Club Four
514 S. Bascom Ave, SJ; 408.295.4455

Hours: Daily noon-2am
Crowd Age: 21-30
Music: Live bands, jukebox
Decor: Community center
Signature Drink: Kamikaze, Surfer on Acid
Amenities: Jukebox, pool table, darts, TVs, pinball, Megatouch video game, dance floor

On Saturdays, this Burbank area club just off the I-280 offers local bands a supportive space to perform in front of a decent crowd. People come to this sparsely decorated club for the music and the party-all-night scene--at some point, Club Four expects to stay open until 4am. Other weekly events include the Monday-night jam session, karaoke on Tuesdays and DJs every Wednesday-Friday.
---

Club Max
Doubletree Hotel, 2050 Gateway Pl, SJ 408.437.2167

Hours: Mon-Tue 5pm-11:30pm, Wed-Fri 5pm-1:30am, Sat 8pm-1:30am, Sun 11am-midnight; happy hour Mon-Fri 5-7:30pm
Crowd Age: 30s-40s
Music: Wed karaoke, Fri-Sat live bands
Decor: Mirrors, cherry-colored woods
Signature Drinks: Margarita Rocks, Mai-Tai, Blue Hawaiian
Amenities: Two pool tables, two dart boards

If the Enterprise E of Star Trek: The Next Generation had a drinking and dancing deck, it'd be Club Max. There's a sign advising that "fashionable attire" is required--seven pieces of forbidden apparel, including tennis shoes and bandannas, are listed. It's night life for the grown-up set, with a swank layout worthy of the $10 Friday and Saturday night cover charge. (There's none on other nights.)
---

Club Miami
177 W. Santa Clara St, SJ 408.279.3670

Hours: Thu 7pm-3am, Fri-Sun 9pm-3am
Crowd Age: Late 20s-50
Music: Rhythmic, sweaty salsa
Decor: Faux tropical
Signature Drink: Corona
Amenities: Free salsa lessons, 7-9pm Thu

Welcome back, Don Johnson--Club Miami's been storing your faux palm trees, neon, snakeskin shoes, $6 Coronas and hot, sweaty salsa dancing all this time. Whether it's salsa, merengue, cumbias or even Top 40, the men and women dress to impress and have moves that won't quit. Females going solo will be asked to dance more times in one night than they ever imagined.
---

Coconut Willie's Cocktail Lounge
1099 W. San Carlos St, SJ; 408.971.1737

Hours: Mon-Wed noon-2am, Thu-Sun 10am-2am
Crowd Age: 21-80
Music: Jukebox, old and new, live bands occasionally
Decor: Sports meets tropical
Signature Drink: Double Lobotomy
Amenities: Karaoke, pool tables, video games

Any place that has "suicide karaoke" can't be all that bad. Sometimes at Coconut Willie's, you'll see younger refugees from the downtown scene, other times you'll see a row of Harley Davidsons in the parking lot. Sports memorabilia hangs everywhere, and there's still enough of a tropical feel to entice you to swill a few extra drinks on your way out. Sign above the bar declares: "This is a drama-free zone."
---

The Den, at Fourth Street Bowl
1441 N. Fourth St, SJ; 408.453.5555

Hours: Daily 11am-1:30am
Crowd Age: Late-20s-50
Music: Karaoke, all styles
Decor: Lodge meets bowling alley
Signature Drink: None
Amenities: Karaoke, darts

A hidden, unexploited karaoke haven, the Den caters mostly to locals and, of course, bowling hounds. You sit at the half-circle bar, by the faux fireplace or at one of the many tables. A gigantic mural of a fox hunt adorns the far wall, and the karaoke stage is sizable. Make sure you snag a breath mint from the machine on the wall in the entryway before you leave.
---

The Derby
399 N. 13th St, SJ; 408.287.5399

Hours: Daily 6am-2am
Crowd Age: 21-100
Music: Jukebox, everything from Latin to pop to blues
Decor: Leprechauns and sombreros
Signature Drink: Midori Sour
Amenities: Video games

The Derby appears to be the kind of place where, when a nonregular walks in, the jukebox stops and everyone turns around to stare. Or where you're told not to sit next to the local drunk who's yelling at himself. Where the thrift-store tables and chairs are reserved for certain people. One of the bar stools has the name "Marian" written on it. A truly neighborhood type of joint.
---

E&O Trading Company
96 S. First St, SJ; 408.938.4100

Hours: Mon-Fri 11am-11pm, Sat 5:30pm-11pm
Crowd Age: 20s and up
Music: None
Decor: Exotic, Southeast Asian
Signature Drink: Pomegranate Margarita
Amenities: Televisions

Suits, suits and more suits--that's what one usually finds packed into E&O every day during happy hour. But everyone's welcome to plop down on the huge wooden bar stools and gaze at the Chinese coins embedded in the bar. E&O works both as a perfect place for an upscale evening or a place ripe for infiltration in the midafternoon, when the bar is usually empty. Specialty happy-hour drinks change daily. The handcrafted beers are all outstanding.
---

The Escape
2942 S. Bascom Ave, SJ; 408.377.5436

Hours: Daily 11am-2am
Crowd Age: mid-20s-late-30s
Music: Jukebox with dance, rock, metal and country
Decor: Biker pool hall
Signature Drink: Beer and shots
Amenities: Pool table, Megatouch video game, darts, TVs, Keno and Lotto, pizza, vending machine

Motorcycles and guys in leather riding gear are common sights at this neighborhood juke joint and pool hangout. On a recent visit, music by Sir Mix-a-Lot gave way to Metallica. The Escape serves pizza from its pizza oven and always leaves peanuts and chips out for drinkers to snack on. The bar also hosts occasional barbecue celebrations with live music.
---

Eulipia
374 S. First St, SJ; 408.280.6161

Hours: Tue-Sat 5:30pm-10pm, Sun 4:30pm-9pm
Crowd Age: 21-60
Music: None
Decor: Elegant, but not stuffy
Signature Drink: Cosmo
Amenities: People watching

Eulipia has been around forever, and patrons continue to haunt the place pre- or post-night on the town. Look for expensive sweaters, suits, slow food, sexy cocktails and a few younger folks crouched over a single-malt Scotch. The place lies in wait for the opening of the new Fox Theatre right across the street, when opera-goers promise to hole up at Eulipia once again.
---

The Fairmont Lounge
Fairmont Hotel, 170 S. Market St, SJ; 408.998.1900

Hours: Sun-Thu 4:30pm-11pm, Fri-Sat 4:30-midnight
Crowd Age: 30s and up
Music: Live cocktail piano music
Decor: Elegant, luxurious, opulent, yeah, yeah, yeah
Signature Drink: "Any wine on our list is a signature drink"
Amenities: Piano that sometimes attracts a celebrity guest like Billy Joel

Catering mostly to hotel guests and the theater crowd, the Fairmont lounge is an opulent place to relax and contemplate the decimation of the hotel business since 9/11. The faux marble bar looks real and the plush couches are inviting. On the weekends, various pianists tickle the ivories. And, best of all, there's no longer a $10 minimum!
---

Final Score Sports Bar
1126 Saratoga Ave, SJ; 408.296.9591

Hours: Daily 6am-2am
Crowd Age: 20s-60s
Music: Jukebox, country, light and classic rock, soul, standards
Decor: Jock and talk, neon signs
Signature Drink: Martini, Chillum
Amenities: Shuffleboard, darts, pool table, video games, four TVs, Keno, ATM

"It's all sports, all the time" at the Final Score Sports Bar, says Julie, one of the bartenders. Your choice is watch sports, or play 'em, at this instantly homey hangout spot. Or, listen to the staff swap work and golf stories and soak up the friendliness.
---

Flying Pig Pub
78 S. First St, SJ; 408.298.6710

Hours: Daily 11am-2am
Crowd Age: 20s
Music: Loud-ass jukebox and ESPN
Decor: It's a brick ... house
Signature Drink: Guinness
Amenities: Jukebox, full menu, fireplace

The beer is cold, the food is good and greasy and the TVs are locked on ESPN. Translation: Flying Pig Pub equals the best damn pig-related pub, period. On weekends, the FPP soaks up the overflow from neighboring bars E&O, San Jose Bar & Grill and Gordon Biersch. In wintertime, the fireplace turns into a cozy place to enjoy a post-work decompresser.
---

Gecko Grill
855 N. 13th St, SJ; 408.971.1826

Hours: Mon-Thu 11am until 9 or so, Fri-Sat 11am till 9pm for kitchen, later for bar, Sun 10am till 8 or 9pm
Crowd Age: Mixed, 25-60; Silicon Valley "kids"
Music: No
Decor: Down-home Mexican resort
Signature Drink: Specialty Margaritas, including the Geckorita
Dancing: No
Games/Amenities: Outdoor patio, TVs

The light, bright interior features some inquisitive metal geckos scampering up the walls. The patio is shielded from the traffic on 13th Street by a high wall and a row of potted palms; a large awning provides protection from the sun--and it doesn't take much imagination to think that the Gulf of Mexico is only a few steps away. The grill matches an excellent lunch/dinner menu with an intriguing selection of specialty margaritas and martinis. Happy Hours runs 3 to 6pm and features a dollar off most drinks.
---

Giza Hookah Lounge
18 N. First St, SJ; 408.998.4622

Hours: Daily 5pm-midnight
Crowd Age: 18 and up
Music: Ethnic beats
Decor: Egyptian rave
Signature Drink: More of a signature smoke, really--apple/mint tobacco combo
Amenities: Belly dancing Fri-Sat

Giza set its pillows out just more than a year ago, and since then the desert-cool nonalcoholic lounge has hosted some DJ nights, adding scratch to the smoke of its fruit-tinged tobacco. Socializing here centers around the hookah, an ancient water pipe that evolved in the Middle East for smoking tar-free, low-nicotine tobacco; no other smoking is allowed.
---

Goodfellows
69 N. San Pedro St, SJ; 408.287.6969

Hours: Mon-Fri 11am-2am, Sat-Sun 5pm-2am
Crowd Age: 21-45
Music: Sound-system blues for lunch, Top 40, R&B and hip-hop at night
Decor: Hollywood nostalgia meets rabid sports fan
Signature Drink: 22-ounce Guinness
Amenities: TVs, video games, darts

A bar where Tony Soprano would feel right at home, Goodfellows beefs up downtown's guyville hangouts. TVs are set to the sports channel, and more than 15 beers on tap whet the armchair athlete's appetite. A menu of appetizers, sandwiches and burgers is served until 1:30am.
---

Gordon Biersch
33 E. San Fernando St, SJ; 408.294.6785

Hours: Sun-Wed 11am-11pm, Thu 11am-midnight, Fri-Sat 11am-1am
Crowd Age: Frat brothers to alumni donors
Music: Live jazz on weekends
Decor: German beer hall meets New Orleans funk lab
Signature Drink: Six fresh beers on tap
Amenities: Outdoor patio, TVs, brewed beer on premises

Is it fair to call Gordon Biersch a microbrewery anymore? This reliable outpost of succulent hops and barley has made the jump from Silicon Valley wonder to big-time player with 17 restaurants/breweries nationwide and bottled supplies appearing in supermarkets across the western plains. Its downtown San Jose base retains its charm with a supple polished wood bar with huge tanks looming behind. It can get oppressively noisy inside the brick building, so retreat to the outside patio to contemplate the day's matters under an open sky, tall brew in hand.
---

The Grill on the Alley
172 S. Market St., SJ; 408.294.2244

Hours: Daily 11am-1:30am
Crowd Age: 26-62
Music: Frank Sinatra, Dean Martin
Signature Drinks: Bombay Sapphire Martini
Decor: Tin ceiling, rich woods
Amenities: Valet parking

Just as at its Beverly Hills namesake, you can run into celebrities at the bar--Steve Martin, Jose Feliciano, Sidney Poitier, Bill Gates... though the latter is frequently disguised as a San Jose attorney. The vested bartenders are well versed on drink trends; on a recent visit we learned about a new super premium vodka, Ultimat, as well as how to make a red apple--vodka, sour apple schnapps, cranberry and a splash of Crown Royal--which proved tasty. Though fruity drinks are poured, classics rule. Martinis are stirred in the shaker with a long spoon, never shaken. And, as bartender John explains: "Gin is the only true martini. If it's not gin, it's not a martini--just a drink served in a martini glass."
---

Hedley Club
Inside Hotel De Anza, 233 W. Santa Clara St, SJ; 408.286.1000; www.hoteldeanza.com

Hours: Live music Wed-Thu at 7pm, Fri-Sat at 8:30pm
Music: Free jazz--as in no cost, not no limits
Decor: Scorsese meets Merchant/Ivory
Signature Drink: Scotch neat
Amenities: Plush comfy chairs, full bar, cigars

The Hedley Club has been featuring live classic and Latin jazz, piano trios, solo guitarists and swing in its lounge for years. The club's booker has a keen ear that goes beyond atmospheric surface noise masked as jazz. A hand-painted ceiling, marble and cherry bar, wood-burning fireplace and outdoor terrace add to the sophisticated feeling.
---

Henry's World-Famous Hi Life
301 W. St. John St, SJ; 408.295.5414

Hours: Tue-Fri 11:30am-9pm, Sat-Sun 4-9pm
Crowd Age: 30+
Music: No
Decor: Old-school Tavern
Signature Drink: Margarita
Amenities: TVs, jukebox, darts

Henry's, as it's known to locals, has endured it all--floods, highway construction, redevelopment, even vegetarians (the barbecue restaurant next door is a carnivore's paradise)--and houses the yarn-spinning barflies to prove it. A favorite stop before Sharks games at the nearby HP Pavilion, Henry's will probably outlive us all.
---

The Huddle
5289D Prospect Rd, SJ; 408.725.9414

Hours: Daily 6am-2am
Crowd Age: 30-60
Music: Jukebox, classic and recent rock, soul
Decor: Wood, sports--like its name subtly suggests
Signature Drink: "Call liquor sells well"
Amenities: Shuffleboard, pool table, darts, Maxx Ruby Edition, ATM, cigarette machine

"It's a working-man's--or -woman's--bar," says one female patron, of this comfortable, old-school establishment. Regulars gather at the end of the bar toward the entrance and occasionally exchange blue jokes. The Huddle takes the camaraderie outside of its own four walls by hosting its fifth annual golf festival in early August.
---

Hukilau
230 Jackson St, SJ; 408.279.4888; www.hukilau.tv

Hours: Tue-Thu 11am-2pm, 5-10pm, Fri-Sat 11am-2pm, 5pm-2am, closed Mon
Crowd Age: 20s-30s
Music: Live Hawaiian music Fri
Decor: Island festive with kitschy Waikiki touches
Signature Drink: Hukilau Punch (vodka, Hawaiian Punch, fresh fruits); Gecko (Parrot Bay Rum, pineapple juice, Midori); Hula Girl (Absolut Mandarin, orange juice, grenadine); Wicked Wahine (Sparkling wine, passion orange, fresh fruits)
Amenities: Tiki bar, "Wahine Wednesdays" (ladies' night)

More restaurant than bar, Hukilau nevertheless exudes such Polynesian party spirit and offers such festive tropical drinks that it's worth the category bending. The backyard tiki bar is begging for your next birthday bash.
---

Il Fornaio
150 S. First St, SJ; 408.271.3366

Hours: Mon-Thu 7am-11pm, Fri 7am-midnight, Sat 8am-midnight, Sun 8am-11pm
Crowd Age: 21-78
Music: Opera over the sound system
Decor: Elegant Italian
Signature Drink: Hypnotic
Amenities: Attached historic Hyatt Sainte Claire Hotel

This classy hotel bar conveniently situated across from the apex of Plaza de Cesar Chavez Park is known for its fine wines, infused vodka creations and culinarily superior happy hour (weekdays 4:30-6:30pm) featuring four-star antipasti and pizza. Savvy downtown workers, hotel guests and even other local bartenders converge here for the calming ambience and quality experience.
---

The Improv
62 S. Second St, SJ; 408.280.7475; www.improv.com

Showtimes: Thu at 8pm, Fri at 8 and 10pm, Sat at 7 and 9pm, Sun at 7pm
Crowd Age: Across the spectrum
Music: n/a
Decor: Renovated theater, all gussied up
Signature Drink: Sex on the Stage (basically, a Sex on the Beach)
Amenities: Big-time headline comedy, dinner menu with priority seating

Forty-year-old comedy club chain the Improv is known for its star-studded rosters, and the multimillion-dollar refurbishment of downtown's 1904 Jose Theater gives the stars a suitably posh backdrop. Truly, as the owner says, "There's not a bad seat in the house." Unless, that is, you fear becoming comic fodder for such headliners as Arsenio Hall and Mark Curry--in that case, avoid the front row.
---

JJ's Blues
3439 Stevens Creek Blvd, SJ; 408.243.6441; www.jjsblues.org

Hours: Sun-Thu 6pm-2am, Fri-Sat 7:30pm-2am
Crowd Age: Ageless
Music: Blues you can use, seven days a week
Decor: Pictures of blues legends
Signature Drink: Bud and Wild Turkey
Amenities: Pool table, the occasional barbecue

Where would local blues be without JJ's? The battered but unbowed club has outlived trends and survived economic downturns. From the biggies like Albert King and Buddy Guy to the up-and-comers like Corby Yates and Tommy Castro, JJ's echoes with the sound of delta, Memphis, Chicago, Texas and the Bay Area blues.
---

Martini Man: Johnny V himself serves up the spirits at his namesake bar.

Johnny V's
31 E. Santa Clara St, SJ; 408.947.8470; www.johnnyvsbar.com

Hours: Mon-Fri noon-2am, happy hour 4-8pm (featuring $2 well drinks and domestics; $3 premium), Sat-Sun 7 or 8pm-2am
Crowd Age: 20s-30s
Music: Regular DJ nights
Decor: Downtown pub
Signature Drink: Hamm's in a can and sake bombs
Amenities: Two TVs hooked up to a five-disc DVD player, Megatouch video game machine, Fish Tales pinball game, jukebox, attached restaurant

Johnny V's exudes pub atmosphere, with a long wood bar, wood floors, a huge aquarium, a low ceiling and dim lighting. Determined to have one of the best jukeboxes in town, owner Johnny Van Wyk has stocked his with everything from the Sex Pistols to Miles Davis.
---

Mac's Club
39 Post St, SJ; 408.288.8221

Hours: Daily noon-2am
Crowd Age: Early 30s+
Music: DJs
Decor: Shabby Chic
Signature Drink: Lemon Drop
Amenities: TVs, video games

Everyone is welcome at this enduring gay-friendly establishment on Post Street, where all ages converge for great conversation and laughs, not to mention birthday cake, should the situation require it. While small in space, Mac's is big in spirit.
---

Maggiano's Little Italy
3055 Olin Ave, Suite 1000, SJ; 408.423.8973

Hours: Mon-Thu 11:30am-10pm, Fri-Sat 11:30am-11pm, Sun noon-9pm
Crowd Age: 20s on up
Music: Posthumous Frank Sinatra
Decor: Pope meets Mafia
Signature Drink: Martini
Amenities: Wall-hung autographed celebrity photos

No argument: Maggiano's is the place to take your big fat Italian wedding after the nuptial swap. A dark-paneled bar welcomes wine and whiskey drinkers alike, and if your stomach gets the best of you, you can always dip into the restaurant's massive menu.
---

Mexico Lindo Restaurant & Cantina
11 Race St, SJ; 408.295.7765

Hours: Daily 9am-midnight
Crowd Age: 20s-60s
Music: Karaoke Thu-Sat, jukebox, classic and contemporary Spanish language music, standards, Afro-Cuban, pop, rock
Decor: Leather and dark woods
Signature Drink: Margaritas
Amenities: Pool table, wide-screen TV

With its curvy bar and dark décor, the Mexico Lindo Cantina contrasts with the ordered symmetry of its adjoining restaurant. Karaoke rules on the extended weekend, and guests can at other times enjoy the metropolitan coolness of the Cantina and its Blade Runner art direction.
---

Mission Ale House
97 E. Santa Clara St, SJ; 408.292.4058

Hours: Daily 11am-2am
Crowd Age: 21-35
Music: Jukebox, DJs
Decor: Retro-themed, exposed brick and dark wood
Signature Drink: Twenty-four beers on tap
Amenities: Televisions, pool table, darts, video games, patio bar

The creative layout of this contemporary downtown San Jose brewpub, which has several adjoining rooms and a patio, lends itself to plenty of mingling possibilities and moods, from football nights to DJ dancing. Cute bartenders, a hearty food menu, politically incorrect labels for drinks ("The Horny Priest," among others) and deals like $2 Tuesdays keep the college-graduated crowd coming back for more.
---

Original Joe's
301 S. First St, SJ; 408.292.7030

Hours: Daily 11am-1:30am
Crowd Age: 25+
Music: None
Decor: 1960s Lounge
Signature Drink: Not really
Amenities: Singing waiters

In this darkened downtown hideaway that accompanies one of San Jose's favorite old-school Italian eateries, vermouth is the only thing vodka gets infused with. Amid Formica countertops and padded captain's chairs, drinkers of all ages converge for plentiful pasta and generous pours, both before clubbing or after.
---

Paolo's
333 W. San Carlos St, SJ; 408.294.2558

Hours: Daily 4pm-10pm
Crowd Age: 25-50
Music: Live piano during special occasions
Decor: Mediterranean elegance
Signature Drink: Award-winning Ombretta Di Paolo (a mixture of sparkling Italian wine, tangerine vodka and Cynar, an old-school Italian artichoke liqueur)
Amenities: No television, by design

With more than a dozen good wines available by the glass, a variety of Scotches and ports, and an impressive array of Italian "grappas" (100-proof Italian moonshine) poured from crystalline decanters, Paolo's bar is an indispensable stop before a meal at the four-star restaurant, after work for the Adobe crowd or en route to the Center for Performing Arts.
---

Patty's Inn
102 S. Montgomery St, SJ; 408.998.4566

Hours: 9am-2am
Crowd Age: 20s to middle age
Music: Jukebox; live one-man band every other Fri
Decor: Sports-friendly
Signature Drink: macrobrews
Amenities: Karaoke Wed, Maximum Force shooting game, pool

Being directly across from the fabulous Stephen's Meat Products' dancing pig isn't the only thing that makes Patty's convenient. It's also a free shuttle away from the Caltrain station, which means tanking up on the baskets of peanuts and beer can be achieved DUI exempt.
---

Pink Poodle
328 S. Bascom Ave, SJ; 408.292.3685

Admission is $15 on weekdays and $18 on weekends. Semiprivate table dances cost $20.

Hours: Mon-Thu noon-1am, Fri-Sat noon-3am, Sun 5pm-midnight
Crowd Age: Early 20s to dirty old men
Music: DJ
Decor: Cozy '60s sleazy
Signature Drink: Shirley Temple
Amenities: Bookstore and novelty shop next door

Krissy slithered out in her glowing white, mini-Tarzanesque outfit and five-inch spikes, while Michael Jackson explained over the speaker that the kid wasn't his son. Every baseball-becapped chubster in the audience knew and accepted the regulation no-alcohol policy--Krissy's liberated hoochie was their tonic. Also available is the private shower booth for those who like their ladies nekkid, but clean.
---

The Place
1058 S. First St, SJ; 408.297.3473

Hours: Daily 10am-2am
Crowd Age: 25-45
Music: Jukebox
Decor: Long-ass bar
Signature Drink: Brandy Press
Amenities: Pool table, pinball, darts, Megatouch

The neighbors who drink at this boastfully long bar crack up bartender Kevin. As soon as the recent war started, Kevin shares, "People who didn't have kids before the war miraculously had a son who was in Iraq, who was in the Green Berets, who was the first one there, who was on the front lines."
---

Plaza Inn
1182 Lincoln Ave, SJ; 408.292.0132

Hours: Restaurant Mon-Thu 11am-10pm, Fri-Sat 11am-11pm; bar Mon-Sat 10am-2am
Crowd Age: 21 and up
Music: Mexican music jukebox
Decor: Zapatista style
Signature Drink: Tequila and Margaritas
Amenities: Pool tables, dice games

An excellent date bar with margaritas that will solve all problems--at least until the next morning. Traditional Mexican music fills the air, comfortable booths allow you to cozy up and photos of Zapatistas remind you that rebellion comes in many forms.
---

Red Stag Lounge
1711 W. San Carlos St, SJ; 408.292.6777

Hours: Daily 6am-2am
Crowd Age: 30-60
Music: No live music
Decor: Miniature classic cars
Signature Drink: Hard alcohol
Amenities: Lotto

Jack Higgins bought the Red Stag five years ago. He displays a collection of miniature vintage cars, which he sells, behind the bar to give patrons something to talk about besides sports. One time, two macho guys were trying to impress a cute blonde by talking about what engines were in which cars. She politely let them finish and then called them on their bullshit. It turned out, says Higgins, that the cute blonde was a product of a lifetime of weekends spent bonding over hot rods in the garage with her dad, who'd wanted a boy. Beef jerky is available.
---

San Jose Bar & Grill
85 S. Second St, SJ; 408.286.2397

Hours: Mon-Sat 4pm-2am, Sun 9am-2am
Crowd Age: 21-mid-30s
Decor: Clean European style
Signature Drink: Mmm, beer
Amenities: NFL Sunday Ticket, NHL Center Ice, flat-screen TVs, outdoor seating

What the San Jose Bar & Grill lacks in a catchy name, it gains in amenities. A warm paint job and sleek woods give SJB&G a grandeur that belies its downtown digs. A horseshoe bar is the center of action. The full bar features eight bars on tap. When San Jose suddenly blooms into the 24-hour city that local politicians and residents dream of, San Jose Bar & Grill will be there.
---

Sangria Restaurant
721 Willow St, SJ; 408.287.9777

Hours: Sun-Thu 10am-9pm, Fri-Sat 10am-10pm
Crowd Age: Varied
Music: No live music
Decor: Mexico's most colorful imports, saddle bar stools
Signature Drink: Sangria
Amenities: Cool saddle stools!

Owner Javier Ponce imported Sangria's famous bar stool saddles from Mexico after he saw something similar there and got jealous, says his daughter Trini. An expansive room makes the restaurant perfect for wedding rehearsals or other group events.
---

Seven Bamboo
162 Jackson St, SJ; 408.279.9937

Hours: Tue-Sun 6pm-2am
Crowd Age: 20s-early 30s
Music: Karaoke
Decor: Pacific Rim dive bar
Signature Drink: Saki Bomb
Amenities: Karaoke

Proving again that no one really needed American Idol, Seven Bamboo lets bad singers express themselves in public with alcohol nearby. It mixes the legitimate dive with a hipster clientele and creates a dark and comfy scene for a night out featuring the singer within Bob from Accounting.
---

Sharky's of Willow Glen
1151 Lincoln Ave, SJ; 408.279.0996

Hours: Mon-Sun 11am-midnight
Crowd Age: 30 and up
Music: Thu, Sat jazz and cover bands
Decor: Neighborhood bar
Signature Drink: Lemon Drop
Amenities: Golf video game, ATM

In a backroom lit entirely by neon signs, a cover band belts out a bass-heavy rendition of "Back in the U.S.S.R." Chefs proudly cook up items from the relatively new full-seafood menu at this middle-class worker bar in yup town Willow Glen.
---

Sorrento's Bar & Grill
905 S. Bascom Ave, SJ; 408.297.4444

Hours: Lunch Tue-Fri 11:30am-2:30pm, dinner Tue-Sun 5-9pm
Crowd Age: 30s on up
Music: Live piano
Decor: Semi-elegant Mediterranean dinner house
Signature Drink: Vino
Amenities: Open-air patio

Sorrento's got a makeover last year, and now the sparkling green and white awning cloaks a spacious restaurant and lounge nice enough to host Dean Martin's in-laws. Just off the piano lounge sprawls an open air patio with tables draped in Italian red checks. Sit with a bottle of '99 Chateau Julien Merlot and bask in a warm evening breeze.
---

South First Billiards
420 S. First St, SJ; 408.294.7800; www.sofapool.com

Hours: Daily 4pm-2am
Crowd Age: 21-50
Music: Jukebox
Decor: Hip pool hall
Signature Drink: Apple-Raspberry Martini
Amenities: Twenty-nine regulation pool tables, darts, pinball, video, big-screen TV

The happy thwack of pool balls accompany a night in this well-kept play pad in downtown San Jose's South First Street club zone, where both serious (the ones bearing their own cue sticks) and nonserious players can pay $12 an hour to rack-'em-up. Imported beers, fruit infused vodkas and generous pours give this place a hip but relaxing vibe.
---

South Side Cafe
7028 Santa Teresa Blvd, SJ; 408.226.5424

Hours: Daily 10am-2am
Crowd Age: 25 and up
Music: Live music Fri-Sat 9pm
Decor: Sporty fun place
Signature Drink: Bartenders' Special
Amenities: Pool, lots of darts, lingerie show Tue at 5pm

Come for the free hot dogs and meat loaf at 4pm during weekday happy hour, stay for the Huey Lewis type but twangy cover band on the corner stage. Also, owner Bob wants people to know that his bouncer, who doubles as a cook, has recently started making pizza. Bob feels this is the one thing the establishment lacked. Now it's perfect.
---

Spy
400 S. First St, SJ; 408.535.0330

Hours: Daily 9pm-2am
Crowd Age: 21-35
Music: DJs, live bands
Decor: Modern Moodbender
Signature Drink: Fruit-infused vodkas mixed with stuff
Amenities: Big dance floor, a real stage and two bars

This South First Street mainstay represents the third reincarnation of what is undeniably one of the best live music and dancing spaces around. Previously known as F/X and the Usual, Spy's latest retro-metal remodel keeps alive an eclectic downtown tradition of name bands, party bands and DJs--at reasonable cover prices.
---

Table for Two: DJs Han and Sergio put a good spin on things at Straits in Santana Row.

Straits Restaurant
333 Santana Row, Suite 100, SJ; 408.246.6320; www.straitsrestaurant.com

Hours: Music: Thu-Sat 9pm-midnight
Crowd Age: 20s-30s
Music: Live jazz Thu, house music DJs Fri-Sat
Decor: Singapore chic
Signature Drink: Ginger Drop (house infused ginger vodka with fresh sweet and sour served in a sugar-rimmed martini glass)
Amenities: Heated outdoor seating

Every weekend, inside the heavy doors at Straits, house DJs spin records while stylish couples perch on couches and bar stools, nibbling Chris Yeo's Singapore-inspired appetizers and flirting outrageously. Yeo's recent unveiling of his third Straits outpost at Santana Row instantly attracted a stylish clientele--professionals freshly dipped in the salon or gym--looking for a unique night-life alternative.
---

T's Cabaret
1984 Old Oakland Rd, SJ; 408.435.3066

Hours: Mon-Sat 11:30am-2am
Crowd Age: 21 and over
Music: DJ
Decor: Darkened den of iniquity
Signature Drink: None
Amenities: VIP lounge, full bar

The walls of "Silicon Valley's favorite gentleman's club" are lined with fun-house mirrors and zebra print. But that's not why fellas and a few lesbians brave passage of the giant bouncers. The real draw--duh--is the bikini ladies.
---

The Temple Bar & Lounge
52 S. First St, San Jose

Opens: July 5 (tentative date)

Italian restaurant Bella Mia's historic wood-panelled bar is about to get religion--or at least a makeover. The space's new co-owner George Fan says when the remodeled and renamed lounge opens in July it'll sport Asian decor, live jazz and DJ nights and the occasional theme night. He's hoping to attract a mixed crowd of 20- to 30-year-olds looking for an alternative downtown dress-up joint in which to worship a good time.
---

Three Flames
1547 Meridian, SJ; 408.269.3133

Hours: Mon-Thu 11am-midnight, Fri 11am-1:30am, Sat 4pm-1:30am, Sun 4pm-1am
Crowd Age: 35 and up
Music: Yes, Karaoke Sun-Wed
Decor: Lounge
Signature Drink: Whatever you want, honey
Amenities: Projection TV; free birthday appetizers

This '70s-style gold linoleum and red-lit lounge is a local favorite. The bartender shares a hairdo in common with a studly Neil Diamond. Pazazz, a buff, black and white leather-clad duo, plays covers while middle-age couples shake up the dance floor.
---

Tied House
65 N. San Pedro St, SJ; 408.295.2739

Hours: Daily 11:30am-midnight
Crowd Age: Over 30
Music: No
Decor: Open-beam ceilings, skylights and polished wood
Signature Drink: House-made Amber beer
Amenities: Three big-screen TVs, 14 monitors

This 500-seat restaurant and brewpub in downtown's San Pedro Square remains a favorite among beer lovers and the arena-bound because of its proximity to HP Pavilion, its hearty fare and outstanding brew. Happy-hour specials, an outdoor patio and Sharks paraphernalia make this a reliably upbeat sports bar any night of the week.
---

Toon's
52 E. Santa Clara St, SJ; 408.292.7464

Hours: Daily 7pm-2am
Crowd Age: College
Music: Live bands/DJs
Decor: Retro '80s
Signature Drink: Liquid Cocaine
Amenities: Five pool tables, air hockey, video arcade, darts

Toon's oval stage forms the gravitational dance center of the universe for the social, dancing crowd at this downtown institution. For the nonromantic, there are two bars, a game room and a sound system sure to rattle the solar plexus into jelly.
---

Trials Pub
265 N. First St, SJ; 408.947.0497

Hours: Thu-Sat 5pm-2am, Sun-Wed 5pm-midnight
Crowd Age: 25 and up
Music: Live music only on special occasions
Decor: Frat-boy redecorated Victorian living room
Signature Drink: Guinness, imported beers
Amenities: Darts, dart coaching, comfy chairs

Run by British ex-pats, Trials takes you back to the days when pub grub stuck to your ribs and a pint of beer provided your stiff upper lip. Trials' backroom looks like a B&B; it's a perfect place to quaff the Brit and Irish beers till you're daft as a brush.
---

Voodoo Lounge
14 S. Second St, SJ; 408.286.8636

Hours: Thu-Sat 9pm-2am
Crowd Age: 20s-30s
Music: DJs
Decor: Jungle Chic
Signature Drink: Lava lamp
Amenities: Pool table, cool furniture

Style reigns supreme at this mod lounge, where creative decade mixing ('70s, '80s and beyond), high fashion and frivolity keep the beautiful people lining up at the door. Dancing takes all shapes and forms--but it's perfectly acceptable to simply lounge on the swanky couches, listen to the beat and sip otherworldly cocktails.
---

Waves Smokehouse & Saloon
65 Post St, SJ; 408.885.WAVE; www.waves-smokehouse.com

Hours: Mon-Fri 11am-2am, Sat-Sun noon-2am
Crowd Age: 20s-30s
Music: DJ nights, local band live-music night
Decor: Tropical Saloon
Signature Drink: Cosmopolitan
Amenities: Darts, Megatouch video game, jukebox, two TVs, upstairs patio with fireplace, Metro Silicon Valley Poetry Slam

Maybe there aren't any swinging doors (at least not anymore), but Waves is most definitely a saloon. Dating back to 1873, the Victorian-style building once housed a brothel, and it still has the feel of an antique diner. At night, however, Waves launches into the 21st century, with live local band showcases, DJs spinning and people dancing on the covered adjoining patio.
---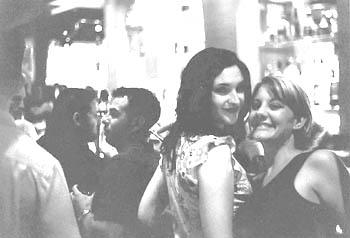 The Sweet Life: Zoë opens its sliding walls to the sunshine, and no, we don't know if Kelly and Emily have boyfriends.

Zoë
417 S. First St, SJ; 408.971.ZOES; www.zoenightclub.com

Hours: Club Wed-Sun 8pm-2am; restaurant Tue-Sat 6pm-10pm
Crowd Age: 20s-40s
Music: DJs and live bands playing hard rock, alt pop, hip-hop, R&B, funk, country and more
Decor: Mod Aquarium
Signature Drink: Martini
Amenities: Flat-screen TVs, cigar bar, walkup take-away food window

The opening of Zoë--which, fittingly, means "life" in Greek-- completes the upscale reinvention of the intersection anchoring SoFA. Beautiful blue tiles decorate the elegant gateway, but despite the architectural sophistication co-owner Jacek Rosicki describes Zoë as a comfortable, casual place with an affordable menu of entrees, wraps, salads and desserts that tops out at $14.25. Still in development, Rosicki says he expects the adjoining Backbar to open sometime in July.
---
Metro Bars & Clubs 2003 Features
Five Terrifying Minutes of Fame: Friends don't let friends sing, "Dude Looks Like a Lady" ... and other karaoke tips.
Caffeine Nation: A list of coffeehouses--the cream of the crop.
Thanks, Designated Driver!: An appreciation, and some tips, for the nondrinker.
---
Send a letter to the editor about this story to letters@metronews.com.
---
[ Silicon Valley | Metroactive Home | Archives ]