---
The Metro Bars & Clubs 2003 Guide
[ San Jose Central | Campbell | Cupertino | Los Gatos | Mountain View | Peninsula | Santa Clara | Saratoga | Sunnyvale ]
---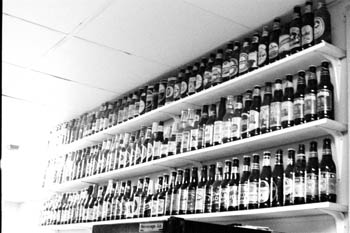 Rack 'em Up: Cuetopia may be a pool hall, but there's always room for beer.
San Jose Outskirts/South of San Jose
5th Quarter Sports Bar & Grill
1373 -B Kooser Rd, San Jose; 408.265.7033
Hours: Daily 11am--2am
Crowd Age: 25+
Music: DJs, New and Classic Rock
Decor: Casual
Signature Drink: Jagermeister shot in glass of Red Bull
Amenities: Big screen TV, video games, pool, darts
As its name implies, the 5th Quarter goes into overtime as a lively destination. Located in the south part of San Jose, it's popular with sports-loving crowds, especially during football season, not to mention a hot spot for both Gen X- and boomer-aged booty-shakers on weekends.
---

Alex's 49er Inn
2214 Business Circle, San Jose; 408.279.9737

Hours: Daily 6am-2am
Crowd Age: Older, mixed crowd
Music: Background
Decor: Basic comfort
Signature Drink: Two-ounce shots
Amenities: Pool tables, dartboard, video games

If the last thing you want in a bar is to overhear someone crying into their Pernod about their stock portfolio, Alex's 49er is yer place. Here, old-school drinkers mix with old- school socializers--the kind of people who appreciate the conversational lubrication of double shots poured for the price of one.
---

Almaden Feed and Fuel
18950 Almaden Rd, SJ; 408.268.8950

Hours: Bar: Sun-Wed 11am-11pm, Thu-Sat 11am-2am
Crowd Age: Mixed
Music: Live bands, karaoke, jukebox
Decor: Stagecoach stop
Signature Drink: They're developing a Margarita to die for
Amenities: Darts, jukebox, golf video game, big screen TV and other TVs, Touchmaster Infinity video game, patio

Down past the affluent neighborhoods along Almaden Road sits the Feed and Fuel, a rustic place with a copper-top bar that dates to the 1800s. An antique tractor contrasts with the Harleys out front. Managing partner Thomas Oldknow says it has the old Almaden spirit and a new Almaden image. Popular events include family-style barbecues every Sat-Sun 11am-4pm; live rock, country and blues bands every Fri-Sat, 9pm-1am; and karaoke on Thursdays. For country music fans, the Feed and Fuel's jukebox can hardly be beat.
---

B Street Billiards
164 South B St, San Mateo; 650.343.1875

Hours: Mon-Thu 5:30pm-midnight, Fri-Sat 2:30pm-1:30am, Sun 2:30pm-midnight
Crowd Age: Late 20s
Music: DJ plays hip-hop and R&B Fri-Sat, Wed band open-mic
Decor: Upscale pool hall housed in old bank building
Signature Drink: Microbrews
Amenities: Pool tables, dartboard, TVs

This is not the type of pool hall that Fast Eddie would have frequented in The Color of Money. No hustlers--but plenty of first dates and groups of work associates chalking up the sticks and enjoying a wide selection of fancy microbrews.
---

Bamboo Lounge/Island Grill
1355 N. Fourth St, San Jose; 408.392.2468

Hours: Daily 11 am--midnight, later on weekends
Crowd Age: 21-40
Music: DJ
Decor: Modern day tiki bar
Signature Drink: Sneaky Tiki
Amenities: TVs, waterfall, outdoor putting green

Newly opened in the Park Plaza San Jose Airport hotel north of downtown, the Bamboo Lounge brings a tropical air to the valley, with island chic and a menu of specialty rum drinks. With free parking and a pool and putting green outside, the only thing missing is the ocean. Weekends draw a younger crowd, with dancing to the beat of DJ BB Hayes, among others.
---

Brookdale Lodge
11570 Hwy 9, Brookdale; 831.338.6433

Hours: Bar Mon-Thu 3pm-closing (usually 1am or 2am), Fri-Sun 10am-closing
Crowd Age: 21-65
Music: Live bands, jams and jukebox
Decor: Old Hollywood fantasia
Signature Drink: Homemade Bloody Mary
Amenities: Jukebox, pool table, Megatouch game, TV, cages of zebra finches, fish aquarium

With its labyrinthine interior, this historic mountain lodge, restaurant, lounge and concert hall is eerily evocative of The Shining. Not surprisingly, rumor is it's haunted. Built in 1890, the Brookdale Lodge hosted celebrities like Marilyn Monroe and has been immortalized in song several times. The Gilbert family, who bought it more than 13 years ago, has been steadily remodeling. Cozy up to acoustic music in the bar Tuesdays and Thursdays. The main room has a fire pit and a black and white tile dance floor. Big-name artists like Country Joe, Big Brother and the Holding Co., Edgar Winter and even Jerry Garcia and Merle Saunders have played there.
---

Cuetopia Billiards Cafe
4700 Almaden Expwy, SJ; 408.266.POOL; www.cuetopia.net

Hours: Sun-Thu noon-midnight, Fri-Sat noon-2am
Crowd Age: All ages
Music: House choice
Decor: Comfortable pool hall
Signature Drink: Mochas (espresso)
Amenities: Darts, foosball, bar-type food, plenty 'o parking

You don't have to be a pool shark to rack 'em up at Cuetopia, according to Rich and Joyce Matsuura. Taking over the former site of Almaden Billiards and Diamond Billiards, the Matsuuras repainted, changed the carpets and added a lounge with plenty of sofas and a high-performance espresso machine, so you can get a shot before practicing your shots. Har.
---

The Drying Shed
402 Toyan Ave, San Jose; 408.272.1512

Hours: Daily 11am-1:30am
Crowd Age: 35-50
Music: Fri DJ
Decor: Rustic with white linen appointments
Signature Drink: Tony's Old Fashioned
Amenities: Appetizers in the bar

For 25 years, The Drying Shed has embraced hard-working adults seeking potent refreshment. On weekends, the action picks up under romantic shadows and dialogues hum along the bar stools at high volume. Lend a ear and listen, or get involved. Eavesdropping promises many revelations, from the secrets of a perfect golf swing to falling in love without commitment. One of Tony's Old Fashioneds or Denice's margaritas and an appetizer paints the world a light shade of cherry.
---

Garden City Casino
360 Saratoga Ave, San Jose; 408.244.4443

Hours: Daily 4pm-2am
Crowd Age: 35-50
Music: Live piano most nights
Decor: Alpine contemporary
Signature Drink: Martini
Amenities: Gambling

More than just an annex for the card sharks, the club in the Garden City Casino is a cool hang out for the martini crowd. Fun commences at cocktail hour, when solo adventurers and couples in nice dress trickle in. Old school bartenders shake up superlative martinis--bone cold and dry as the desert--while offering tidbits of information from the Federal Budget to the latest fashion in shoes. The easy pacing of this lounge lulls the world weary into peaceful meditation.
---

The Glen
1180 Lincoln Ave, San Jose; 408.288.9422; www.the-glen.com

Hours: Tue-Wed 4-10pm; Thu 4-11pm; Fri-Sat 4pm-midnight; closed Sun-Mon
Crowd Age: Late 20s-early30s
Music: Satellite radio, live music on Saturdays
Decor: Classy country club without the attitude
Signature Drink: 15 microbrews on tap
Amenities: Huge sports bar with 13 TVs. pool tables. stone fireplace, saltwater fish tanks, electronic dart board

If Willow Glen had a designated rumpus room, The Glen would be it. Three separate bar types--the billiards parlor, the brewpub and the sports bar--beckon patrons. Upstairs you'll find eight handcrafted pool tables with burgundy felt; downstairs, a sports facility that rivals casinos.
---

Harry's Hofbrau
390 Saratoga Ave., San Jose; 408.243.0434

Hours: Daily 11am-11pm
Crowd Age: All ages welcome
Music: No music
Decor: Bavarian Meadehall
Signature Drink: German Beer
Amenities: ATM; Banquet facilities

The front door swings wide at this Bavarian gathering place--everybody comes to Harry's, sooner or later. Many styles of malted beverage, mostly German, are drawn from taps rigged to a wooden bar that extends way into the back. Five TV monitors hum with sporting events. Not just a place to eat, Harry's bar often hatches odd liaisons. For most, a hot turkey sandwich and a mug of cold beer is enough to pass the time.
---

Henfling's Firehouse Tavern
9450 Hwy 9, Ben Lomond; 831.336.8811

Hours: 11am-closing (usually 2am Fri-Sat and midnight Sun-Thu)
Crowd Age: 21-90
Music: Live bands nightly
Decor: Sturdy wooden shack
Signature Drink: Mudslide with swirled chocolate, whipped cream and a cherry on top
Amenities: Heated, covered outdoor deck with TV, ATM, horseshoes

It has a reputation as a bikers' and blues joint, but Henfling's hosts an international folk series that attracts a variety of people. Its live music calendar is impressive with local and national blues, bluegrass, folk, jazz, world and singer/songwriters taking the stage nightly. Calendar-worthy local firemen also hang out here. Henfling's serves breakfast, lunch and dinner on weekends.
---

Jack's Place
167 E. Taylor St, San Jose; 408.293.8995

Hours: Sun-Thu 9am-Midnight, Fri-Sat 9am-2am
Crowd Age: 30s
Music: DJ music on Saturdays
Decor: Bar 101
Signature Drink: Scotch
Amenities: TVs, Dart machine, video game machines

A sleepy Japantown neighborhood bar during the day, Jack's Place comes alive at night with the sounds of regulars continuing old conversations. A DJ spins tunes on Saturday ("I'm too old to recognize the music," says proprietor Oscar, "but there's some rock, some salsa, some rap"). And if you get hungry, there's Der Weinerschnitzel next door.
---

Lou's Village
146 W. San Carlos St, San Jose; 408.293.4570

Hours: Mon-Thu 11:30am-10pm; Fri 11:30am-11pm; Sat 5-11pm; Sun 4:30-10pm
Crowd Age: 40s and up
Music: No
Decor: Sports theme bar
Signature Drink: Awesome bloody Mary
Amenities: Big screen TV, shuttle service to the HP Pavilion, banquet facilities

Fifty years of history decorate Lou's Village, in the form of framed photos of entertainers (including Lucille Ball and Lenny Bruce) who played there in the days when Lou's was one of San Jose's premier nightclubs. Today, the place is content to be a great seafood restaurant and a sports bar with a 19th hole type of feel--lots of dark woods, green carpet, a big screen TV and a larder stocked with every imaginable liquor.
---

Maurizio's Authentic Italian Ristorante
17535 Monterey Rd, Morgan Hill; 408.782.7550

Hours: Lunch Mon-Fri 11:30am-2pm, dinner Mon-Thu 5-9pm, Fri-Sat 5-10pm, closed Sun
Crowd Age: 30-55
Music: Thu live Italian music, Fri-Sat live jazz
Decor: Comfy clutter
Signature Drink: House red wine
Amenities: TVs, attached Italian restaurant

Maurizio's bar is as expansive as Maurizio himself--two TVs blare sports or the Food Channel, and mementos to jazz are scattered throughout. A corner stage hosts live jazz and traditional Italian tunes.
---

Pacific Palms Grill & Bar
1380 Main St, Milpitas; 408.934.4999

Hours: Daily 11am-1:30am
Crowd Age: 25-35
Music: R&B, hip-hop, karaoke
Decor: Cheers meets California sitting room
Signature Drink: White wine, Lager, Seabreeze
Amenities: Big-screen TV, darts, billiards, trivia, karaoke

Pacific Palms is a karaoke-intensive club (Sun-Tue) but adds an interesting twist to its Tuesday-night empty orchestra: Four song sets are broken up by a music trivia contest with each round winner receiving drink tickets and the night's main winner receiving a cash prize (around $50). Wednesday is dedicated to regular trivia (no off-key versions of "My Heart Will Go On" thankfully); Thursdays are DJ dance nights; Fridays and Saturdays are cover bands.
---

Rings Club (formerly Riff's Lounge)
1811 Barber Ln, Milpitas; 408.943.0100

Hours: 5:30pm-9pm
Crowd Age: 30-50
Music: Live jazz band on Fridays
Decor: Hotel
Signature Drink: Crimson Tide
Amenities: Widescreen TV

This shiny grown-up bar adjoining the Sheraton Hotel has an exhaustive selection of hard liquor, particularly single-malt Scotch, although the house special, Crimson Tide, could knock you on your ass just as well. Two TVs and one wide-screen broadcast the fight or the race of the day. While the location and ample amount of tables generally guarantee a seat, the Friday-night live jazz nights pack a crowd.
---

The Saddle Rack
42011 Boscell Rd, Fremont; 510.979.0477; www.thesaddlerack.com

Hours: Wed-Fri 7pm-1:45am
Crowd Age: 21-50
Music: Country house band, concert schedule
Decor: Country fair
Signature Drink: In-mouth Margarita from the infamous barber chair
Amenities: Live country music and dance lessons Wed-Fri, two dance floors, mechanical bull ($3 a ride), game room with pool tables available for private parties

In its new digs in Fremont, the Saddle Rack continues its 25-year legacy under the watchful eyes of managers Gary Robinson and Andy Buchanan. The club has expanded to 14,600 square feet, and fans of the old San Jose Saddle Rack will be pleased to see the Margarita Chair and mechanical bull maintaining their residency. New to the club and conveniently located next to the barber chair is a Hitching Post ready to perform spontaneous weddings valid for 12 hours for any couple in lust.
---

Vaquero's
1010 El Paseo de Saratoga, SJ; 408.871.1114

Hours: Tue-Sun 4:30pm till late evening, depending on crowd
Crowd Age: Wide mix
Music: No
Decor: Luxe Western
Signature Drink: A dozen specialty Martinis at $8 a glass
Amenities: Two TVs

The emphasis at Vaquero's at the El Paseo de Saratoga Shopping Center is on the dining side, where the heavy wooden tables sit underneath steer-horn and antler chandeliers with a view of a stylized rodeo mural and a partially open kitchen area in the back. The menu features hearty fare: pasta, salmon, steak, ribs, even meat loaf. At the front end, the 11 seat (plus a couple of tables) bar provides a congenial spot to stop for an after-shopping Martini.
---
Metro Bars & Clubs 2003 Features
Five Terrifying Minutes of Fame: Friends don't let friends sing, "Dude Looks Like a Lady" ... and other karaoke tips.
Caffeine Nation: A list of coffeehouses--the cream of the crop.
Thanks, Designated Driver!: An appreciation, and some tips, for the nondrinker.
---
Send a letter to the editor about this story to letters@metronews.com.
---
[ Silicon Valley | Metroactive Home | Archives ]