---
Dew Action Sports Tour Issue:
[ Intro | Skate-Punk Oral History | Skate Parks | Glossary | Sports Tour Schedule ]
---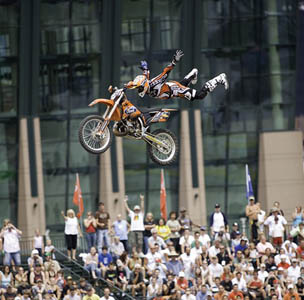 Photograph courtesy of Dew Action Sports Tour
Freestyle Motocross: Kenny Bartram, current points leader in FMX.
Dew Action Sports Tour: It All Starts Here
Welcome to the only guide you need to grind with the pro tour of action sports. We'd best start off by getting you up to speed on the basics: a little bit about each of the sports that the tour will be bringing to the HP Pavilion Sept. 8­11. Listen up to make sure you don't get left in the dust.
BMX
Short for bicycle motocross, this is cycling on 20-inch wheels. BMX became popular during the 1970s in California, although its roots go back much further. There are three types of competition:
Dirt: Though many dirt competitors grow up BMX racing, the sport of BMX Dirt has become a mainstay of action sport contests. Dirt differs from racing in that the course is completely made of dirt and the jumps are much larger and designed to lift the athlete high into the air. Athletes impress judges not with the amount of time, or lack thereof, it takes them to complete the course, but with their complex stylized aerial maneuvers.
Park: Riders spin, flip and grind through a park comprised of spines, ramps, miniramps, wall rides and box jumps. Riders demonstrate their prowess by putting together runs that involve combinations of difficult tricks and fully utilize the course.
Vert: Riders compete in an 80-foot-wide, 15-foot-6-inch-high halfpipe. Riders are challenged to link tricks together in a smooth, exciting run. The riders try to electrify their performance with amplitude and creative tricks.
Freestyle Motocross
Freestyle Motocross, also referred to as FMX, is rooted in off-road dirt bike racing and freestyle sports such as BMX. FMX came of age during the mid-1990s in Southern California and has become one of the most popular action sports. During the last decade, the level of difficulty of riders' tricks has skyrocketed, amplifying the sport's popular appeal. Riders on 250 cc bikes try to go for huge air and complex and risky tricks. The course is composed of metal takeoffs and dirt landings. To impress judges, riders push the envelope with gnarly combinations of flips, twists and grabs, traveling horizontal distances of up to 90 feet.
Skateboard
Skateboarding has served as the cornerstone of the action sports world. The sport's modern history dates back to the 1960s when it was coined "sidewalk surfing." While skateboarding has benefited tremendously from a symbiotic relationship with surfing, it quickly transcended the subcategory of surfing and became something completely its own. Skaters are constantly creating new tricks and devising new techniques and styles, inspiring surfers and snowboarders alike, to incorporate the nuances of skateboarding into their routines. There are two types of competition:
Park: Skaters showcase their technical skills and their ability to "go big" by maneuvering over, onto and through the many aspects of the park course. The combination of ledges and rails with larger park obstacle offers skaters a myriad of different lines and tricks. Skaters impress judges with their creativity, amplitude and use of the course.
Vert: Skaters have a limited amount of time to put together creative and high amplitude runs in the 80-foot-wide, 15-foot-6-inch-high halfpipe.
---
Send a letter to the editor about this story to letters@metronews.com.
---
[ Silicon Valley | Metroactive Home | Archives ]