[ Features Index | Metro | Metroactive Central ]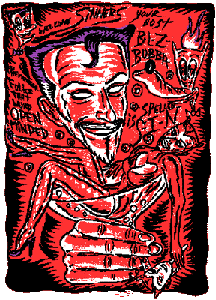 Satan Doll
The devil is making
a comeback on screen
and stage--but,
really, he never left
By Richard von Busack
Art by David Sandlin
Satan is having an unusually busy time lately, turning up in one of the year's best movies, The Usual Suspects, in addition to cameos in Tales From the Hood and The Prophecy--and possibly Seven, depending on your theological bent. The devil has also satanically inspired one of the year's best records, Randy Newman's Faust, and religious historian Elaine Pagels has written a new scholarly biography of Old Scratch (The Origin of Satan; Random House).
If Satan didn't have so much good taste, he'd be on the chat shows, demurely turning aside both the backhanded praise of Letterman and the fury of Oprah's choir. In the meantime, the devil is up to his usual tasks: haunting preschools, luring teenagers to sex and suicide, influencing the mass media, supporting abortion clinics, and involving himself in any number of churches that you, the reader, may not like.

Pop culture, as always, delves into what people think as opposed to what they're supposed to think. Or, as Kierkegaard wrote, "An unconscious relationship is more powerful than a conscious one." The presence of the devil in the popular art of skeptics shows his power to evoke fright, or at least interest, even among the sophisticated.

Even more from Metro about the Prince of Darkness!