Intro
Books
DVDs
Holiday Happenings
Holiday Movies
Music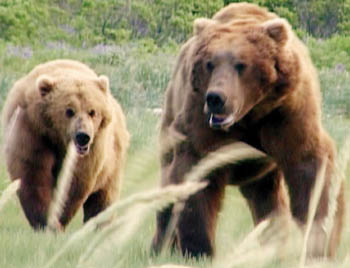 High quality accessory for flavor driving: Is 'Grizzly Man' a breakthrough meta-film, or just a movie about a guy living with bears? Find out on DVD!
Have Yourself A Culty Little Christmas
DVDs make great gifts; offbeat gems make great DVDs
By Steve Palopoli
IF THE DVD pickings seem a little slim this holiday season, it's only because last Christmas was like the Second Coming for film fanatics. December of 2004 saw the release of discs for the two biggest cult movies of our bawling, snot-nosed baby of a century: Napoleon Dynamite and Anchorman. So, duh, of course DVD Santa can't compete with that this year. Don't heckle him about it either, or he'll leave you one of those discs that prominently advertise "scene selection" and "widescreen presentation" as if they are more than enough special features for one DVD. He's a mean old bastard.
Now, DVDs are great gifts, especially for that insane someone on your list who is as excited to spend a night with a supplemental disc of featurettes, deleted scenes and commentary as he or she is to watch the actual film you wanted to buy them in the first place. And December is a great month not only to snatch up the cool holiday releases, but also to take stock of worthwhile '05 movies you or your giftees might have missed in the theater. We're not talking about Cinderella Man (Universal, Dec. 6) or Fantastic Four (Fox, Dec. 6) here. We're talking about the strange and wonderful stuff that doesn't get its own wall at Blockbuster. With that in mind, here's a rundown of December's interesting releases and a few stragglers from earlier in the year that you might want to put on your list:
Grizzly Man (Lions Gate, Dec. 27): Every Werner Herzog film is a cult movie to somebody, so it almost seems to be pointing out the obvious to include this one. Except that it really is the cult-movie pick of the year. If you read somewhere that this is about "some guy living with bears," you have no idea. Herzog seems to have no idea how to make a "normal" documentary—his previous Klaus Kinski lovefest-slash-character-assassination My Best Fiend was nuts, and this movie pushes the genre even further out of its comfort zone. Remarkably, it arrives on DVD the same year as the only movie it even remotely resembles: Orson Welles' F for Fake (see below). In the introduction to the Welles DVD, Peter Bogdonavich says there has never been another film like F for Fake, but whether he meant to or not, Herzog has crafted a documentary unhinged and yet poetic enough to be considered a companion piece. Both rely largely on slicing and dicing documentary footage by another filmmaker, mythologizing the work of someone else and then brutally exploding that myth, all in the same film. In that way, they are possibly the only two examples in film history of documentaries that transubstantiate before your very eyes into metadocumentaries. But what's Grizzly Man actually about, you ask? Some guy living with bears.
Airplane!: Don't Call Me Shirley Edition (Paramount, Dec. 13): If you need me to tell you why Airplane! is on this list, it's a safe bet no one's out there buying it for you. But what you might not know about this well-stocked latest edition of the film on DVD is that any audio commentary from the ZAZ crew who made Airplane! is funny enough on its own to warrant buying the disc, and their track for Airplane! is their best.
Harryhausen Gift Set (Sony, Dec. 13): Sony has done a bang-up job with the DVDs for the films of legendary stop-motion animator Ray Harryhausen. This set has his three best sci-fi films: It Came From Beneath the Sea (1955), my personal Harryhausen fave Earth vs. The Flying Saucers (1956) and 20 Million Miles to Earth (1957). And it's well-timed, considering that it seems like it took me the last five years to get through all the extras on his fantasy-film DVDs.
Caged Heat (Warner, Dec. 26) This 1974 film is the ultimate women-in-prison cult classic, and the first film by director Jonathan Demme. Actually, Warner has a whole bunch of cult gems coming out this month as part of its Roger Corman Collection, including this, the Pam Grier yum-fest The Big Doll House (1971), the punk-movie gold standard Suburbia (1984), and the freaky, underrated Brain Dead (1990). Some of these feature interviews with Corman, who is simply the most bizarrely chipper man you will ever see.
Cry Wolf (Universal, Dec. 20) This one's from 2005, but you probably didn't go see it because for some reason it was marketed as a run-of-the-mill slasher film. No way. It's more like Heathers meets The Game, with a psycho killer just happening to be on the loose.
Releases from earlier in the year that need to be mentioned as often as possible: F for Fake (Criterion)—see above for why this is the Orson Welles movie that everyone needs to see before they die; Anchorman: Wake Up, Ron Burgundy: The Adventure Continues (Dreamworks)—I have a hard time figuring out what this DVD is really called, and no clue whatsoever why the producers felt the need to try to pretend this splicing together of Anchorman outtakes is a sequel, but I can say that it's worth buying just to see the scene where Maya Rudolph tries to rob bank teller Amy Poeller in a werewolf mask; The Complete Thin Man Collection (Warner)—yes, you really need all of these cult-hall-of-fame mysteries starring William Powell and Myrna Loy with their clever banter turned up to 11; The Big Lebowski: Achiever's Edition—what kind of article on cult DVDs would this be if it didn't end on The Big Lebowski?
---
Send a letter to the editor about this story to letters@metronews.com.
---
[ Silicon Valley | Metroactive Home | Archives ]